Corsair


Graphite 760T V2 Big-Tower - schwarz/weiß Window
he Graphite Series 760T features an industry-first fully windowed side panel
but don't let its looks fool you – it's got tons of expansion room and cooling capabilities.
Item number: GECS-052
EAN: 0843591055703
MPN: CC-9011074-WW
Manufacturer: Corsair
Product information -
Graphite 760T V2 Big-Tower - schwarz/weiß Window
Der Graphite 760T V2 Big-Tower von Corsair vereint Design und Funktion, wie man es von Corsair-Gehäusen gewohnt ist, und kann trotzdem Mainboards mit dem Formfaktor XL-ATX und E-ATX fassen. Endbenutzer mit großen Mainboards und Komponenten müssen also dennoch nicht mit einem klobigen Klotz unter ihrem Schreibtisch vorliebnehmen.
Das Graphite 760T V2 ist aus Stahl gefertigt und erscheint in Schwarz mit weißen Elementen. Äußerlich besticht es durch eine Mesh-Front, eine abnehmbare Seite sowie ein aufklappbares Window, das den Blick auf den Innenraum freigibt. Das Öffnen des 760T geschieht durch ein einfaches Ziehen am Verschluss. Sowohl Window als auch Seitenteil können auch vollkommen abgenommen werden, indem sie einfach von den Scharnieren gehoben werden.
Wirft man einen Blick in den Innenraum, wird klar wieviel Platz für Komponenten gelassen wurde. Dies wird vor allem durch eine intelligente Anordnung der Laufwerks-Slots bewerkstelligt. Während die drei externen 5,25-Zoll-Laufwerke fest unter dem Deckel angebracht sind, lassen sich die beiden HDD-Käfige mit jeweils drei Slots für 3,5 bzw. 2,5 Zoll große Laufwerke modular verschieben oder auch ganz entfernen. Daneben finden sich wiederum vier weitere SSD-Schächte an der Mainboard-Wand. Insgesamt neun Erweiterungskarten lassen sich in der Rückseite integrieren.
Durch diese intelligente Anordnung wird das Innenraumvolumen maximiert, womit sich Grafikkarten bis zu einer Länge von 450 mm, Netzteile mit einer Länge bis 220 mm und CPU-Kühler mit einer Höhe bis zu 170 mm ganz einfach installieren lassen.
Daneben bietet der Graphite 760T V2 Big-Tower auch zahlreiche Belüftungsmöglichkeiten an. Hinter der Frontabdeckung sind zwei 140-mm-LED-Lüfter samt Staubfilter angebracht. Diese können dabei über die integrierte Lüftersteuerung am Front-Panel geregelt werden. So lässt sich zwischen Performance- und Silent-Mode mit einem Knopfdruck umschalten. Die Lüfter sind Spezialanfertigungen von Corsair, die einen hohen Luftdurchsatz bei geringer Lautstärke bereitstellen.
Ein weiterer 140-mm-Lüfter ist in der Rückseite werkseitig installiert. Zusätzlich lassen sich im Deckel bis zu drei 140 mm (oder drei 120 mm) große Lüfter anbringen sowie ein 120-mm-Lüfter im Boden installieren.
Wer eher ein Fan von Wasserkühlungen ist, kann sich auch über die zahlreichen Radiator-Mountings freuen. So lassen sich in der Vorderseite, statt der beiden Lüfter, ein 280er- bzw. 240er-Radiator integrieren. Im Deckel kann sogar ein 360 mm großer Radiator eingebaut werden. Zudem kann auch der vorinstallierte 140er-Lüfter gegen einen Radiator der gleichen Größe getauscht werden, sowie ein 120-mm-Radiator im Boden integriert werden.
Das Front-Panel findet sich auf der oberen Vorderseite und beherbergt zwei USB-3.0- und zwei USB-2.0-Anschlüsse sowie Kopfhörer- und Mikrofonbuchsen und die bereits erwähnte Lüftersteuerung. Darüber hinaus wird durch mehrere gummierte Kabeldurchführungen ein ausgezeichnetes Kabelmanagement ermöglicht.
Technische Details:
Maße: 246 x 568 x 564 mm (B x H x T)
Material: Stahl
Gewicht: ca. 11,2 kg
Farbe: Schwarz, Weiß
Formfaktor: XL-ATX, E-ATX, ATX, Micro-ATX, Mini-ITX
Lüfter insgesamt möglich:
2x 140/120 mm (Vorderseite)
1x 140/120 mm (Rückseite)
3x 140/ 3x 120 mm (Deckel)
1x 120 mm (Boden)
Davon vorinstalliert:
2x 140 mm (Vorderseite; AF140L, blaue LEDs)
1x 140 mm (Rückseite; AF140L)
Radiator-Mountings (teilweiser Verzicht auf Lüfter-Slots):
1x max. 280/240 mm (Vorderseite)
1x max. 140/120 mm (Rückseite)
1x max. 360/280/240 mm (Deckel)
1x max. 120 mm (Boden)
Filter: Vorderseite
Laufwerksschächte:
3x 5,25 Zoll (extern)
6x 3,5/2,5 Zoll (intern; 2 modulare HDD-Käfige)
4x 2,5 Zoll (intern)
Netzteil: 1x Standard ATX (optional)
Erweiterungsslots: 9
I/O-Panel:
2x USB 3.0 (interne Anbindung)
2x USB 2.0 (interne Anbindung)
1x je Audio In/Out
1x Lüftersteuerung
Maximale Grafikkartenlänge: 450 mm (ohne jeglichen Verzicht)
Maximale CPU-Kühler-Höhe: 170 mm
Maximale Netzteillänge: 220 mm
Herstellergarantie: 2 Jahre
Further links for

"Graphite 760T V2 Big-Tower - schwarz/weiß Window"
Videos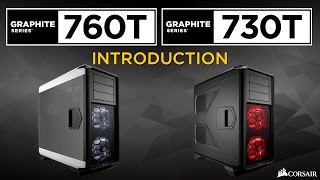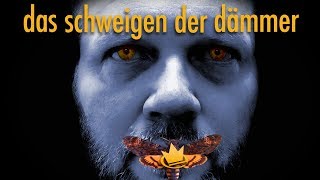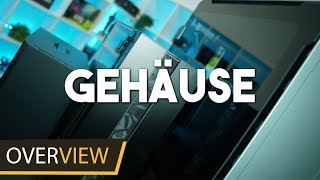 Technical Details
| | |
| --- | --- |
| Case type | Big-Tower |
| Form factor | E-ATX, ATX, Micro-ATX, White, XL-ATX |
| Colour | black, white |
| Primary colour | black |
| Secondary colour | white |
| Width (exact) | 246 |
| Height (exact) | 568 |
| Depth (exact) | 564 |
| Width | 200 - 300 mm |
| Height | 500 - 600 mm |
| Depth | 500 - 600 mm |
| Weight (exact) | 11.2 |
| Weight | 10 to 12 kg (22 to 26.4 lbs) |
| Material | steel |
| max. CPU Kühler Höhe (exakt) | 170 mm |
| max. Grafikkarten Länge (exakt) | 450 mm |
| max. Netzteil Länge (exakt) | 220 mm |
| max. CPU Kühler Höhe | 160 - 179 mm |
| max. Grafikkarten Länge | 400 - 500 mm |
| max. Netzteil Länge | 200 - 249 mm |
| Side panel | with window |
| Front Door | Green |
| Position I/O | Front |
| USB 2.0 | 4x |
| USB 3.0 | 2x |
| Audio Out | |
| Audio In | |
| Cardreader | nein |
| Fan controller | yes |
| LCD/TFT Display | nein |
| internal 2,5" | 10x |
| internal 3,5" | 6x |
| external 5,25" | 3x |
| Hot-Swap | nein |
| PCI-Slots | 9x |
| HDD Isolation | ja |
| Motherboard tray | no |
| Case cable management | yes |
| PSU formfactor | ATX |
| PSU position | Hinten Unten |
| Preinstalled fans | 3x 140mm |
| 120 mm Fans | Aluminium |
| 140 mm Fans | 6 |
| Fan colour | black, white |
| Radiator Mounting | 2x Single (120mm), 1x Single (140mm), 2x Dual (240mm), 2x Dual (280mm), 1x Triple (360mm) |
| Filter | yes |
| Dampening | no |
| Illumination | no |
| Remote control | nein |
| Schlauchdurchführung | ja |
| Serie | Graphite |
| Transport System | nein |