Creative


Sound BlasterX Katana Soundbar - schwarz
Hochwertige 2.1 Gaming-Soundbar
75 Watt Gesamtleistung & Bluetooth mit NFC
dedizierter Subwoofer mit sattem Sound & knackigen Bässen
Aurora-Reactive LED-Beleuchtung
Item number: GASW-271
EAN: 5390660191237
MPN: 51MF8245AA000
Manufacturer: Creative
Product information -
Sound BlasterX Katana Soundbar - schwarz
Das
Katana
, benannt nach dem gebogenen Schwert der Samurais aus dem feudalen Japan, ist eine LED-beleuchtete Soundbar von Creative für Spielekonsolen sowie den PC und vereint einen 24-Bit-DAC mit einem 5-Treiber-System für ein umwerfendes Sounderlebnis. Das elegante, schlanke Design und die stylische LED-Beleuchtung lassen das Katana optisch zu einem echten Blickfang werden. Der externe Subwoofer verleiht Explosionen und Schüssen mit seinen leistungsstarken Bässen ein besonders reales Klangbild.
Die Creative Sound BlasterX Katana Soundbar im Überblick:
Stylisches Design mit LED-Beleuchtung
Schlanke Soundbar mit zusätzlichem Subwoofer
Gesamtleistung von 75 Watt RMS
Kompatibel mit TV-Geräten, Spiele-Konsolen und PCs
Kabellose Verbindung mit Smartphones per Bluetooth
LED-beleuchtete Soundbar: das Creative Sound BlasterX Katana
Die
Katana Soundbar
ist 60 cm lang sowie 6 cm hoch und kann platzsparend vor dem Monitor oder Fernseher aufgestellt werden. In die stylische Oberseite aus gebürstetem Aluminium sind in der Mitte die Bedienelemente eingelassen, die von den 2,5-Zoll-Mittelbasstreibern flankiert werden. Die Front des Katanas ziert ein Meshgitter, hinter dem sich mittig eine praktische LED-Anzeige befindet, welche z.B. das momentan ausgewählte Profil anzeigt.
In die abgewinkelten Ecken der Soundbar sind die 34-mm-Hochtöner eingelassen, die hohe Frequenzen besonders klar wiedergeben. Ein weiteres Highlight des Katana ist das Beleuchtungssystem
AURORA Reactive
, welches aus 49 programmierbaren RGB-LEDs besteht und 16,8 Millionen Farben darstellen kann. Die Umgebungslichteffekte können direkt an der Soundbar eingestellt oder per Software programmiert werden und baden die restliche Gaming-Peripherie in einem stylischen Licht.
Der 5,25 Zoll große Subwoofertreiber ist in einem schwarzen MDF-Gehäuse untergebracht und untermalt die Action auf dem TV oder Bildschirm mit kraftvollen Bässen. Auch bei der Musikwiedergabe über den USB-Anschluss des Katanas zeigt sich die Qualität des erstklassigen Subwoofers, der den Bass durch den ganzen Körper fahren lässt. Wer es zumindest nachts etwas ruhiger angehen lassen möchte, kann übrigens Kopfhörer und Headsets direkt am Katana anschließen.
Neben einem AUX-, optischen- und Klinkenanschluß verfügt das Katana über Bluetooth im 4.2-Standard und ermöglicht die Verbindung mit Smart-Geräten per NFC (Near Field Communication). Neben der Anpassung der Einstellungen direkt an der Soundbar oder per Software, ist auch das Einstellen per mitgelieferter Fernbedienung möglich.
Technische Details:
Farbe: Schwarz
Verbindungsmöglichkeiten:
Bluetooth 4.2 (A2DP, AVRCP, NFC)
USB (USB-Flash-Drive)
3,5 mm Klinkenstecker
Optischer Eingang
Bluetooth Reichweite: 10 Meter
Ausgangsleistung: 75 Watt
Soundbar:
Maße: 600 x 79 x 60 mm (L x B x H)
Gewicht: ca. 1,5 kg
Hochtöner: 2x 34 mm
Mittelbasstreiber: 2x 2,5 Zoll
Subwoofer:
Maße: 299 x 130 x 333 mm (L x B x H)
Gewicht: ca. 4 kg
Full-Range-Treiber: 5,25 Zoll
Further links for

"Sound BlasterX Katana Soundbar - schwarz"
Videos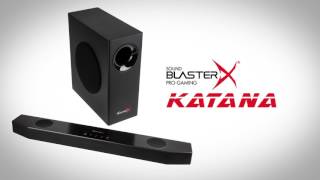 Awards
Toms Hardware - Im Test: Sound BlasterX Katana - Ein Abend an der Sound-Bar

Fairer Preis für eine haptisch und optisch gute Soundbar mit hoher Verarbeitungsqualität une einem vergleichsweise guten Klang, wenn man manuell ein wenig nachhilft. Bei hoher Pegelfestigkeit macht die Katana vor allem am PC richtig Laune und die Nachbarn mit etwas Pech sogar wütend. Kategorie: passt für diesen Preis

But if you have this soundbar can lose, and a few cents over, then the Creative Katana really a fun, distinctive, powerful speaker, external sound neat, and eye catcher on your desk. Furthermore, it is really something else, not only due to the lighting, but this broad feature set in a soundbar package and then with a successful focus gamer who works as envisioned me as that at Creative; sound, extreme customizability, and a high degree of convenience.

read more...

Good Things

Built in Sound card functionality
Great Amp/DAC solution
Class leading sound quality
Could easily double as a home theater sound bar
Powerful amps
Easy to use software controls
Includes an IR Remote

read more...

Creative präsentiert mit der Sound BlasterX Katana ein interessantes Produkt. Besonders wenn auf dem Schribtisch nur wenig Platz ist, ist die Soundbar eine gute und platzsparende Lösung..

read more...

Pros.
+ Beautifully crafted
+ Relatively compact (Low profile, will fit under most monitors easily)
+ Powerful and precise audio
+ Wired and wireless connectivity
+ Dolby Digital 5.1 surround via optical connection
+ Virtual 7.1 via PC USB
+ Built in DSP
+ Aurora, Programmable LED lighting
+ Bundled remote control and wall mounts
+ Dedicated 4pole/3pole headset port
+ Dedicated microphone port

read more...

Pro
+ saubere und solide Verarbeitung
+ ausreichend Leistung für mittelgroße Räume (bis zirka 30 m²)
+ klare Höhe
+ präsente Mitten
+ kräftiger Bass
+ Surround Sound
+ sehr hohe Pegelfestigkeit
+ zahlreiche Anschlussmöglichkeiten
+ integrierte Soundkarte
+ übersichtliche Software (PC-Anwender)
+ zeitloses und schickes Design (inkl. RGB-Beleuchtung)
+ Bluetooth 4.2
+ Fernbedienung

read more...

PC users, especially gamers and audiophiles, take note, it's high time to replace that aging speaker system with a UMAS (Under Monitor Audio System). Creative is clearly leading the way in 2017.

read more...

The Sound BlasterX Katana is pricey, but worth it.

read more...

Creative BlasterX Katana ..the RGB Soundbar that you had no idea you want it.

read more...

...phantastic audio experience...

... its compact, well design and most importantly it sounds amazing...

read more...