Cryorig


A40 Ultimate Komplett-Wasserkühlung - 240 mm
All-in-One CPU cooler
Extra large 240 mm radiator
Copper heatsink
Extra fan for CPU socket cooling
Compatible with current Intel- and AMD sockets
Item number: WASE-335
EAN: 4719692700254
MPN: CR-A4B
Manufacturer: Cryorig
Product information -
A40 Ultimate Komplett-Wasserkühlung - 240 mm
All-in-one water cooling systems are extremely popular because, on the one hand, their cooling performance is significantly higher than that of air coolers, but on the other hand the installation effort is almost as low thanks to pre-assembly and filled delivery - in any case, however, it is considerably lower than that of a custom-assembled traditional water cooling system. With the All-in-One A40 Ultimate Cryorig has introduced their own processor water cooling setup.
Cryorig's A40 Ultimate at a Glance:
Compact All-in-One water cooling for CPUs
240 mm radiator with 2x 120 mm fans
Additional fan for cooling the CPU environment
Copper heat sink for efficient heat dissipation
Compatible with current Intel and AMD sockets
Manufacturer's warranty up to 6 years
Additional Fan Cools CPU Socket
The special feature of the
Cryorig A40 Ultimate
: An additional fan on the CPU heat sink cools the space around the processor, which is otherwise allowed to collect heat by conventional CPU fans. The direction of the additional fan is variable and can be directed specifically to additional hotspots, such as RAM, graphics card or voltage regulators.
However, all compact heating/cooling systems are based on the same basic design: they consist of two parts - the radiator and the heat sink. While the radiator of the A40 Ultimate from Cryorig is mounted on two 120 mm fan slots - preferably on the top of the case - the cooler is mounted on the CPU. The pump is already installed in the cooler housing. Since it is a closed loop, the system does not need to be serviced. Cryorig uses the popular
fifth-gen Asetek
technology.
Fine Fan Structure Dissipates Heat
The heat sink's large contact area absorbs the processor's waste heat and, thanks to copper, transfers it efficiently to the water. This is pumped towards the radiator, where the coolant flows through a series of delicate fins - and these transfer the heat to the air flowing through it. Cryorig uses its own high-performance fans, the low-noise and efficient
QF120 performance fans
. The speeds of all fans can be controlled and adjusted by PWM on the basis of the CPU temperature.
An essential adbantage in comparison to CPU air coolers with All-in-One designs is the
increased flexibility
in terms of how the available space is used. Tower coolers cannot usually be used in compact housings due to lack of space. In the case of the Cryorig A40 Ultimate, however, only the flat cooler has to sit directly on the CPU. The improved hose structure, where the hoses are directed upwards rather than sideways, makes it easier to fit them in the case.
Fits Modern AMD- and Intel Platforms
The radiator is, due to its size, more challenging to fit than the smaller models. For this reason the it must be established beforehand if the case used offers two 120 mm fan mounting slots both immediately next to each other as well as offering sufficient height clearance. The AiO cooling system is designed for
all current AMD- and Intel platforms
, and the corresponding mounting systems are included.
Those who register their product with Cryorig can extend their manufacturer's guarantee from three to six years.
Technical Details:
Dimensions:
Radiator: 272 x 120 x 38.5 mm (L x W x D)
Pump (without fan): 88 x 88 x 52.9 mm (L x W x D)
Pump (with fan): 88 x 88 x 116.2 mm (L x W x D)
Materials: Aluminium, copper, plastic, rubber, nylon
Pump Speed: 1.000 - 2.800 rpm +/- 300 rpm
Voltage (pump): 12 V
Connection (pump): SATA-plug
Hose Length: 35 cm
Fan (radiator):
Type: 2x 120 mm (QF120 performance)
Speed: 600 - 2,200 rpm>. Flow Volume: Up to 141 m³/h
Static Pressure: Up to 3,33 mm H2O
. Volume: 13 - 37 dB (A)
Connection: 4-pin PWM
Fan (pump):
Type: 1x 70 x 70 x 25,4 mm
Speed: 1,500 - 3,000 rpm> Flow Volume: Up to 43 m³/h
Static Pressure: Up to 3.1 mm H2O
Volume: 15 - 27 dB (A)
Connection: 4-pin PWM
Compatibility:
Intel Sockets: 1150,1151,1155,1156,1156,1366,2011 (-V3)
AMD Sockets: FM1, FM2 (+), AM2 (+), AM2 (+), AM3 (+), AM4 (with extension kit)
Manufacturer's Warranty: Up to 6 years

Further links for

"A40 Ultimate Komplett-Wasserkühlung - 240 mm"
Videos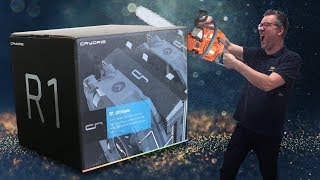 Technical Details
| | |
| --- | --- |
| CPU socket | 1150, 1151, 1155, 1156, 1366, 2011, 2011-V3, 2066, AM2, AM3, AM3+, AM4, FM1, FM2, FM2+ |
| Radiator size | 240 mm |
| Radiator height (exact) | 38.5 mm |
| Radiator height with fan (exact) | 64 mm |
| Radiator height | 30 - 39 mm |
| Radiator height with fan | 50 - 69 mm |
| Illumination | no |
| Included fans | 3x |
| Rotor diameter | 70 mm, 120 mm |
| Fan colour | black, white |
| Fan connector | 4 Pin (PWM) |
| Pump connector | 4 Pin (PWM control), SATA (power) |
| Max noise level | 35 - 39 dB(A) |
| Tube lenght (exact) | 350 mm |
| Tube lenght | 330 - 400 mm |
| CPU cooler type | AiO liquid cooler |
| Warranty | 6 years |