Cryorig


C1 Low-Profile-CPU-Kühler
Low-profile CPU cooler from Cryorig for CPUs up to 140 Watt TDP
Designed for ITX systems
Nickel-plated copper and aluminium
Special fin design for efficient cooling performance
Compatible with AMD- & Intel sockets
Item number: CPCR-003
EAN: 4719692700056
MPN: CR-C1A
Manufacturer: Cryorig
Product information -
C1 Low-Profile-CPU-Kühler
Cryorig, a relatively young company, quickly became famous for its efficient and innovative products in the field of CPU cooling. The team of experienced radiator and OC experts rely on high-quality materials and innovative combinations of individual components to get the most out of air coolers. At the same time, Cryorig attaches great importance to keeping the installation of its CPU coolers as simple as possible. The coolers from Cryorig like this
C1 low-profile CPU cooler
also offer an impressive aesthetic.
The Cryorig C1 at a Glance
Low-profile CPU cooler in copper and aluminium for best cooling performance
Specially arranged cooling fins ensure optimum removal of residual heat
Suitable for processors with up to 140 Watt TDP
Height: 74 mm
Compatible with all current AMD- and Intel sockets
Uncomplicated installation
Optimised Airflow Output for Optimal Cooling
Mit dem Low-Profile-CPU-Kühler C1 setzt Cryorig auf gleich sechs 6mm-starke gesinterte kupferne Heatpipes, die die Bodenplatte aus vernickeltem Kupfer mit den Lamellen des Kühlkörpers verbinden. Das Besondere ist das Design der Lamellen des Low-Profile-Kühlers. Die Kühllamellen des vorderen Bereichs haben einen Abstand von 2,4 mm, die hinteren einen Abstand von nur 1,8 mm. Diese unterschiedlichen Abstände sorgen für einen optimierten Ausgangsluftstrom. Cryorig nennt es
Jet Fin Acceleration System
. Damit kann die erhitzte Luft schneller aus dem Tower-Kühler abgeleitet werden. Zudem werden die Heatpipes und Lamellen in einem speziellen Lötverfahren miteinander verschweißt, so dass zehn Prozent mehr Oberflächenkontakt besteht.
The Cryorig C1 comes with the slim
XT140 fan
. This means that the 74 mm high cooler fits into almost any ITX housing. Beneath the fan, there is room for 42 mm of RAM modules. As an effective anti-vibration measure, four rubber dampeners are embedded in the enclosed fan at the corners. This dampens the vibration transmission of the fan to the fins. The fan itself has extraordinarily quiet bearings, so that the noise level of the entire cooler remains quiet at 44 dB (A). Thanks to its outstanding performance and efficiency, the twin-tower cooler is suitable for processors with
240 watts TDP (Thermal Design Power)
.
The extremely easy assembly is particularly smart. The backplate is fixed by hand with knurled screws. This is followed by the holding frame for the CPU, which is also fastened with knurled screws. The heat sink is then screwed tight using the screwdriver provided. Thermal conductive paste and a cloth for removing residues are included in the bundle.
Registering your product with Cryorig allows you to extend the manufacturer's warranty from three to six years.
Technical Details:
Dimensions: 140 x 74 x 144.5 mm (W x H x D)
Weight:
Without Fan: 539 g
With Fan: 628 g
Material: nickel-plated, sintered copper (bottom plate, heatpipes), coated aluminium (fins)
Colour: Silver, Black
Heatpipes: 6x 6 mm
TDP: 140 W
Fan: 1x 140 mm XT140
Colour: Black
Connection: 4-pin PWM
Speed: 700 to 1,300 RPM
. Volume: 24 dB (A)
Airflow Volume: max. 130 m³/h
Static Pressure: max. 1.49 mm H2O
Compatibility:
Intel Sockets 775,1150,1151,1155,1156,1366,1366,2011,2011-V3
AMD Sockets FM1, FM2, FM2+, AM2, AM2+, AM3, AM3+, AM4 (with kit)
Maximum RAM Height: Up to 42 mm
.
Manufacturer's Warranty: Up to 6 years

Further links for

"C1 Low-Profile-CPU-Kühler"
Videos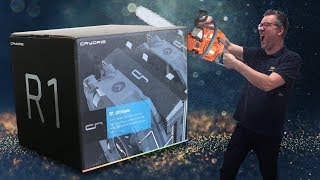 Technical Details
| | |
| --- | --- |
| CPU socket | 1150, 1151, 1155, 1156, 1366, 2011, 2011-V3, 2066, 775, AM2, AM3, AM3+, AM4, FM1, FM2, FM2+ |
| CPU cooler type | Top Blower |
| Fan connector | 4 Pin (PWM) |
| CPU cooler width (accurate) | 140 mm |
| CPU cooler height (accurate) | 74 mm |
| CPU cooler depth (accurate) | 144,5 mm |
| CPU cooler width | 140 to 149 mm |
| CPU cooler height | 70 to 79 mm |
| CPU cooler depth | 140 to 149 mm |
| Material base plate | nickel-plated copper |
| Material heat sink | anodized aluminium |
| Weight in g (exact) | 628 |
| Weight in g | 600 - 700 g |
| Max rpm (exact) | 1300 U/min |
| Min rpm (exact) | 700 U/min |
| Max noise level (exact) | 24 dB(A) |
| Max air volume (exact) | 130 m³/h |
| Max rpm | 1000 - 1499 U/min |
| Min rpm | 500 - 749 U/min |
| Max noise level | 20 - 24 dB(A) |
| Max air volume | 125 - 149 m³/h |
| No. of Heatpipes | 6 |
| Heatpipe diameter | 6 mm |
| CPU cooler fan(s) included | 1x 140 mm |
| Heat sink colour | silver |
| Fan colour | black |
| Additional fan mounting | no |
| Illumination | no |
| Approved for | active air flow |