Cryorig


M9i CPU-Tower-Kühler - Intel
Compact CPU tower cooler from Cryorig for CPUs up to 120 Watt TDP
Nickel-plated copper and aluminium
Compatible with Intel sockets
Item number: CPCR-009
EAN: 4719692700223
MPN: CR-M9I
Manufacturer: Cryorig
Product information -
M9i CPU-Tower-Kühler - Intel
Cryorig, a relatively young company, quickly became famous for its efficient and innovative products in the field of CPU cooling. The team of experienced radiator and OC experts rely on high-quality materials and innovative combinations of individual components to get the most out of air coolers. At the same time, Cryorig attaches great importance to keeping the installation of its CPU coolers as simple as possible. The coolers from Cryorig like this
CPU tower cooler M9i
also look super stylish.
The Cryorig M9i at a Glance
CPU tower coolers made of copper and aluminium for best cooling performance
Suitable for installation with oversized RAM modules
Specially arranged cooling fins ensure optimum removal of residual heat
Suitable for processors with up to 120 Watt TDP
Height: 124.6 mm
Compatible with current Intel sockets
Uncomplicated installation
Compact CPU Cooler with High Cooling Performance
With the CPU tower cooler M9i, Cryorig relies on three 6mm thick copper heatpipes that connect the nickel-plated copper base plate to the fins of the heat sink. Thanks to the use of high-quality materials, the compact CPU tower cooler achieves 33 percent more cooling capacity than conventional coolers from CPU manufacturers - despite its unusual compact shape, which is unusual for CPU towers. Because the CPU cooler is so small, it does not come into contact with RAM modules or plug-in cards.
The 92 mm fan has an extraordinarily quiet bearing, so that the noise level of the entire cooler is quiet at 26.4 dB (A). Thanks to its outstanding performance and efficiency, the CPU tower cooler is suitable for processors with a
120 Watt TDP (Thermal Design Power)
.
Tools for installing the CPU cooler including backplate, heat-conducting paste and a cloth for removing residues are included in the bundle. Registering your product with Cryorig allows you to extend the manufacturer's warranty from three to six years.
Technical Details:
Dimensions: 102 x 124,6 x 87 mm (W x H x D)
Weight:
Without fan: 345 g
With fan: 425 g
Material: Nickel-plated copper (bottom plate, heatpipes), aluminium (fins)
Colour: Silver, black (cover)
Heatpipes: 3x 6 mm
TDP: 120 W +
Fan: 1x 92 mm
Colour: Black
Connection: 4-pin PWM
Speed: 600 to 2,200 rpm
. Volume: 26.4 dB (A)
Delivery Volume: max. 97 m³/h
Static Pressure: max. 3.1 mm H2O
Compatibility:
Intel Sockets 1150,1151,1155,1156
. Maximum RAM Height: Unlimited
.
Manufacturer's Warranty: Up to 6 years

Further links for

"M9i CPU-Tower-Kühler - Intel"
Videos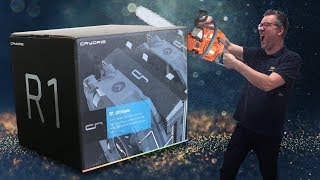 Technical Details
| | |
| --- | --- |
| CPU socket | 1150, 1151, 1155, 1156 |
| CPU cooler type | Single Tower |
| Fan connector | 4 Pin (PWM) |
| CPU cooler width (accurate) | 102 mm |
| CPU cooler height (accurate) | 124,6 mm |
| CPU cooler depth (accurate) | 87 mm |
| CPU cooler width | 100 to 109 mm |
| CPU cooler height | 120 to 129 mm |
| CPU cooler depth | 80 to 89 mm |
| Material base plate | nickel-plated copper |
| Material heat sink | aluminium |
| Weight in g (exact) | 425 |
| Weight in g | 400 - 500 g |
| Max rpm (exact) | 2200 U/min |
| Min rpm (exact) | 600 U/min |
| Max noise level (exact) | 26,4 dB(A) |
| Max air volume (exact) | 97 m³/h |
| Max rpm | 2000 - 2499 U/min |
| Min rpm | 500 - 749 U/min |
| Max noise level | 25 - 29 dB(A) |
| Max air volume | 75 - 99 m³/h |
| No. of Heatpipes | 3 |
| Heatpipe diameter | 6 mm |
| CPU cooler fan(s) included | 1x 92 mm |
| Heat sink colour | silver |
| Fan colour | black |
| Additional fan mounting | yes |
| Approved for | active air flow |