Cryorig


QF120 Silent - 120mm, PWM, 200-1000rpm
Efficient 120 mm PWM fan
High airflow volume
Low noise
Item number: LUCR-006
EAN: 4719692700094
MPN: CR-QFB
Manufacturer: Cryorig
Product information -
QF120 Silent - 120mm, PWM, 200-1000rpm
Cryorig, a relatively young company, quickly became famous for its efficient and innovative products in the field of CPU cooling. The team of experienced radiator and OC experts rely on high-quality materials and innovative combinations of individual components to get the most out of air coolers. The Cryorig fans in particular are extremely efficient and extremely quiet.
The Cryorig QF140 Silent at a Glance:
High-performance 140 mm fans for CPU coolers or cases
Barely audible, even under load
Efficient airflow volume of 130 m³/h
Rubberised dampeners in three colours
Manufacturer's guarantee up to 6 years
Cryorig's QF140 Silent fan is distinguished by its four additional ventilation slots in the frame of the fan. This increases the efficiency of these fans so that they provide reliable cooling even at low speeds. This Silent variant is limited to a maximum speed of 1.000 RPM. This enables the QF140 Silent to function at a barely audible 19,5 dB(A). Additionally the XT140 uses an extremely quiet bearing type known as HPLN (High Precision Low Noise).
In spite of the low RPM the QF140 Silent is capable of a full air flow volume of up to 218 m³/h with an average static pressure of 2,12 mm H2O. At low speeds the noise produced is 9 dB(A). The QF140 Silent is designed for installation in multimedia PCs or for gamers who want to avoid disturbing members of their family while gaming at night.
Registering your product with Cryorig allows you to extend the manufacturer's warranty from three to six years.
Technical Details:
Dimensions: 140 x 140 x 25,4 mm (W x H x D)
Weight: ca. 159,3 g
Material: Plastic
Colour: Grey (frame), black (rotor)
Port: 4-Pin (PWM)
RPM: 200~1.000 RPM
Volume: max. 19,5 dB(A)
Airflow Volume: max. 71,3 m³/h
Static Pressure: max. 1,06 mm H2O
Voltage: 12 V
Bundle:
1x QF140 Fan
1x Molex Adapter
4x Standard Fan Screws
4x Rubber Decouplers
Further links for

"QF120 Silent - 120mm, PWM, 200-1000rpm"
Videos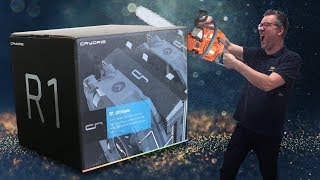 Technical Details
| | |
| --- | --- |
| Rotor diameter | 120 mm |
| Mounting holes | 120 mm |
| Primary colour | white |
| Secondary colour | grey |
| Fan connector | 4 Pin (PWM) |
| Illumination | no |
| Max rpm (exact) | 1000 U/min |
| Min rpm (exact) | 200 U/min |
| Max noise level (exact) | 19 dB(A) |
| Max air volume (exact) | 74,8 m³/h |
| Max rpm | 1000 - 1499 U/min |
| Min rpm | 0 - 249 U/min |
| Max noise level | 15 - 19 dB(A) |
| Max air volume | 50 - 74 m³/h |
| Warranty | 6 years |