DEMCiflex


Staubfilter Set für Corsair 500R - schwarz/schwarz
These filters are custom made to fit the vents on a Corsair Carbide 500R case.
Item number: ZUST-073
EAN: 6009801957753
MPN: DF0176
Manufacturer: DEMCiflex
Product information -
Staubfilter Set für Corsair 500R - schwarz/schwarz
Wenn man seinen PC nach einem halben Jahr mal wieder öffnet, um vielleicht neue Hardware einzubauen, fragt man sich meistens, ob der Rechenknecht nicht doch besser als Staubsauger zu bezeichnen ist. Was auf der einen Seite erleichtert - man stelle sich nur vor, wie viel häufiger das Zimmer gereinigt werden müsste, wenn all der Dreck nicht vorsorglich vom Rechner aufgefangen würde - bedeutet an anderer Stelle aufwändige Säuberung des PC-Innenraums.
DEMCiflex bietet hierzu eine besonders einfach nachzurüstende Lösung an, die in diesem Fall exakt für das Corsair Carbide 500R Gehäuse maßgeschneidert wurde. Hierbei wird der Filter einfach von der Außenseite des Gehäuses auf die entsprechende Öffnung im Gehäuse gesetzt und wird dort magnetisch gehalten. Es sind daher keine Schrauben oder ähnliches notwendig, womit es keinerlei Kompatibilitätseinschränkung gibt. Da nicht alle Lüfterpositionen magnetisch anziehend sind, gehört ein zusätzlicher Rahmen zum Lieferumfang der rückseitig festgeklebt und auf dem wiederum der Filter gehalten wird.
Der Filter selbst besteht aus einem sehr dicht gewebten und haltbarem Polyester-Gewebe. Dieses Spezialmaterial kommt auch in Kliniken zum Einsatz, um beispielsweise Operationssäle staubfrei zu halten. Zugleich ist das Netz gut luftdurchlässig und behindert den Airflow daher nur gering.
Das vorliegende Set besteht aus fünf Staubfiltern, die genau die Maße der Aussparungen der filterlosen Eingänge des Corsair Carbide 500R aufweisen. Damit ist das Set die perfekte Lösung sämtlichen Staub an allen relevanten Stellen vom Carbide 500R fern zu halten und sich somit auch lästiger Säuberungsaktionen zu entledigen. Dazu sehen die Filter auch noch absolut stylish aus.
Technische Details:
Größe: variabel (angepasst an die Eingänge des Corsair Carbide 500R)
Kompatibilität: Corsair Carbide 500R
Material (Filter): Polyester-Mesh
Farbe: schwarz (Rahmen), schwarz (Filter)
Montage: Befestigungsrahmen
Vorteile:
Schnelle Montage
Keine Kompatibilitätseinschränkung
Einfache und schnelle Reinigung
Effektive Filterwirkung bei hoher Luftdurchlässigkeit
Haltbares Gewebe
Further links for

"Staubfilter Set für Corsair 500R - schwarz/schwarz"
Videos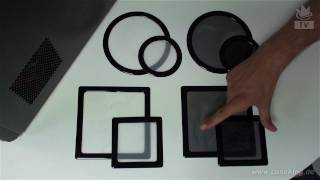 Technical Details
| | |
| --- | --- |
| Material | polyester |
| Filter type | filter set |
| Colour | black |
| magnetic | yes |