King Mod Systems


der8auer Dynamic Pulse, Ryzen 7 3700X, RTX 2080 Super SLI, Custom-Wakü
Wassergekühltes System mit geschwungenen Hardtubes
AMD Ryzen 3700X
2x RTX 2080 Super NVLink
Aura Sync RGB-Beleuchtung
Custom-Wakü mit 4 Radiatoren
16 GB DDR4-3200 RAM / 500-GB-NVMe-SSD
vielfältige Personalisierungsoptionen
Item number: SIPC-249
EAN: 0000000000000
MPN: SIPC-249
Manufacturer: King Mod Systems
Product information -
der8auer Dynamic Pulse, Ryzen 7 3700X, RTX 2080 Super SLI, Custom-Wakü
Mit dem
Dynamic Pulse
hat Overclocking-Guru und Innovator Roman "der8auer" Hartung ein optisch besonders auffälliges System entworfen, das in der Grundkonfiguration auf ein von ihm und Lian Li entworfenes Gehäuse setzt.
Die Hardtubes der Custom-Wasserkühlung sind Amplituden-artig gebogen
, was hinter der umfangreichen Temperglas-Beplankung des
Lian Li PC-O11DW Dynamic
Midi-Towers besonders gut zur Geltung kommt.
Bei der Hardware setzt der8auer auf einen
AMD Ryzen 7 3700X
-Prozessor mit 3,6 GHz sowie zwei wassergekühlte
Gigabyte GeForce RTX 2080 Super-Grafikkarten im NVLink-Verbund
. Die CPU sowie die VRMs werden von einem stylischen
Monoblock-Kühler von EKWB
sowie von einem 360- und 120-Millimeter-Radiator gekühlt, während auch die Pixelbeschleuniger von Wärmetauschern derselben Größe auf optimaler Betriebstemperatur gehalten werden. In der Grundkonfiguration sind
16 GB Arbeitsspeicher mit 3200 MHz Takt und RGB-LED-Beleuchtung sowie eine 500 GB NVMe-SSD
verbaut. Das System lässt sich jedoch nicht nur beim RAM und der SSD-Größe über den Konfigurator an die persönlichen Wünsche anpassen.
Hochwertige Fittings und
Hardtubes
verbinden die einzelnen Komponenten und im ausgeklügelten Kühlkonzept ist eine multifunktionale Wakü-/Lüftersteuerung vom Typ aquaero 6 XT integriert, über die sich die Kühlleistung jederzeit an die Bedürfnisse des Nutzers anpassen lässt. Ein effizientes
80 PLUS Platinum Qualitätsnetzteil von Seasonic mit 1000 Watt
versorgt alle Komponenten mit ausreichend Strom.
Die
RGB-Beleuchtung
von Mainboard inklusive Stromversorgung, Speicher, Lüftern und Monoblock lässt sich bequem über die
ASUS Aura Sync
Software mit individuellen Beleuchtungseffekten anpassen. Multitasking, Streaming, 4K-Gaming oder anspruchsvolle VR-Applikationen sind nur eine kleine Auswahl der Anwendungsbereiche, in denen dieses System mit seiner brachialen Leistung brilliert und optisch beeindruckende Akzente setzt.
Die Grundkonfiguration des Systems:
Von Deutschlands Nr.-1-Overclocker Roman "der8auer" Hartung konzipiertes System mit Custom-Wasserkühlung
Durchdachtes Lian Li PC-O11DW Dynamic-Gehäuse mit Temperglas-Panels, Dynamic Pulse-Schriftzug & USB Typ C
Geschwungene Hardtubes mit Kühlmittel-Zusatz nach Wahl, schwarze Fittings, RGB-Lüfter und Speicher sowie weiß gesleevte Kabeln
ASUS Crosshair VIII Hero Gaming Mainboard mit AMD-X570-Chipsatz & Aura Sync-RGB-Beleuchtung
Wassergekühlter AMD Ryzen 7 3700X mit 3,6 GHz (Boost bis 4,4 GHz)
2x wassergekühlte GeForce RTX 2080 Super Gaming OC Waterforce von Gigabyte mit 8 GB VRAM im NVLink-Verbund
Automatische, temperaturgesteuerte Pumpen- und Lüfterleistung durch vorkonfigurierte Wasserkühlungs-Steuerung aquaero 6 XT von aqua computer
Schneller DDR4-Arbeitsspeicher (3200 MHz) im 16-GB-Kit & RGB-Beleuchtung
500 GB große, pfeilschnelle NVMe SSD als primärer Datenspeicher
Zuverlässiges Qualitätsnetzteil von Seasonic mit 1000 Watt & 80 PLUS Platinum-Effizienz
Perfekt gebaut unter Nutzung von Thermal Grizzly Kryonaut-Wärmeleitpaste
36 Monate Garantie inkl. Pick-Up-Service!
Jeder der8auer-Traum-PC kommt mit eigener Urkunde, welche die Produktionsnummer und konkrete Benchmark-Ergebnisse ausweist
Kunden können über die exklusive "Ask der8auer"-Mailadresse persönlich mit dem Champion in Kontakt treten
Auf Wunsch persönliche Telefonberatung zu OC und Benching durch Roman
3 Jahre langer Upgrade-Service: Kaufen Sie neuste Hardware-Parts und der8auer baut diese kostenlos ein!
Über Overclocking-Weltmeister Roman "der8auer" Hartung
Der deutsche Profi-Übertakter Roman Hartung fing bereits als Jugendlicher an, sich in der Overclocking-Szene einen Namen zu machen und konstruierte absolut überlegene Systeme oder entwarf seine ganz eigenen Extreme-OC-Utensilien wie LN2-Kühler und Co - den Spitznamen "der8auer" (sprich: "Der Bauer") trägt er also nicht von ungefähr. Stets daran interessiert, auch noch den letzten Tropfen Leistung aus jeglicher High-End-Hardware herauszukitzeln, belegt der OC-Großmeister derzeit (Stand: August 2015) den zweiten Platz in der professionellen "Elite"-Rangliste der besten Overclocker der Welt (auf HWBot.org) - in Deutschland belegt er sogar unangefochten den 1. Rang! Dieser Junge ist also ein ganz besonderes Talent und besitzt ein einmaliges Händchen für Silizium-Produkte, deren Leistungsfähigkeit er so stark erhöht, wie es im deutschsprachigen Raum keiner weiter vermag. Damit passt der8auer perfekt zu Caseking, dem Shop für die stärksten, edelsten, individuellsten PC-Systeme!
Gratis-Spiele zum King Mod Gaming-System:
Jedem Komplettsystem von Caseking liegen die zur jeweils ausgewählten bzw. verbauten Grafikkarte gehörenden Gutscheincodes der aktuellen Spielebundles bei. Nicht qualifizierten Produkten werden keine Gutscheine beigefügt. Nur Endkunden erhalten kostenlose Beigaben. Alle Promotion-Aktionen sind limitiert und nur gültig, solange der Vorrat reicht oder bis das Angebot beendet wird. Der Rechtsweg ist ausgeschlossen. Nachfolgend sind alle momentan aktiven Gutscheinaktionen von AMD, NVIDIA und Intel aufgeführt:
Ausgewählte AMD Ryzen 3000-Prozessoren: Far Cry 6. Mehr Infos
AMD Radeon RX 5700 (XT), 5600 XT & 5500 XT: World of Warcraft: Shadowlands / Godfall. Mehr Infos
NVIDIA GeForce RTX 3090 & RTX 3080: Call of Duty: Black Ops Cold War. Mehr Infos
BullGuard Internet Security zum King Mod Gaming-System:
Jedem Komplettsystem von Caseking liegt BullGuard Internet Security zur Nutzung auf 3 Endgeräten bei. Digitale Gefahren in Form von Viren und Malware können über die 1-jährige Lizenzdauer erfolgreich abgewehrt werden. Die umfangreiche Internet Security-Suite von BullGuard bietet einen effektiven Rundumschutz, der höchste Sicherheit beim Surfen gewährleistet und in Kombination mit der integrierten Firewall und zahlreichen weiteren Funktionen das System vor unerwünschten Zugriffen und direkten Angriffen von außen beschützt.
Inklusive fünf X-Gamer X-Shotz
Zu jedem King Mod Gaming-System legen wir einen Mix aus fünf variierenden Geschmacksrichtungen der X-Gamer X-Shotz bei. Das isotonische Getränkekonzentrat in Pulverform enthält Dextrose, auch Traubenzucker genannt, und das Kohlenhydratgemisch Maltodextrose. Zudem wurde Taurin und Koffein zur vorübergehenden Leistungssteigerung beigemischt.
Konfigurierbare Komplettsysteme:

Hier ist NICHTS Standard! Wenn Sie einen speziellen Wunsch haben, setzen wir ihn für Sie um! Zögern Sie nicht, uns per Mail an [email protected] oder per Telefon unter +49 (0)30 4036642-07 zu kontaktieren - wir prüfen die technische Machbarkeit und geben Ihnen rasch Auskunft. Schöpfen Sie voll aus dem riesigen Caseking-Sortiment und erhalten Sie Ihr individuell angepasstes Wunsch-System, gebaut und getestet von Roman "der8auer" Hartung und den Spezialisten des Caseking King Mod Teams!

Den akkuraten Zusammenbau übernimmt für Sie Roman "der8auer" Hartung und Casekings King Mod Service, dessen PC-Experten an jeden einzelnen Komplett-Rechner mit derselben Liebe zum Detail und dem umfangreichen Insider-Know-How heran gehen. Computer sind hier keine Einheitsware: Jeder Komplett-PC wird nach allen Regeln der Kunst montiert, absolut sauber verkabelt und anschließend intensiv auf Herz und Nieren geprüft, um Sie hundertprozentig zufriedenzustellen.



Speditionsversand, Bauzeit, Garantie und weitere Hinweise:

1. Bauzeit: Bitte beachten Sie, dass der King Mod Service das der8auer-Komplettsystem erst auf Ihre Bestellung hin für Sie zusammenbaut. Der dabei angesetzte Qualitätsanspruch erfordert genügend Zeit bei der Montage und den intensiven Tests. In der Regel ist mit etwa 2 Wochen zu rechnen, bevor der Computer in den Versand gehen kann. Sollte es doch einmal länger dauern, werden sich Roman oder das King Mod Team mit Ihnen in Verbindung setzen. Der Versand erfolgt bei der8auer-Systemen in den meisten Fällen per Spedition, kann je nach den Erfordernissen aber auch durch einen anderen Versanddienstleister erfolgen. Im Falle des Versands per Spedition wird vor der Lieferung telefonisch ein Zustelltermin avisiert und es ist mit einer leicht erhöhten Transportdauer im Vergleich zu Paketdienstleistern zu rechnen.

2. Garantie: Für alle eigenen Komplettsysteme übernimmt Caseking eine 36-monatige Garantie, bei diesem der8auer-System inklusive 36 Monaten Pick-Up-Service. Voraussetzung für die Inanspruchnahme ist, dass ein technischer Defekt am PC-System vorliegt, der nicht auf unsachgemäßen Gebrauch der Hardware durch den Nutzer zurückzuführen ist und der zunächst mit der8auer oder einem Caseking-Techniker besprochen wurde. Zudem darf das ausgelieferte System nicht modifiziert werden und es sollte von einem eigenmächtigen UEFI/BIOS-Update abgesehen werden, da mit einem abweichenden UEFI/BIOS der volle Funktionsumfang nicht mehr garantiert werden kann. Außerdem gilt die berühmte Technik-Weisheit: Never touch a running system!

3. Auftragsfertigung: Die Abbildungen des Computersystems stellen lediglich eine Beispielkonfiguration dar. Der PC mit der vom Kunden tatsächlich gewünschten Konfiguration wird erst nach Auftragserteilung gebaut. Je nach Ihrer individuellen Auswahl und Verfügbarkeit der einzelnen PC-Komponenten kann der an Sie ausgelieferte Rechner von den Bildern abweichen. In jedem Fall aber erhalten Sie ein fachmännisch und mit aller Sorgfalt montiertes PC-System, das Sie wegen der gut aufeinander abgestimmten Hardware und der hochwertigen Bauteile jederzeit stolz präsentieren können - denn hier ist nichts Standard!
Further links for

"der8auer Dynamic Pulse, Ryzen 7 3700X, RTX 2080 Super SLI, Custom-Wakü"
Videos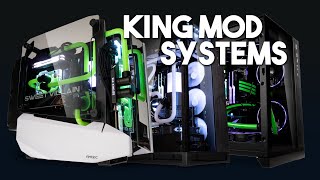 Technical Details
| | |
| --- | --- |
| CPU | AMD Ryzen 7 |
| Graphics chip | NVIDIA GeForce RTX 2080 Ti (2x mit NVLink) |
| Cooling | Custom water cooler |