Endgame Gear


XM1 Gaming Mouse - Black
Professional gaming mouse in black from Endgamegear
Analogue technology for <1 ms button response times
PMW3389 PixArt sensor with 16.000 CPI
Pre-selected Omron switches designed for 50 m clicks
low weight of just 70g & 2 mm LOD
Low-friction PTFE glides for maximum precision
Item number: GAMO-798
EAN: 4251442502737
MPN: XM1
Manufacturer: Endgame Gear
Product information -
XM1 Gaming Mouse - Black
The new kid on the block for gaming peripherals,
Endgamegear
has set the cat among the pigeons when it comes to their first
XM1 Gaming Mouse
(designed in Germany!): it has both a sleek and minimalist look while being packed with fantastic technology such as the cutting edge
PMW3389 sensor from Pixart
and its
preselected, durable mechanical Omron switches
. In order to keep the
Endgamegear XM1
as light as possible, it limits itself to just the most important buttons and avoids any unnecessary RGB-LED lighting. The XM1, developed for use in tournaments, makes for the perfect gaming mouse for pro gamers needing maximum focus and precision over extended periods of time.
The Endgamegear XM1 Gaming Mouse at a Glance:
Premium quality gaming mouse, developed for esports tournaments
Patented analogue technology for true <1ms button response times
Ultra-light construction with a total weight of just 70 g
Pixart's flagship PMW3389 sensor for low/mid/high-sensitivity gamers
Efficient software with a small digital footprint for 50 CPI - 16.000 CPI
Host-side adjustable USB polling rate of 250 Hz, 500 Hz & 1.000 Hz
Pre-selected mechanical OMRON 50M switches for the perfect click
Total of five buttons including mouse wheel with 2-way scrolling
Silent, low-friction PTFE glides for maximum precision
Ergonomic right-handed mouse for claw-, palm- & finger style grips
Lightning Fast Signal Processing & Cutting-Edge Sensor Tech
The
high-end optical Pixart PMW3389 sensor
tracks movement at speeds up to 1.143 centimetres per second (450 IPS) with unparalleled accuracy, enabling players to maintain control in even the most hectic of games. With a
Lift-Off Distance of 2 mm
, low-sensitivity gamers will still be able to recentre the mouse quickly and easily. Thanks to the patented analogue technology as well as the implementation of the
ARM STM32 microcontroller
, the internal signal processing latency of the switches remains at
below one millisecond
. This, when combined with the Omron 50M switches, makes for an unparalleled degree of responsiveness when it comes to switch actuation.
Premium Components for Professionals
The lightning-fast Endgame Gear XM1 includes a total of five mouse buttons. The specially selected mechanical Omron 50M switches used in the XM1's two primary buttons are designed for extremely heavy usage up to a minimum of 50 million clicks. This affords the mouse superb durability along with unparalleled feedback on every click. On the left side of this right-handed mouse users will enjoy the use of two thumb-accessible buttons, and on the top of the mouse, in addition to the two main buttons, there is also the clickable and highly tactile (thanks to the rubberised texture) 2-way mouse wheel.
Lightweight Software & Status LEDs:
The level of high-precision gaming achieved by the Endgame Gear XM1 is only possible thanks to, amongst other things, its extensive customisability. The functional yet lightweight software draws takes ist cue from the minimalist philosophy that we see in its physical design of the mouse: it focuses on the essentials first and foremost, carefully ensuring that it does not have any untoward influence on the overall performance of the system. The software allows for four profiles to be stored within the mouse, and users can switch between these profiles by means of a button on the underside of the mouse.

A quick press of the button will switch through the different CPI profiles - with the presets here being 400, 800, 1.600 and 3.200 CPI, while a long press will switch between the three hardcoded polling rates. The CPI value can be adjusted via software in increments of 50 from 50 CPI up to 16.000 CPI and the profile in use is indicated via the selected LED colour of the indicator LEDs on the underside of the mouse. Which of the three USB polling rates is currently in use can be ascertained by using the indicator LEDs under the mouse (both lights = 1.000 Hz, right LED = 500 Hz, left LED = 250 Hz).
CPI or DPI?
Perplexed by the use of CPI instead of the traditional metric of DPI? We've got you covered: CPI or Counts per Inch is actually the correct means of measurement when it comes to the tracking capabilities of a mouse. Even though DPI has become the most commonly used unit of measurement, Dots per Inch is - strictly speaking - a unit for measuring the accuracy in the context of printers, digital cameras or monitors. That is to say, the number of individual points present in series next to one another in the space of an inch. In CPI on the other hand, it is the number of points recorded by a mouse's sensor of the space of one inch.
Ultra-Light Construction & Superb Build Quality
The surface of the mouse, which includes a special dry-grip coating offers a subtle texture that also helps to ensure gamers enjoy a firm grip - a significant advantage over the course of a long or intense competition where sweaty palms may become an issue. At the same time, the ergonomically optimised shape of the mouse prevents unnecessary stress or tension on the wrist, thereby ensuring maximum comfort even amidst the heat of competitive online FPS gaming. As such, the design of the mouse is suitable for gamers that utilise claw- as well as palm- and finger grip styles. The Endgame Gear XM1 brings with it an exceptionally low weight of just 70 g while the 1,8 m cable is also very flexible. Silent and low friction, the PTFE glides ensure incredibly smooth mouse movements, while also helping to prevent unnecessary fatigue from repeated quick movements.
Technical Details:
General:
Dimensions: 122,14 x 38,26 x 65,81 mm (W x H x D)
Weight: 70 g
Connection: USB 2.0 Type A
Cable length: 1,8 m
Colour: Black (matt)
Material: Plastic (Chassis), PTFE (Glides), Dry Grip Coating (surface)
Ergonomie / Layout: dextral
Supported grip types: Claw Grip, Palm Grip, Finger Grip
Sensor:
Type: Pixart PMW3389 High-end sensor (optical)
Microcontroller: ARM STM32-based
Resolution: 50 - 16.000 CPI (adjustable in 50 CPI increments)
Polling Rate: 250, 500, 1.000 Hz (adjustable)
Acceleration: 50 G
Max speed: 11,43 m/s (450 IPS)
Lift-Off Distance: 2 mm
Buttons:
Number of buttons: 5 (2x top, 2x side, 1x mouse wheel)
Mouse wheel scrolling: 2-Way
Internal signal processing latency: <1 ms
Primary switches (right/left): Omron 50M switches (mechanical, pre-selected)
Operating life: 50 M clicks
Manufacturer's guarantee: 2 Years from date of purchase (EU)
Further links for

"XM1 Gaming Mouse - Black"
Videos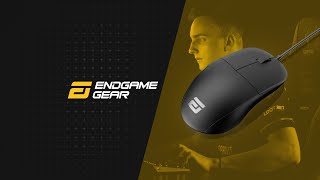 Technical Details
| | |
| --- | --- |
| Form Factor | right-handed |
| Number of Buttons | 5 |
| Sensor | optical |
| Sensor Model | Pixart PMW 3389 |
| DPI Adjustment | yes |
| DPI max. | 16 000 DPI |
| Cable length | 170 to 189 cm |
| Connectivity | USB |
| Primary colour | black |
| Secondary colour | white |
| Illumination | no |
| Weight in g | up to 100 g |
| Lift Off Distance (LOD) | 2 mm |
| Makro Support | no |
Awards
Once again I'm getting to review the first mouse release of a new company, Endgame Gear, and once again I'm impressed. The XM1 combines a very good (and unique) shape, a flawlessly implemented top tier sensor, innovative technology (analogue debouncing) and very low weight (without having to resort to holes), without having any of the rookie issues you might expect from a new competitor. My copy had some build quality concerns (button uniformity, high-pitch noise), but they weren't major enough to negatively impact my experience with the XM1. Recommended.

read more...

..gerade die Leichtigkeit von etwa 70g. Das ist im Shooter Bereich spürbar vorteihaft und auch der Sensor, die Gleiteigenschaft und die Haptik ist eine technisch gelungene Abwechslung zu den sonst trägern feature Monster...

read more...

..weil die Maus durchgängig schneller war und die Ergebnisse auch ziemlich gut mit denen aus der Online Tabelle decken, kann man schon sagen, dass die Maus auf jeden Fall schneller ist als eigentlich alle anderen Mäuse, die gerade auf dem Markt sind.

read more...