EK Water Blocks


EK-HDC Fitting 12mm G1/4 Zoll - schwarz
EK-HDC Fitting is a solid-tube compression fitting
designed for use with solid tubing such as Acrylic
Copper
Stainless Steel or any other type of compatible hard tube.
Item number: WAEK-865
EAN: 3831109846018
MPN: 3831109846018
Manufacturer: EK Water Blocks
Product information -
EK-HDC Fitting 12mm G1/4 Zoll - schwarz
Das EK-HDC Fitting ist ein Compression Fitting, das als Aufsatz auf einer Röhre mit 12/10 mm Außen- und Innendurchmesser angebracht wird, um den Tube an einen G1/4-Zoll-Port anzuschließen.
Es ist dazu vorgesehen, es mit einer festen Röhre aus Acryl, Kupfer, Messing oder Edelstahl zu verwenden. In Verbindung mit den EK-HD-Tubes kann es z. B. als Alternative für das EK-FC-Terminal verwendet werden, um mehrere Full-Cover-Water-Blocks zusammenzuschließen.
Im Vergleich zu den Anschlüssen der Serie EK-HD ist die Sicherheit bei den EK-HDCs höher, denn durch die Überwurfmutter, die als Compression Ring fungiert, wird der Dichtungsring im Inneren des Anschlusses nach innen gezwungen, wo er die eingeschobene Röhre festklemmt.
Das Produkt ist aus schwarzem, vernickeltem Messing und besitzt hochwertige Dichtungsringe. Die Adapter sind auch gänzlich kompatibel mit den gewinkelten Adaptern der EK-CSQ-Serie (45 oder 90 Grad).
Technische Details:
Material: vernickeltes Messing
Anschlüsse:
Gewinde: G1/4 Zoll, Male 4,5 mm Gewindelänge
Geeignet für: 12/10 mm
Äußerer Durchmesser: 18,8 mm
Kompatibilität: Acryl-, Kupfer-, Messing- oder Stahl-Röhren
Further links for

"EK-HDC Fitting 12mm G1/4 Zoll - schwarz"
Videos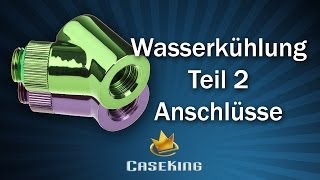 Technical Details
| | |
| --- | --- |
| Outer Diameter | 12 mm |
| Inner Diameter | 10 mm |
| Water cooling connector type | screw connection |
| Set | nein |
| Suitable for Hardtubing | ja |
| Angle | gerade, kein Winkel |
| Rotatable | nein |
| Purpose | Schlauchanschluss |
| Connector color | black matt |