EK Water Blocks


EK-Vardar F3-120 Lüfter - 1850 U/min, schwarz/grau
EK-Vardar is the industrial grade high-static pressure computer cooling fan
designed and built primarily for highest-performance computer liquid cooling systems.
Item number: LUEK-005
EAN: 3831109867532
MPN: 3831109867532
Manufacturer: EK Water Blocks
Product information -
EK-Vardar F3-120 Lüfter - 1850 U/min, schwarz/grau
Die Wasserkühlungskomponenten aus dem Hause EK Water Blocks erfreuen sich großer Beliebheit und Verbreitung, denn einerseits sind sie von besonders hoher Qualität, andererseits erkennen immer mehr PC-Nutzer die einzigartigen Möglichkeiten einer guten Wasserkühlung, sei es ein höheres Übertaktungspotenzial oder eine geringere Lautstärke.
Ein ganzes Jahr haben die Konstrukteure im slowenischen Ljubljana in ihr Ziel investiert, einen herausragend guten Lüfter zu entwickeln, der von bester Qualität ist und die ganz speziellen Anforderungen im Bereich von Highest-Performance-Wasserkühlung erfüllen kann. Als Ergebnis präsentiert EK Water Blocks nun die EK-Vardar-Reihe, benannt nach einem kühlen Bergwind in Mazedonien und Griechenland.
Den EK-Vardar gibt es in mehreren Drehzahl- und entsprechend auch Leistungsstufen, wobei alle Varianten einen 4-Pin-PWM-Anschluss zum Zwecke automatischer Steuerung durch das Mainboard besitzen, aber ebenso gut auch bei maximaler Drehzahl an einem 3-Pin-Stecker oder an einer Lüftersteuerung betrieben werden können. Das hier angebotene F3-120-Exemplar im 120-mm-Format rotiert mit maximal 1.850 U/min und der PWM-Regelbereich liegt zwischen 50 und 100 Prozent.
Weil die Vardar-Fans mit ihrem Airflow in erster Linie auch den Widerstand dickster Wärmetauscher mit einer hohen Lamellendichte überwinden können sollen, liegt der Fokus also auf größtmöglichem statischen Druck bei gleichzeitig geringem Betriebsgeräusch über das gesamte Drehzahlspektrum. Die Kenndaten des EK-Vardar F3-120 (1.850 RPM) machen deutlich, dass das absolut gelingt: 2,24 mm H2O bei voller Drehzahl erzeugen lediglich 29,5 dB(A) Schalldruck.
Selbstverständlich legt EK Water Blocks aber auch höchsten Wert auf eine lange Lebensdauer des Produkts und setzt deshalb ein Doppelkugellager im schwarz-weißen Lüfter ein, welcher deshalb mit einer Haltbarkeit von 50.000 Stunden spezifiziert wird. Der Anschluss erfolgt über ein 30 cm langes, schwarz gesleevtes Kabel. Dem EK-Vardar werden vier Lüfterschrauben beigelegt.
Technische Details:
Maße: 120 x 120 x 25 mm (B x H x T)
Material: Kunststoff
Farbe: Schwarz (Rahmen), Weiß (Rotor)
Anschluss: 4-Pin-PWM
Kabellänge: 300 mm (schwarz gesleevt)
Drehzahl: max. 1.850 U/min
PWM-Regelbereich: 50 - 100 %
Lautstärke: max. 29,5 dB(A)
Fördervolumen: max. 107 m³/h
Statischer Druck: 2,24 mm H2O
Spannung: 12 V
Lebenserwartung: 50.000 h (MTBF)
Lieferumfang:
1x EK-Vardar-Lüfter
4x Lüfterschrauben
Further links for

"EK-Vardar F3-120 Lüfter - 1850 U/min, schwarz/grau"
Videos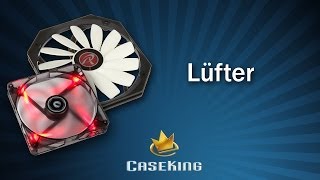 Technical Details
| | |
| --- | --- |
| Rotor diameter | 120 mm |
| Mounting holes | 120 mm |
| Primary colour | grey |
| Secondary colour | black |
| Fan connector | 4 Pin (PWM) |
| Illumination | no |
| Max rpm (exact) | 1850 U/min |
| Max noise level (exact) | 29,5 dB(A) |
| Max air volume (exact) | 107 m³/h |
| Max rpm | 1500 - 1999 U/min |
| Min rpm | 750 - 999 U/min |
| Max noise level | 25 - 29 dB(A) |
| Max air volume | 100 - 124 m³/h |