Elgato


Stream Deck XL, 32 LCD-Tasten
Stream Deck XL von Elgato
mit nur einem Tastendruck das Spielgeschehen kommentieren
32 individualisierbare LCD-Tasten
einfache Bedienung
Item number: TVEG-012
EAN: 0840006610373
MPN: 10GAT9901
Manufacturer: Elgato
Product information -
Stream Deck XL, 32 LCD-Tasten
Was nützen das schönste Tor, die beste Runde im Formel-1-Boliden oder der schnellste Kill, wenn man sie nicht vernünftig kommentieren kann? Mit dem
Stream Deck von Elgato
lassen sich die besten Szenen direkt mit einem Kommentar bei
Twitch.tv, UStream oder Youtube
streamen. Aber das
Stream Deck von Elgato
kann noch viel mehr: Szenenwechsel, Medienstart oder Audiosteuerung. Dazu kommt die kinderleicht zu bedienende Software. Nutze diese professionelle Content-Steuerung und produziere Dich selbst!
Die Features des Elgato Stream Decks XL
32 Tasten zum Ausführen diverser Funktionen
Individualisierbare Symbole auf den Tasten
Für verschiedene Streaming-Plattformen geeignet
Einfach zu programmieren
Erweiterbar mit Makros und Tastenkombinationen für Anwendungen
Elgato Stream Deck XL: Spezialeffekte mit nur einem Tastendruck
Das
Elgato Stream Deck XL
ist das perfekte Werkzeug, um seinen Livestream mit direkt eingespielten Aktionen auf Knopfdruck aufzuwerten. Mit nur einem Tastendruck auf eine der
32 LCD-Tasten
können automatisierte Meldungen in Form von GIFs, Bildern, Audioeinspielungen oder Videos eingespielt werden. Darüber hinaus können die Tasten mit Makros und Tastenkombinationen für schnelle Zugriffe belegt werden. Wem die 32 Tasten nicht reichen, kann eine Taste mit einem Ordner versehen und dort dann weitere Makros ablegen. Die einzelnen Tasten können sogar via Software
mit eigenen Symbolen auf den Tasten
individualisiert werden! Selbstverständlich lässt sich das
Elgato Stream Deck XL auch für die Verwendung mit Bildbearbeitungsprogrammen oder Videoschnittanwendungen verwenden.

Technische Details:
Maße (ohne Standfuß]: 182 x 34 x 112 mm (L x H x B)
Gewicht: ca. 410 g
Farbe: Mattschwarz
Schnittstelle: USB 3.0
Systemanforderungen:
Windows: Version 10 64-Bit
Mac: macOS 10.11 oder neuer
Lieferumfang:
1x Stream Deck XL
1x USB-Typ-C- auf USB-Typ-A-Kabel
1x einstellbarer, magnetischer Standfuß
Further links for

"Stream Deck XL, 32 LCD-Tasten"
Videos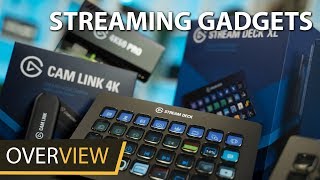 Awards
PROS


- Good Build Quality
- 32 LCD Keys
- Standalone & Magnetic Stand Use
- Detachable USB 3.0 Type C Cable
- Plethora of Available Actions / Commands
- Easy to Use Drag & Drop Software System
- Custom Icons Support

read more...

Pros
+ Endless possibilities
+ Feels very well put together
+ Bright and vibrant LCD screens
+ Can streamline and optimise almost any workflow
+ Removable USB Type-C cable
+ Stand does a decent job of staying put

read more...