Fractal Design


Define 7 XL Black Dark TG Big-Tower - dark tempered glass, silent, black
Full-Tower by Fractal Design in black
for EE-ATX motherboards
with soundproofing and dust filters
optimised for air- and liquid cooling
dark tempered glass side panel
including 3x 140mm PWM fans & fan hub
three vertical expansion slots
Item number: GEFD-122
EAN: 7340172702061
MPN: FD-C-DEF7X-03
Manufacturer: Fractal Design
Product information -
Define 7 XL Black Dark TG Big-Tower - dark tempered glass, silent, black
Fractal Design's Define 7 XL is the product of continuous development on a proven and innovative design idea. This full-tower case combines a minimalist aesthetic with extensive customisation options for the interior. It has both smooth outer surfaces, characterised by a clear design language, and interior flexibility for system configuration and expandability. As a result the Define 7 XL can be the centrepiece for a system that is inconspicuous and silent while also being an eye-catching gaming PC.
The Fractal Design Define 7 XL Full-Tower at a Glance:
Premium, high-end full-tower in black
Virtually silent operations due to optimised case insulation
Front panel constructed from brushed aluminium
Extensive air- and water cooling options
Three fans and fan controller pre-installed
Capacity for up to eleven cooling fans
Removable dust filters in the top, front and bottom
Dual-layout for flexible customisation of the interior
Three slots for the vertical installation of an expansion card
The Fractal Design Define 7 XL: Optimised for Liquid Cooling
The Fractal Design Define 7 XL has extensive options for liquid cooling. For instance it is possible to fit radiators to the front, top, base and back of the case. If the 5.25″ bays are installed, a 360mm or 280mm radiator can be attached to the front and a second 360mm dual radiator to the top.
If an optional optical drive is not fitted, 420mm or even 480mm triple fan radiators can be attached to the roof and the front of the case. A 240mm or 280mm dual radiator can be fitted to the bottom. Finally there is still space for a 120mm radiator at the back.
Air Cooling Support
Up to eleven 120mm or nine 140mm case fans can be accommodated in the Fractal Design Define 7 XL: With the two 5.25-inch bays removed, the roof and the front can be equipped with four fans each, two fans can be attached to the bottom and one to the rear. With optical drives, one of the fan mounts at the roof and one at the front is blocked.
The Fractal Design Define 7 XL comes with three 140 mm fans with PWM control preinstalled, two in the front and one in the rear of the full-tower. The fans are connected to the integrated Nexus + 2 fan hub, to which a total of nine fans can be connected. The manufacturer provides a generous 185mm clearance for powerful CPU coolers.
Substantial internal capacity
Motherboards from the Mini-ITX all the way up to the expansive EE-ATX form factor can be accommodated by the Fractal Design Define 7 XL. In respect to GPUs there is support for cards up to 359mm in length. While the open layout offers up to 524mm when fans are installed in the front or a whopping 549mm without fans.
A total of nine horizontal and three vertical expansion slots are available and a riser cable (sold separately) enables vertical installation of the GPU. There is also space for an ATX power supply and, with an HDD cage installed, the maximum length available is 250mm under the PSU shroud.
Comprehensive Support for Storage Drives
A prominent feature of the Define 7 XL is its dual interior layout. This allows the user to adapt the case to their needs. Regarding storage options this layout allows for several drive bays to be fitted. The Define 7 XL is bundled with six 3.5/2.5″ drive carriers, two 2.5″ drive bays and two multi-brackets for attaching a 3.5/2.5″ drive to one of the dedicated mounting positions. With the addition of separate accessories up to eighteen 3.5/2.5″ carriers and five 2.5″ carriers can be accommodated.
The large drive cage in the front can be completely removed. Under this configuration the storage plate is used to extend the motherboard tray. Two multi-brackets with 3.5″ hard drives or 2.5″ SSDs can be attached to the rear of the storage plate. An additional mounting position for a multi-bracket on the PSU shroud is also present. In the upper part of the case there are two modular 5.25″ bays for optical drives that can be removed in favor of larger radiators.
The Define 7 XL's elegant design
When sealed the Define 7 XL looks as if it's made from a single piece. This is due to its straight lines, smooth surfaces and angular shape. This impression is further enhanced by the front panel which is clad in brushed aluminium. A magnetic locking mechanism ensures the front panel stays closed and its hinges can be fitted to either the left or right. Users can choose from several colour variants per their preference.
In order to reduce running noise, steel panels are provided with acoustic insulation made of bitumen. A second top cover with ventilation slots is included. This version of the Define 7 XL is black on the inside and outside and has a darkly tinted tempered glass side panel. The right side panel is made of steel and equipped with soundproofing.
Modular Design for Easy Installation
The top cover can be completely removed and is equipped with a tool-free push-to-lock mechanism for easy access. With the side panels removed, the full-tower is freely accessible on three sides. This makes it simple to install components and manage cables effectively.
Indeed rubberized cable guides and a full 30mm behind the motherboard tray makes cable management straightforward. The Define 7 XL's new multi-brackets means that any free fan slot can be converted into a mounting position for a hard drive, SSD, pump or a surge tank.
Versatile I/O Interface
The I/O panel of the Define 7 XL is equipped with one USB 3.1 type C, two USB 3.0 type A, and two USB 2.0 ports. There are also two 3.5mm jack sockets, one of which functions as a headphone output and the other as a microphone input. The full-tower is equipped with power and reset buttons. The Nexus + 2 PWM fan hub offers three 4-pin PWM and six 3-pin fan connectors. A total of nine fans can be connected to the hub.
Important Info:
The PCIe riser cable required for vertical mounting of the graphics card is not included in the delivery and must be ordered separately. The graphics card should not be higher than two slots for vertical installation. The manufacturer recommends a model with liquid cooling.
Specification:
Dimensions: 240 x 566 x 604mm (W x H x D)
Materials: Steel, plastic, aluminium, tempered glass (tinted)
Weight: approx. 16.64 kg
Colour: Black
Form Factor: EE-ATX, SSI-CEB, SSI-EEB, E-ATX, ATX, Micro-ATX, Mini-ITX
Total Possible Fans:
4x 120 / 3x 140mm (front)
4x 120 / 3x 140mm (top)
1x 120 / 140mm (rear)
2x 120 / 140mm (bottom)
Pre-installed:
2x 140mm (front, Dynamic X2 GP-14)
1x 140mm (rear, Dynamic X2 GP-14)
Filter: front, bottom, top
Radiator-Mountings (partially forfeits ODD/HDD cages):
1x max. 480 / 420mm (front)
1x max. 480 / 420mm (top)
1x max. 120mm (rear)
1x max. 240 / 280mm (bottom)
Drive Bays:
2x 5.25 Zoll (external)
6x 3.5/2.5″ (internal, max. 18 incl. multi-brackets)
2x 3.5/2.5″ (multi-bracket)
2x 2.5″ (internal, 5x max.)
PSU: 1x Standard ATX (optional)
expansion slots: 9 (+3 vertical)
I/O-Panel:
1x USB 3.1 Type-C
2x USB 3.0 Type-A
2x USB 2.0
2x 3.5mm jack socket (audio in/out)
Maximum CPU cooler height: 185mm
Maximum GPU length:
Storage Layout: 359mm
Open Layout: 549mm (524mm with fans in the front)
Maximum PSU length: 250mm (with HDD cage)
Cable routing space: 30mm
Package contents:
1x Fractal Design Define 7 XL Full-Tower
1x Accessory box (screws, spacers, cable ties)
1x User manual
1x Ventilated top panel
1x ODD bracket
1x ODD bay cover
2x HDD/SSD trays
Further links for

"Define 7 XL Black Dark TG Big-Tower - dark tempered glass, silent, black"
Videos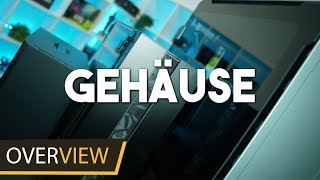 Technical Details
| | |
| --- | --- |
| Case type | Big-Tower, Aluminium case, Dampened case |
| max. Mainboardformfaktor | SSI-CEB, EE-ATX |
| Form factor | E-ATX, ATX, Micro-ATX, White, SSI-CEB, EE-ATX |
| Colour | black |
| Primary colour | black |
| Width (exact) | 240 |
| Height (exact) | 566 |
| Depth (exact) | 604 |
| Width | 200 - 300 mm |
| Height | 500 - 600 mm |
| Depth | 600 - 700 mm |
| Weight (exact) | 16,64 kg |
| Weight | 16 to 18 kg (35.2 to 39.6 lbs) |
| Material | plastic, aluminium, steel, Tempered Glass / Hartglas |
| max. CPU Kühler Höhe (exakt) | 185 mm |
| max. Grafikkarten Länge (exakt) | 359 mm |
| max. Netzteil Länge (exakt) | 250 mm |
| max. CPU Kühler Höhe | 180 - 200 mm |
| max. Grafikkarten Länge | 300 - 399 mm, über 500 mm |
| max. Netzteil Länge | 250 - 300 mm |
| Side panel | with window |
| Front Door | ja |
| Position I/O | Deckel |
| USB 2.0 | 2x |
| USB 3.0 | 2x |
| USB 3.1 (Typ C) | 1x |
| Audio Aus- / Eingänge | 1x Ausgang + 1x Eingang (3,5 mm Klinke, 3-Pol, TRS) |
| Audio Out | |
| Audio In | |
| Cardreader | nein |
| Fan controller | no |
| LCD/TFT Display | nein |
| internal 2,5" | 2x |
| intern 2,5 / 3,5 Zoll | 8x |
| external 5,25" | 2x |
| Hot-Swap | nein |
| PCI-Slots | 9, 9 + 3 |
| Motherboard tray | no |
| Case cable management | yes |
| PSU formfactor | ATX |
| PSU position | Hinten Unten |
| Preinstalled fans | 3x 140mm |
| 120 mm Fans | 11 |
| 140 mm Fans | 9 |
| Fan colour | black |
| Radiator Mounting | 1x Single (120mm), 1x Dual (280mm), 2x Quad (480mm) |
| Filter | yes |
| Dampening | yes |
| Illumination | no |
| Remote control | nein |
| Schlauchdurchführung | nein |
| Serie | Define |
| Transport System | nein |
Awards
...the Fractal Design Define 7 Dark Tempered Glass offers a serious lot for your buck.

read more...

Mit dem Define 7 hat es Fractal Design nicht leicht, den bereits sehr guten Vorgänger – das Define R6 – zu toppen. Doch sie haben es geschafft: der potenzielle Käufer erhält ein schlichtes und hochwertiges Gehäuse, welches aufgrund der Modularität für quasi jegliche Hardwarekombination vorbereitet ist. Die Verarbeitung ist auf einem hervorragendem Niveau und die Materialwahl überzeugt.

read more...

Frame

modularity

Build quality

Ventilation

Filtered

Bundle

read more...