King Mod Systems


Gaming PC für World Of Warcraft / Fortnite Battle Royale
Starker Gaming PC für solide Grafikeinstellungen in World of Warcraft
BitFenix Nova Gehäuse
mit Intel Core i3-9100F
GeForce GTX 1650
8 GB RAM & 120-GB-SSD
Item number: SIPC-514
EAN: 0000000000000
MPN: SIPC-514
Manufacturer: King Mod Systems
Product information -
Gaming PC für World Of Warcraft / Fortnite Battle Royale
World of Warcraft
ist das legendäre und epische MMORPG (Massively Multiplayer Online Role-Playing Game) des Spieleentwicklers Blizzard Entertainment und zählt zum erfolgreichsten Computerspiel aller Zeiten. Seit den Ursprüngen im Jahre 2004 wurde das Spiel um die Expansions The Burning Crusade, Wrath of the Lich King, Cataclysm, Mists of Pandaria, Warlords of Draenor, Legion und Battle for Azeroth erweitert. Auch wenn die Welten um Azeroth von bösen Mächten und uralten Göttern bedroht werden, stehen sich zwei großen Fraktionen gegenüber. Auf der einen Seite steht die edle Allianz mit den mutigen Menschen und Zwergen, den raffinierten Gnomen, den übersinnlichen Nachtelfen, den wilden Worgen sowie den mysteriösen Draenei. Auf der anderen Seite hingegeben befindet sich die mächtige Horde mit den kampferprobten Orcs, den findigen Trollen, den riesigen Tauren, den anmutigen Blutelfen und den arglistigen Goblins. Außerdem gibt es zahlreiche verbündete Völker und die Pandaren, die versuchen, das Gleichgewicht und die Harmonie zu bewahren. Leider gelingt ihnen das nur bedingt, wodurch es ortsbedingt immer wieder zu heftigen Gefechten kommt. Verschiedenste Klassen wie zum Beispiel Druiden, Magier, Krieger oder Priester kämpfen auf riesigen Gebieten wie Azeroth, Dreanor und der Scherbenwelt entweder direkt im PVP (Player vs. Player) gegeneinander oder im PVE (Player vs. Environment) in heroischen und sagenumwobenen Instanzen um immer bessere und mächtigere Beute.
Episches Gaming-System für zuverlässige Grafikeinstellungen in World of Warcraft
Der Gaming PC wurde mit seiner erlesenen Hardware-Auswahl perfekt auf die umfangreiche und geheimnisvolle Welt voller heldenhafter Fantasy-Charaktere und ihrer oft schrecklichen Widersacher zugeschnitten. Das von Casekings King Mod Experten gebaute Gaming-System setzt dabei auf einen modernen Intel Core i3, i5 oder i7 Prozessor nach Wahl und sorgt damit für ausreichend Rohleistung. Genügend Grafikpower für den umfangreichen Titel erhält das System durch eine Grafikkarte aus der NVIDIA-GeForce-Produktfamilie, um die maximal möglichen Einstellungen abrufen zu können. Als Hauptplatine kommt ein Z390-Mainboard zum Einsatz, welches wahlweise mit 8, 16 oder 32 GB DDR4-Arbeitsspeicher bestückt werden kann und dadurch für ein besonders flüssiges Spielerlebnis und kurze Ladezeiten sorgt. Schnelle SSDs und weitere Laufwerke nach Wahl sowie ein effizientes Markennetzteil als Energielieferant lassen keine Wünsche offen um den eindrucksvollen Sandkasten-Titel entspannt auf höchsten Grafik-Einstellungen spielen zu können. Für das Rundum-Sorglos-Paket können Sie optional aus passenden Monitoren, Mäusen, Tastaturen, Mauspads oder auch Gaming-Stühle wählen.
Die Grundkonfiguration des Systems:
Stylischer BitFenix Nova Midi-Tower in schwarz
Intel Core i3-9100F, vier Kerne mit 3,6-GHz-Takt, 6 MB L3-Cache
Sockel-1151-Mainboard (ATX-Format) mit Intel-Z390-Chipsatz
Top-Gaming-GrafikkarteGigabyte GeForce GTX 1650 Mini ITX OC 4G und Werksübertaktung (alternative Modelle wählbar)
Schneller und effizienter DDR4-RAM mit 2.400 MHz als 8, 16 oder 32 GB Variante
Pfeilschnelle und bewährte SSD oder SSHD mit konfigurierbarem Volumen als primärer Datenspeicher
Zusätzliche Festplatte ab 500 GB Kapazität als sekundäre(r) Datenspeicher nach Wahl
Hochwertiges Markennetzteil, von Kolink, mit hoher Effizienz (80 PLUS) & viel Power (600 Watt)
Optionaler DVD- oder Blue-ray-Brenner
Optionales Windows 10 Betriebssystem
Perfekt montiert unter Nutzung von Thermal Grizzly Hydronaut Wärmeleitpaste
Rundumschutz: Für eine gesteigerte Sicherheit ist jedem King Mod System BullGuard Internet Security beigelegt.
Übrigens: Ein passendes Betriebssystem können Sie im Auswahlmenü gleich mitbestellen und wir installieren es direkt für Sie!
Gratis-Spiele zum King Mod Gaming-System:
Jedem Komplettsystem von Caseking liegen die zur jeweils ausgewählten bzw. verbauten Grafikkarte gehörenden Gutscheincodes der aktuellen Spielebundles bei. Nicht qualifizierten Produkten werden keine Gutscheine beigefügt. Nur Endkunden erhalten kostenlose Beigaben. Alle Promotion-Aktionen sind limitiert und nur gültig, solange der Vorrat reicht oder bis das Angebot beendet wird. Der Rechtsweg ist ausgeschlossen. Nachfolgend sind alle momentan aktiven Gutscheinaktionen von AMD, NVIDIA und Intel aufgeführt:
Ausgewählte AMD Ryzen 3000-Prozessoren: Assassin's Creed Valhalla. Mehr Infos
AMD Radeon RX 5700 (XT), 5600 XT & 5500 XT: World of Warcraft: Shadowlands / Godfall. Mehr Infos
NVIDIA GeForce RTX 2080 (Ti), 2070, 2060 (+SUPER): Rainbow Six Siege Gold Edition. Mehr Infos
BullGuard Internet Security zum King Mod Gaming-System:
Jedem Komplettsystem von Caseking liegt BullGuard Internet Security zur Nutzung auf 3 Endgeräten bei. Digitale Gefahren in Form von Viren und Malware können über die 1-jährige Lizenzdauer erfolgreich abgewehrt werden. Die umfangreiche Internet Security-Suite von BullGuard bietet einen effektiven Rundumschutz, der höchste Sicherheit beim Surfen gewährleistet und in Kombination mit der integrierten Firewall und zahlreichen weiteren Funktionen das System vor unerwünschten Zugriffen und direkten Angriffen von außen beschützt.
Inklusive fünf X-Gamer X-Shotz
Zu jedem King Mod Gaming-System legen wir einen Mix aus fünf variierenden Geschmacksrichtungen der X-Gamer X-Shotz bei. Das isotonische Getränkekonzentrat in Pulverform enthält Dextrose, auch Traubenzucker genannt, und das Kohlenhydratgemisch Maltodextrose. Zudem wurde Taurin und Koffein zur vorübergehenden Leistungssteigerung beigemischt.
Konfigurierbare Komplettsysteme:

Hier ist NICHTS Standard! Wenn Sie einen speziellen Wunsch haben, setzen wir ihn für Sie um! Zögern Sie nicht, uns per Mail an systems@caseking.de oder per Telefon unter +49 (0)30 4036642-07 zu kontaktieren - wir prüfen die technische Machbarkeit und geben Ihnen rasch Auskunft. Schöpfen Sie voll aus dem riesigen Caseking-Sortiment und erhalten Sie Ihr individuell angepasstes Wunsch-System, gebaut und getestet von den Spezialisten des Caseking King Mod Teams!

Den akkuraten Zusammenbau übernimmt für Sie Casekings King Mod Service - dessen PC-Experten gehen an jeden einzelnen Komplett-Rechner mit derselben Liebe zum Detail und dem umfangreichen Insider-Know-How heran, welche anspruchsvollste Kunden seit Jahren gewohnt sind, egal ob von vormontierten Wasserkühlern, OC-Aufrüst-Bundles oder perfekt gedämmten Gehäusen. Computer sind hier keine Einheitsware: Jeder Komplett-PC wird nach allen Regeln der Kunst montiert, absolut sauber verkabelt und anschließend intensiv auf Herz und Nieren geprüft, um Sie hundertprozentig zufriedenzustellen.

Premium-Kabelmanagement, Express-Bau und weitere Hinweise:

1. Bauzeit: Bitte beachten Sie, dass der King Mod Service das Komplettsystem erst auf Ihre Bestellung hin für Sie zusammenbaut. Der dabei angesetzte Qualitätsanspruch erfordert genügend Zeit bei der Montage und den intensiven Tests. In der Regel ist in Abhängigkeit der Auftragslage mit mindestens 10 Werktagen zu rechnen, bevor der Computer in den Versand gehen kann. Sofern alle für das System benötigten Artikel lagernd sind, garantieren wir ab Baubeginn bei Auswahl unserer Express-Bau-Option einen Versand innerhalb von 72 Stunden für luftgekühlte bzw. AiO-Wakü-Systeme. Bei custom-wassergekühlten Systemen ist eine pauschale Angabe der Bauzeit leider nicht möglich und es steht auch keine Express-Bau-Option zur Verfügung, da die Bauzeit hier stets von der individuellen Konfiguration abhängig ist und im Vorfeld mit den Experten des King Mod-Teams eruiert werden muss. Der Versand erfolgt in den meisten Fällen per UPS, kann je nach den Erfordernissen bei einem System aber auch durch einen anderen Versanddienstleister oder per Spedition erfolgen. Bitte beachten Sie auch, dass bei Express-Versand (DHL Express und UPS Express) keine Samstagszustellung und keine Sonntagszustellung erfolgt.

2. Garantie: Für alle eigenen Komplettsysteme übernimmt Caseking eine 36-monatige Garantie, 24 Monate davon mit Pick-up & Return-Service. Voraussetzung für die Inanspruchnahme ist, dass ein technischer Defekt am PC-System vorliegt, der nicht auf unsachgemäßen Gebrauch der Hardware durch den Nutzer zurückzuführen ist und der zunächst mit einem Caseking-Techniker besprochen wurde. Zudem darf das ausgelieferte System nicht modifiziert werden und es sollte von einem eigenmächtigen UEFI/BIOS-Update abgesehen werden, da mit einem abweichenden UEFI/BIOS der volle Funktionsumfang nicht mehr garantiert werden kann. Außerdem gilt die berühmte Technik-Weisheit: Never touch a running system!

3. Auftragsfertigung: Die Abbildungen des Computersystems stellen lediglich eine Beispielkonfiguration dar. Der PC mit der vom Kunden tatsächlich gewünschten Konfiguration wird erst nach Auftragserteilung gebaut. Je nach Ihrer individuellen Auswahl und Verfügbarkeit der einzelnen PC-Komponenten kann der an Sie ausgelieferte Rechner von den Bildern abweichen. In jedem Fall aber erhalten Sie ein fachmännisch und mit aller Sorgfalt montiertes PC-System, das Sie wegen der gut aufeinander abgestimmten Hardware und der hochwertigen Bauteile jederzeit stolz präsentieren können - denn hier ist nichts Standard! Bei Auswahl der Premium-Kabelmanagement-Option werden unsere Techniker sämtliche Kabel des PCs in akribischer Sorgfalt ansehnlich ordentlich verlegen und dabei bei Bedarf auch Kabelkämme und Kabelbinder einsetzen.

4. Zusatzkosten bei Inkompatibilität: Aufgrund des ständigen technologischen Fortschritts und dem Entstehen neuer Trends im Hardwarebereich kann es dazu kommen, dass bei den Hardware-Komponenten Inkompatibilitäten auftreten. Zum Beispiel benötigen diverse AiO-Wasserkühler einen USB-2.0-Header, um alle Features nutzen zu können. Dieser Header wird allerdings nicht mehr auf allen Mainboards bereitgestellt, sodass entsprechende Adapter verbaut werden müssen, um alle Funktionen bereitzustellen. Ein weiteres Beispiel ist das Fehlen eines USB-3.1-Headers für einen entsprechenden USB-Anschluss am Gehäuse. Der Einbau entsprechender Adapter kann zu Zusatzkosten führen. Sollte der Einbau eines Adapters zwingend notwendig oder empfehlenswert sein, setzt sich das Team des King Mod-Services mit Ihnen in Verbindung, um das weitere Vorgehen zu klären. Zusätzlich kann sich die Bauzeit entsprechend verlängern.
Further links for

"Gaming PC für World Of Warcraft / Fortnite Battle Royale"
Videos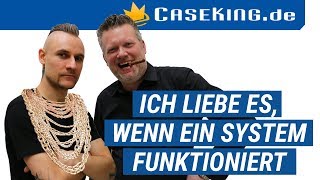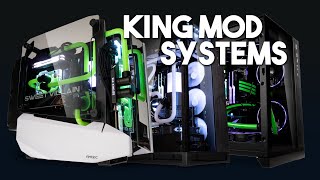 Technical Details
| | |
| --- | --- |
| CPU | Intel Core i3 |
| Graphics chip | NVIDIA GeForce GTX 1650 |
| Cooling | Luftkühlung |