Hörluchs


HL5300 Custom-Made In-Ear Headphones - Black
Professional in-ear headphones from Hörluchs
custom-made earplugs
3-Way system
High-definition drivers for balanced sound
Premium cable
Includes 6,3 mm adapter & Cerumen filter & case
Item number: GAPL-984
EAN: 4260448663366
MPN: HL5300MA
Manufacturer: Hörluchs
Product information -
HL5300 Custom-Made In-Ear Headphones - Black
The
Hörluchs HL-5300
are premium quality in-ear headphones directed at
professional gamers and musicians, as well as audiophiles and film fans
. They demonstrate unparalleled sound quality that, thanks to the high-definition drivers, offer a perfect balance between bright highs and accurate bass notes. Even in ergonomic terms, Hörluchs don't do things by halves: the domes are made from perfectly shaped light-cured resin, customized for each individual user - along with your first name printed on it. The premium quality components and materials, paired with the professional sound quality, help to make
Hörluchs
the best choice for gamers, professional musicians, and everyone who loves perfect sound reproduction. The
Hörluchs HL-5300
is available in a variety of colours.
The Highlights of the HL-5300 In-Ear Headphones from Hörluchs:
Superb sound quality for a range of sound signatures
3-Way high-def drivers with perfectly balanced sound
2-Pin connector for cable directed upwards
Robust premium quality cable with 3,5 mm jack
Custom-measured ear domes made from durable light-cured resin or bio-compatible and soft silicon
Integrated frequency crossover filter for cleaner sound
Impressive Sound Reproduction with the Hörluchs HL-5300 In-Ear Headphones
Visually, the
Hörluchs HL-5300 in-ear headphones
are quite striking thanks to their unusually slim, compact and lightweight design. This allows the
Hörluchs HL5
to offer unparalleled comfort without compromising on sound. Equipped with
high-performance 3-way drivers
, they offer a first class audio experience with full bass notes and accurate, bright mids - perfect for speakers, moderators and the recording studio. But it's not just professionals that will appreciate these headphones, streamers and gamers will particularly enjoy the precise sound as well as audiophiles and film fans. Additionally, the
integrated frequency crossover filter
helps exclude unwanted distortion and artifacting via phase shifting. The combination of premium build quality with high-end drivers makes for a very pure and true-to-life soundscape.
Best Ergonomics Thanks to Perfectly Balance Materials and Construction
These in-ear headphones offer other special features, especially the low weight and exceptional comfort - meaning that not only do they provide the best sound quality
Hörluchs
has ever produced, they also happen to be the most comfortable as well. The ear domes are made according to an impression that is ideally created with the help of a hearing specialist. This helps the
Hörluchs HL-5300
to achieve the perfect fit. Buyers have the options of choosing between light-cured resin style acrylic with a noise blocking rating of up to 32 dB as well as a biocompatible and soft silicon that offers a noise rating of up to 35 dB. The domes will also include the printed name of their proud new owner.
Because of the delicate and highly sensitive nature of the
Hörluchs HL-5300
, they can be damaged by sweat, dampness, as well as cerumen (earwax). To counter this,
Hörluchs
have applied their patented and
durable anti-cerumen HF4 protection
. The fine membrane helps prevent reduction to driver performance due to undesirable environmental factors. The HF4 can be easily swapped out, with a replacement being included with the headphones.
The included cable cuts no corners in the quality department either. It is connected to the earphones via a 2-pin plug, which connects the headphones to the respective output device using a 3.5 mm jack plug. Plastic elements make cable routing a breeze and the gold-plated contacts help maintain perfect signal clarity. In this version, the 2-pin connector is directed upwards which means the cable is easily guided away from the user and towards the back of the head.
The
Hörluchs HL-5300
is available in ten different colours as well as in matte- or glossy finishes, black, white, beige, transparent, red, blue, orange, neon, purple and grey.
Custom-Fitted Domes
The
Hörluchs HL-5300
in-ears are custom made to fit the individual's own ear canal, thereby ensuring the perfect fit. To achieve this, users must first have a professional ear impression made. This impression is generally made at a hearing specialist. This is the only way to ensure the exact and optimal shape to act as a template for customised in-ears. The steps are
described at length on the manufacturer's website
.
As soon as an order is received at Caseking, you will be directed to Hörluchs. There you will be able to choose the colour you desire, the information necessary for the next steps will be requested, and info on the next steps of the manufacturing process provided. Custom-made Hörluchs products will include the first name of the customer printed for free on the in-ears. The length of time prior to the in-ears being shipped is approximately 15 working days. The customer will receive their customised in-ears directly from Hörluchs.
Technical Details:
Weight: 6 g (without cable), 16 g (with cable)
Colour: Matte black
Drivers: 3x High-Definition Drivers for a balanced sound
Frequency range: 15 - 28.000 Hz
Sensitivity: 113 dB / 1 mW
Max. Output: 131 dB(SPL)
Impedance: 1 kHz: 11 Ohm
Harmonic distortion: Lower than 0,1 / 0,2 % at 94 / 100 dB
Connection: 3,5 mm jack
Includes:
1 Pair Hörluchs HL-5300
1x Cable (2-Pin to 3,5 mm jack)
Customised domes with printed first name
HF4 Cerumen protection
Protective bag
Warranty card
User info
Further links for

"HL5300 Custom-Made In-Ear Headphones - Black"
Videos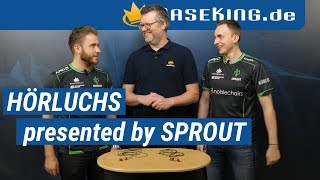 Technical Details
| | |
| --- | --- |
| Design | In-Ear |
| Sound output | Stereo |
| Driver size | up to 30 mm |
| Primary colour | blue, grey, purple, orange, red, black, transparent |
| Driver | 3-Wege-System |
| Illumination | no |
| Compatibility | PC, Smartphone |
| Weight in g | up to 100 g |
| Detachable cable | yes |
| Cable length | 190 to 209 cm |
| Frequency Response | 15 - 28 000 Hz |
| Impedance | 110 Ohm |
| Sensitivity | 113 dB/mW |
| Sound pressure level | 131 dB |
| Connector | 3.5 mm jack |
| USB sound card incl. | no |