Intel


Core i3-7350K 4,2 GHz (Kaby Lake) Sockel 1151 - boxed
Dual-Core CPU from Intel's "Kaby Lake" Series
Base Clock of 4,2 GHz
Hyper-Threading & Unlocked Multiplier
4 MB L3 Cache & 60 Watt TDP
Intel HD Graphics 630
Boxed Version
Item number: HPIT-348
EAN: 5032037095518
MPN: BX80677I37350K
Manufacturer: Intel
Product information -
Core i3-7350K 4,2 GHz (Kaby Lake) Sockel 1151 - boxed
Intel's 7th generation processors bears the name "Kaby Lake" and when compared to its "Skylake" predecessor, is manufactured utilised an optimised manufacturing process. The
14 nm Plus
process unlocks higher clock frequencies at lower voltages on Kaby Lake-series processors, in addition to a notable increase in efficiency. The consistency of the microarchitecture allowed the performance of the Kaby Lake series of CPUs to be pushed even further. The principal beneficiaries of this approach are the models with the "K" suffix, which offer impressive overclocking potential.
The Intel Core i3-7350K - An Overview:
Dual-Core Processor (4 Threads with HT)
Unlocked multiplier for overclocking
Base Clock of 4,2 GHz
4 Megabyte L3 Cache
Low 60 Watt TDP
Support for DDR4-2.400 (Dual Channel)
Integrated HD Graphics 630 GPU)
AVX2 Instruction Set Extension (Advanced Vector Extensions)
AES Encryption (Advanced Encryption Standards)
Compatible with 100- and 200-series Intel chipsets
The Intel Core i3-7350K: Kaby Lake and its Advantages Compared to its Predecessors
The Intel Core i3-7350K comes with an unlocked multiplier, thereby allowing the processor to be overclocked. However even when running at stock frequencies the Intel Core i3-7350K offers a very high clock frequency of 4,2 GHz. The Thermal Design Power (TDP) is 60 Watts and is still generally considered to be very low. As a Core i3 this quad-core processor comes with Intel's Hyper-Threading technology, thereby enabling not just two, but four threads to be run simultaneously..
Besides the increased clock frequencies in comparison to "Skylake", Kaby Lake processors also come with Speed Shift 2.0. Speed Shift was introduced with Skylake and is a feature that allows the CPU to have more control over the clock frequency. This allows processors to react more quickly to requests for additional performance and minimises delays as a consequence.
Speed Shift 1.0 reduces the space of time required to reach maximum clock frequencies, reducing it from about 100 milliseconds to roughly 30 milliseconds. Speed Shift 2.0 on the other hand allows this period of time to be cut in half once again - thus allowing the CPU to reach its peak clock frequency a mere 10-15 milliseconds after beginning a task.
LGA 1151 Kaby Lake with DDR4-2400 and Intel HD Graphics 630
Kaby Lake also supports, depending on the motherboard, DDR3L memory. By and large it is preferable, however, to use faster and more efficient DDR4 memory - which now supports 2.400 MHz as standard. This edition also retains the LGA 1151 socket and Kaby Lake processors are comparable to chipsets from the 100- ("Sunrise Point") and 200- ("Union Point") series.
The biggest difference between the 200-series chipsets in comparison to the 100-series is the support for Intel's upcoming Optane Memory technology whose "XPoint" memory structure supports a data transfer rate up to ten times higher than NAND memory while enabling improved operational durability. Hard drives with Optane Technology, similar to the extremely fast NVMe-M.2 SSDs, are linked to the motherboard via PCIe slots.
The integrated graphics processing unit (iGPU) known as the Intel HD Graphics 630 (version GT2) offers more than enough graphical horsepower with its 24 Execution Units for Intel Quick Sync, GPU compute, and of course one or two games as well. Furthermore the GPU supports DirectX 12 along with Feature Level 12_0, OpenGL 4.4 and OpenCL 2.0, as well as 60 Hz 4K/UHD resolution playback over DisplayPort subject to the corresponding motherboard utilised.
Here we refer to a boxed version of the processor, a CPU cooler is not contained within the bundle.
Technical Details:
Type: Intel Core i3-7350K ("Kaby Lake")
Manufacturing Process: 14 nm PLUS
Cores: 2 / 4 (physical / virtual)
Clock Frequency: 4,2 GHz
Level 3 Cache: 4 MB
Memory Controller: intern
Memory Channels: 2
Supported Memory: DDR4 (2.133/2.400 MHz) / DDR3L (1.333/1.600 MHz)
Onboard Graphics: Intel HD Graphics 630 (24 EUs, max. 1.150 MHz)
TDP: 60 Watt
Socket Compatibility: LGA 1151
Further links for

"Core i3-7350K 4,2 GHz (Kaby Lake) Sockel 1151 - boxed"
Videos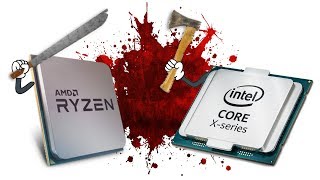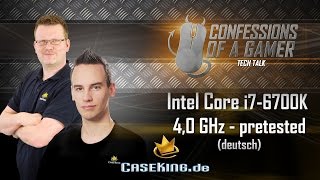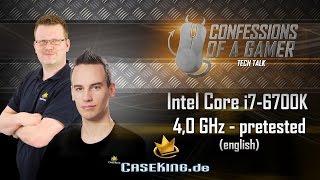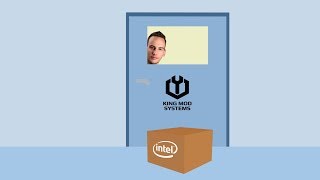 Technical Details
| | |
| --- | --- |
| CPU series | Intel Core i3 |
| CPU architecture | Intel Kaby Lake (7. Generation) |
| CPU socket | 1151 |
| Cores | 2 |
| Threads | 4 |
| Hyper- / Multithreading | yes |
| Open multiplier | yes |
| Memory type | DDR4, DDR3L |
| Memory controller | Dual Channel |
| TDP | 60 Watt |
| Graphics chip | Intel HD 630 |
| Packaging | tray |