Intel


Core i9-9900K 3,6 GHz (Coffee Lake) Socket 1151 - Tray
Octa-Core CPU from Intel's "Coffee Lake-S Refresh"-serie
Base- and max. Boost Clock of 3,6 / 5,0 GHz
Hyper-Threading & unlocked multiplier
soldered heatspreader
16 MB L3 Cache & 95 Watt TDP

Requires Intel chipsets of 300- series!

Tray version of the processor without a CPU cooler!
Item number: HPIT-527
EAN: 0000000000000
MPN: CM8068403873914
Manufacturer: Intel
Product information -
Core i9-9900K 3,6 GHz (Coffee Lake) Socket 1151 - Tray
Intel Core i7 / i9 Processors & Full Systems with Software Bundle + many Free Games!
Within the promotion period, all buyers of a qualified
Intel Core i7 / i9 processor
of the 8th generation (Coffee Lake) and 9th generation (Coffee Lake Refresh) as boxed or tray version as well as Caseking full systems or bundles with such a CPU will receive a "Master Key" code to be redeemed at Intel's promotion website. The following software applications, games or bonus content for games
with a total value of $275
can be redeemed with this code:
Subnautica
,
Kingdom Come: Deliverance
,
Need for Speed Heat
,
Street Fighter V
,
Total War: THREE KINGDOMS
,
Total War: THREE KINGDOMS - Eight Princes DLC
,
ArcheAge: Unchained
Silver Access,
Gamer Sensei
voucher for $15,
Dashlane Password Manager
subscription for $30 and 1 month
Origin Access Basic
.
Important Notes:
We will send out the "Master Key" voucher code for Intel's website 14 days after receipt of goods via email. The offer is limited and only valid while supply last or until the expiry date of the promotion. Legal recourse is excluded. Only end customers receive free gifts. Non-qualified products are not eligible for free gifts.
---
The Intel Core- series of processors have now received their latest upgrade in the form of the Coffee Lake-S Refresh. This new updated range brings some highly sought after improvements, including the fact that CPUs with unlocked multipliers now offer soldered heatspreaders (IHS). This enables heat to be more effectively dissipated away from the CPU, allowing higher clock frequencies over longer periods of time.
The
Intel Core i9-9900K
is the new flagship model of the Core 9000- series and offers eight cores with Hyper-Threading (SMT), capable of processing up to 16 threads simultaneously. The enthusiast-class CPU is also capable of offering increased clock frequencies and optimised boost functions when compared to its predecessors. The TDP of this Octa-Core processor is a mere 95 Watts. The processor is compatible with socket 1151 motherboards from the 300-series.
Attention: Motherboards with Z370, H370 and B360 chipsets require a BIOS update in order to function with a 9th generation Intel Core- series CPU!
---
The Intel Core i9-9900K at a Glance:
8 physical cores, 16 logical cores thanks to SMT!
3,6 GHz Base Clock of 95 Watt TDP
4,7 GHz Boost Clock on all cores
5,0 GHz Boost Clock single-core
Unlocked multiplier for overclocking (OC)
16 Megabyte L3 Cache
Support for DDR4-2.666 (Dual Channel)
Revised UHD Graphics 630

Only compatible with motherboards that offer Intel's 300- series chipsets!

Tray version of the processor without a CPU cooler!
---
The Intel Core i9-9900K: Octa-Core Processor with Hyper-Threading
With a
Base Clock of 3,6 GHz
the
Core i9-9900K
offers high clock frequencies which increase automatically in accordance with the use case scenario. The processor's Turbo Boost function enables the CPU cores to be clocked to meet the user's exact performance requirements. Depending on whether an application or a game is being run, the Boost Clock can increase - for example - to make either
one core operate at up to 5,0 GHz
or
drive all cores at up to 4,7 GHz
. As a
processor with an unlocked multiplier
the
Intel Core i9-9900K
can also be overclocked.
The processor supports a maximum clock frequency of 2.666 MHz on DDR4-RAM and the CPU also supports Dual-Channel Mode. Depending on the motherboard and it capacity for overclocking, RAM kits with even higher frequencies can be used. In terms of the socket that Intel has opted for, the LGA 1151(v2) socket is used - meaning that ninth generation processors are compatible with 300- series chipsets. Motherboards with a Z370-, H370- or B360 chipset may require a BIOS update!
As the integrated graphics unit here is the Intel HD Graphics UHD 630, it offers an impressive 24 Execution Units to power Intel Quick Sync, GPU Compute and of course one or two games in between times. Furthermore the integrated graphics support DirectX 12 with Feature Level 12_1, OpenGL 4.5 and OpenCL 2.0 as well as 4K- and UHD playback at 60 Hz over DisplayPort - when paired with a compatible motherboard.
Attention!
This relates to a tray version of the processor without a CPU cooler!
The
Intel Core i9-9900K
can reach temperatures that may exceed the rated 95 Watt TDP. This is particularly true with AVX512 instruction set extensions where TDP is exceeding by a significant margin. All-in-One watercooling with a 240 mm radiator or a large tower-style CPU is strongly advised.
Technical Details:
Type:
Intel Core i9-9900K ("Coffee Lake-S Refresh")
Manufacturing Process: 14 nm +++
Cores:
8 / 16 (physical / virtual)
Frequency:
Base Clock: 3,6 GHz
Turbo Clock all cores(max.): 4,7 GHz
Turbo Clock single-core (max.): 5,0 GHz
Cache:
Level 3 Cache: 16 MB
Level 2 Cache: 2 MB (8x 256 kB)
Memory:
Memory Controller: internal
Memory Channels: 2
Memory Standard: DDR4 (2.666 MHz)
Integrated Graphics:
Intel UHD Graphics 630 (24 EUs, max. 1.200 MHz)
TDP:
95 Watt
Socket Compatibility:
LGA 1151
Chipset Compatibility:
300- Series from Intel
Further links for

"Core i9-9900K 3,6 GHz (Coffee Lake) Socket 1151 - Tray"
Videos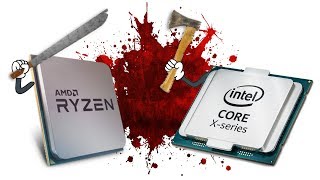 Technical Details
| | |
| --- | --- |
| CPU series | Intel Core i9 |
| CPU architecture | Intel Coffee Lake Refresh (9. Generation) |
| CPU socket | 1151 |
| Cores | 8 |
| Threads | 16 |
| Hyper- / Multithreading | yes |
| Open multiplier | yes |
| Memory type | DDR4 |
| Memory controller | Dual Channel |
| TDP | 95 Watt |
| Graphics chip | Intel UHD Graphics 630 |
| Packaging | tray |