InWin


Polaris RGB Aluminium LED-Lüfter Twin Pack - 120 mm
Zwei 120-mm-Lüfter von InWin mit RGB-LED-Beleuchtung
73,58 m³/h @ 1.280 U/Min
1,26 mm H2O @ 1.280 U/Min
modulare Steckverbindung für Daisy-Chain
hochwertiger Aluminium-Rahmen
Item number: LUIW-008
EAN: 4710474944910
MPN: Polaris RGB Metal (twin pack)
Manufacturer: InWin
Product information -
Polaris RGB Aluminium LED-Lüfter Twin Pack - 120 mm
Der
InWin Polaris RGB Aluminium
ist ein hochentwickelter RGB-LED-Lüfter im 120-Millimeter-Format, der das Sortiment des enthusiastischen Herstellers erweitert und für einmalige Lichteffekte sowie effiziente Kühlperformance sorgt. Besonderheit dabei ist, dass mehrere Polaris RGB Aluminium-Lüfter, aufgrund ihres modularen Anschluss-Designs, komfortabel in Reihe geschaltet werden können. Dadurch wird ein wesentlich sauberes Kabelmanagement ermöglicht. Für leisen Betrieb sorgen außerdem die schwarzen Gummidämpfer, welche ungewollte Vibrationen eliminieren. In dem Twin Pack sind neben zwei Polaris RGB Aluminium-Fans auch alle benötigten Anschlusskabel enthalten.
Das InWin Polaris RGB Aluminium LED-Lüfter Twin Pack im Überblick:
Zwei stylische RGB-LED-Lüfter im 120-mm-Format
Hochwertiger Aluminium-Rahmen & hohe Lebenserwartung
Luftdurchsatz von 73,58 m³/h @ 1.280 U/Min
Luftdruck von 1,26 mm H2O @ 1.280 U/Min
Lautstärke von 20,2 dB(A) @ 1.280 U/Min
Modulares Anschluss-Design zum Verbinden mehrerer Lüfter
Kompatibel mit AURA Sync, Mystic Light Sync & RGB Fusion
Hinweis: Twin Pack inklusive 4-Pin Anschluss fürs Mainboard
Leistungsstarker RGB-LED-Lüfter im 120-mm-Format
Der Polaris RGB Aluminium-Lüfter liefert optimale Kühlleistung bei möglichst leisem Betrieb. Dabei dreht der Lüfter im PWM-Mode mit 500 bis 1.280 Umdrehungen pro Minute und erzeugt einen ausgezeichneten Luftdurchsatz von maximal 73,58 m³/h sowie einen Luftdruck von 1,26 mm H2O. Ein Aluminium-Rahmen sorgt dabei nicht nur für eine gesteigerte Stabilität und damit einhergehende Lebenserwartung, sondern wertet den Fan mit seinem Diamondschliff auch optisch auf.
Eine Besonderheit des Polaris RGB Aluminium Lüfters ist die Möglichkeit, mehrere dieser Lüfter in Reihe zu schalten, sodass nur sehr kurze Anschlusskabel und ein Stromanschluss verwendet werden müssen. Dafür verfügt jeder Lüfter über einen speziellen 8-Pin-Anschluss und wird zudem mit einem kurzen 100 mm sowie einem langen 800 mm Kabel ausgeliefert. Der erste Lüfter der Reihe muss an das Mainboard angeschlossen werden. Das dafür benötigte 4-Pin-Anschlusskabel liegt diesem Twin Pack bei.
Stylische LED-Beleuchtung mit direkter Steuerung übers Mainboard
Die in die Mitte des Lüfters integrierte LED-Beleuchtung umfasst insgesamt sechs RGB-LEDs, die eine eindrucksvolle Lichtstreuung sowie zahlreiche Beleuchtungsmodi ermöglichen. Die Steuerung erfolgt über die Software des jeweiligen Mainboard-Herstellers. Unterstützt werden ASUS Aura Sync, MSI Mystic Light Sync sowie Gigabyte RGB Fusion. Somit können sich die Fans an das Ökosystem des Gaming-Rechners anpassen.
Technische Details:
Maße: 120 x 120 x 25 mm (B x H x T)
Material: Aluminium, Kunststoff, Gummi
Farbe: Schwarz (Aufhängung, Gummidämpfer) / Grau, durchsichtig (Rotorblätter) / Alugrau (Rahmen)
Lüfterlager: Sleeve-Bearing
Lautstärke: max. 20,2 dB(A)
Drehzahl: 500 - 1.280 U/Min
Fördervolumen: max. 73,58 m³/h
Luftdruck: max. 1,26 mm H2O
Beleuchtung: RGB
Spannung: 12 V
Anschluss: 8-Pin
Lieferumfang:
2x Polaris RGB Aluminium Lüfter
8x Befestigungsschrauben
1x RGB Y-Kabel (Mainboard zu Lüfter)
1x 8-Pin Anschlusskabel (800 mm, Lüfter zu Lüfter)
1x 8-Pin Anschlusskabel (100 mm, Lüfter zu Lüfter)
1x 4-Pin Header
Lebenserwartung: 60.000 Stunden / 40°C
Garantie: 5 Jahre
Further links for

"Polaris RGB Aluminium LED-Lüfter Twin Pack - 120 mm"
Videos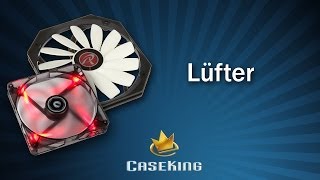 Technical Details
| | |
| --- | --- |
| Rotor diameter | 120 mm |
| Mounting holes | 120 mm |
| Primary colour | silver |
| Secondary colour | black |
| Fan connector | 4 Pin (PWM) |
| Illumination | yes |
| Illumination colour | RGB (selectable) |
| Max rpm (exact) | 1280 U/min |
| Min rpm (exact) | 500 U/min |
| Max noise level (exact) | 20,2 dB(A) |
| Max air volume (exact) | 73,58 m³/h |
| Max rpm | 1000 - 1499 U/min |
| Min rpm | 500 - 749 U/min |
| Max noise level | 20 - 24 dB(A) |
| Max air volume | 50 - 74 m³/h |
| Warranty | 5 years |
Awards
In conclusion, the In Win Polaris RGB Aluminum is a great looking fan with one of the best RGB implementations on the market. The 2.5mm thick aluminum frame, has a great fit and finish, on par with other In Win high end products. The rest of the fan has the same quality, starting with the semi-transparent blades and hub, and the rubberized corners and the modular connectors.

read more...

Pro

+ Single or Twin Pack
+ RGB lighting valid
+ Price
+ Overall quality
+ Ease of connection
+ Total noise level

read more...

I had a great time building in the In Win 101C and I'm very happy with the finished product. The case was very easy to build in. For a mid-tower, the 101C has plenty of water cooling options. I really like the rear mounted radiator option even if it may not be designed for optimal airflow. However, if I had increased my fan speed and not restricted air flow, I would have gotten different results. I love that the power supply is hidden. This also gives you extra room to hide that crows nest of cables if need be. If you prefer taking your time and making your cables look neat and clean, the 101C has more than enough room behind the motherboard tray for that kind of thing.

read more...