King Mod Service


King Mod EVGA GeForce GTX 1080 Ti FE Watercooled with EKWB
Custom water cooler pre-installed by King Mod vorinstalliert! EVGA GeForce GTX 1080 FTW with EK Water Blocks EK-FC1080 GTX FTW of your choice (& backplate)
Item number: SIGB-200
EAN: 0000000000000
MPN: SIGB-200
Manufacturer: King Mod Service
Product information -
King Mod EVGA GeForce GTX 1080 Ti FE Watercooled with EKWB
Water cooling is without doubt the best solution for keeping modern graphics cards well-cooled without compromising on noise, in addition to unlocking their full overclocking potential. This is because at extreme overclocks conventional air-coolers offer limited effectiveness in combating the excess heat of powerful hardware, and often this effectiveness comes at the cost of noise.

Modding this kind of valuable hardware is a risky business. This is because removal of the factory-installed cooler in favour of a water cooler voids the manufacturer's warranty. The bottom line is: That's a lot of money to waste.

This is where our team of modding experts here at the King Mod Service step in: At the customer's request their graphics card can be kitted out with water coolers and, thanks to our close cooperation with manufacturers, be sold with a full guarantee. Prior to modding, the graphics cards are pre-tested to ensure their full potential is ready to be unleashed, and they have to pass our benchmark test.

Thus the customer receives a fully-operational graphics card complete with a perfectly-mounted cooler. In this case we take a GeForce GTX 1080 Ti Founders Edition from EVGA which is equipped with a premium Water Cooler from EK Water Blocks in a variant of your choice.

This product also offers the possibility of adding a backplate, this not only improves the looks of the graphics card, but also offers improved support and stability to prevent torsion and flex in the PCB that could be harmful to the circuit traces in the long term. The backplate also provides slightly improved cooling to the rear of the card.


Graphics Card (s) (Varies according to selection):
EVGA GeForce GTX 1080 Ti Founders Edition

VGA Watercooler (Varies according to selection):
EK Water Blocks EK-FC Titan X Pascal / 1080 Ti
Optional: Backplate (Varies according to selection):
EK-FC Titan X Pascal / 1080 Ti Backplate

Mounted with:

Thermal Grizzly Hydronaut High-Performance Thermal Paste
Tips:
The requisite attachments are not contained within the bundle. In order to drive the graphics card a functioning waterloop complete with pump, radiator and reservoir must be installed.
The attainable cooling performance is dependent upon the components used, for this purpose the minimum-sized radiator required is 240 mm. Water temperatures can be reduced further by way of additional radiators. The accompanying guarantee is only valid when the item is used correctly and within allowed specifications. The card's original cooler from the manufacturer is not contained within the bundle.
If picking up the card in person, please take waiting times into account. The appearance of the final product will differ according to the choice of components selected.
Further links for

"King Mod EVGA GeForce GTX 1080 Ti FE Watercooled with EKWB"
Videos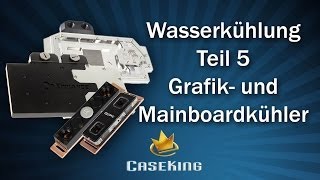 Technical Details
| | |
| --- | --- |
| GPU type / Series | NVIDIA GeForce RTX Gaming |
| Graphics chip | NVIDIA GeForce RTX 2080 Ti |
| Fertigung | 12 nm |
| GPU Takt (Basis) max. | 1350 MHz |
| GPU Takt (Boost) max. | 1650 MHz |
| Shader Einheiten | 4352 |
| VRAM size & type | 11 264 MB GDDR6 |
| Speicher Takt max. | 14 000 MHz |
| Speicheranbindung | 352 Bit |
| Display connectors | HDMI, Display Port, Display Port (2x), Display Port (3x), USB Typ C (VirtualLink) |
| Power supply | 2x 8-Pin PCIe |
| Slot Height | 2,5 Slots |
| Wasserkühlung | yes |
| Virtual Reality | Caseking Empfehlung, GeForce VR Ready |
| Feature | NVIDIA G-SYNC, NVIDIA G-SYNC HDR |