King Mod Systems


King Mod Little Drone System, Intel Celeron G3930
Home Office- / Multimedia PC
BitFenix Portal Mini-ITX case
Mini-ITX motherboard
Intel Celeron G3930 processor
8 GB DDR4 RAM
250 GB SSD
Item number: SIPC-187
EAN: 0000000000000
MPN: SIPC-187
Manufacturer: King Mod Systems
Product information -
King Mod Little Drone System, Intel Celeron G3930
The King Mod
Little Drone
system is an extremely compact system which, on account of its size, makes it an ideal candidate for the home office, multimedia duties, or as a LAN gaming PC. Constructed inside a
BitFenix Portal Mini-ITX case
it is reminiscent of the small turrets from the computer game of the same name and comes in either black or white as well as with or without an acrylic glass window in the roof of the case. The case consists of premium aluminium components and blends in well regardless of the surroundings. An absolute stunner!
The King Mod Little Drone System with Celeron Processor & ITX-Motherboard
The foundation of the system is based on the
ASRock H110M-ITX/ac Mini-ITX motherboard
with the modern H110 chipset which hosts the
Intel Celeron G3930
Dual-Core processor clocked at 2,9 GHz from Intel's seventh CPU generation. In order not to produce too much heat within the case the Little Drone system utilises integrated graphics in respect to graphical acceleration, namely the Intel HD Graphics 610. If needed, the customer can of course select a dedicated graphics card which can be exchanged for a passively-cooled variant if desired.
In terms of memory,
8 GB DDR4 RAM
from Team Group's Elite Plus Series is provided and clocked at 2.133 MHz which can then be expanded to up to 32 GB. The primary data storage device is a
Samsung 850 EVO SSD
which comes with a spacious 250 GB intended for the operating system and applications. As for the power supply, the Little Drone System utilises a compact
SFX-Format Kolink power supply
, which offers more than sufficient power.
The Base System Configuration:
Compact BitFenix Portal Mini-ITX case in white with acrylic glass window in the roof
Solid ASRock H110M-ITX/ac Mini-ITX motherboard (further motherboards available)
More efficient Intel Celeron G3930 "Kaby Lake" CPU
8 GB DDR4-RAM mit 2.133 MHz! Up yo 32 GB available
Samsung 850 EVO Series SSD with 250 GB storage as the primary storage device (further capacities and models available)
Reliable SFX power supply with high efficiency (80 PLUS Bronze) & 250 Watt performance
Additional: An appropriate operating system can be ordered at the same time in the drop-down menu and we'll even install it for you!
Free Games with King Mod Gaming Systems:
Complete systems from Caseking come bundled with the game keys matching the respective current games bundle of the chosen graphics card. Non-qualifying products do not come with game keys. All promotions are limited and only valid while stocks last or until the offer expires. Any recourse to courts of law is excluded. All currently active special offers from AMD, NVIDIA and Intel are listed below:


Customisable Complete Systems:

NOTHING is standard here! If you have a special wish, let us make it happen! Don't delay, reach us by e-mail at systems@caseking.de or by telephone at +49 (0)30 5268473-07 and we will investigate the technical feasibility of the project and give you a quick answer. Take full advantage of Caseking's huge stock and get a dream system customised to your individual needs, built and tested by the specialists in the Caseking King Mod team!

Caseking's King Mod service will take on the task of building your custom PC - and the King Mod experts experts bring the same attention to detail and extensive insider knowledge discerning customers have come to expect over the years to every single system build. Regardless of whether we are talking about pre-installed water coolers, OC motherboard bundles or perfectly soundproofed cases. At Caseking, computers are more than off-the-shelf products: Every complete PC is built according to a code of practice, furnished with the neatest and slickest of cabling, and thereafter runs a gauntlet of extreme performance tests in order to ensure 100% satisfaction.

Premium Cable Management, Express Builds and Further Information:

1. Build Time: Please be aware, that the King Mod Service only begins the process of building the system on receipt of your order. The expected standard of build quality requires sufficient time for assembly as well as extensive testing. As a general rule, regardless of order status, you should factor in at least 10 working days before the delivery process can begin. Should this process take any longer, the King Mod team will contact you personally. Providing all necessary components are in stock, if the Express Build Option is selected at the beginning of the build process, we guarantee dispatch within 72 hours for air cooled or AiO water cooled systems. For custom-watercooled systems, it is unfortunately not possible to indicate a general build time and there is also no Express Build Option available, as the construction time here always depends on the individual configuration and must be determined in advance with the experts of the King Mod team. In most cases shipment will be dispatched via UPS, if necessary an alternative shipping provider or forwarding agency will be used.

2. Guarantee: For all of Caseking's own complete systems, Caseking offers a 36 month guarantee, 24 of which include pick-up service. For a justified claim, there must be a technical defect on the PC that has not arisen from usage of the hardware that is outside of specification or that can be traced back to user misuse via proprietary methods or by discussion with a Caseking engineer. Furthermore the delivered system cannot be modified or altered, this includes independently updating the UEFI/BIOS as full functionality can no longer be guaranteed with UEFI/BIOS versions that differ from those originally installed. And as a general rule of thumb, you can't go far wrong with the age-old advice: "Never touch a running system!"

3. Order Production: The illustrations and photographs of computer systems are merely demonstration examples. The final product containing the desired components is built after order placement. The shipped computer may vary from the pictures according to the selection and availability of individual PC components. Under all circumstances however, you will receive a system constructed from the ground up with professionalism and all due care - as well as a system where the components are highly tuned and balanced, and that you can be proud to show off at any time, because here at Caseking nothing is standard! When selecting the premium cable management option our engineers will take meticulous care to ensure all cabling in the PC is exceptionally tidy, employing all necessary cable lengths and ties.
Further links for

"King Mod Little Drone System, Intel Celeron G3930"
Videos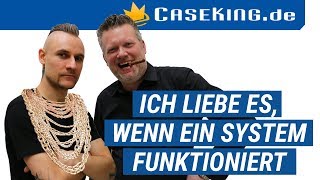 Technical Details
| | |
| --- | --- |
| CPU | Intel Celeron |
| Graphics chip | Intel HD Grafik |
| Cooling | Luftkühlung |
Awards
Stylishes Äußeres und ein äußerst kompakter Wohnzimmer-PC: Das Little Drone System vom King Mod Team von Caseking ist auf jeden Fall ein Hingucker. Dafür sorgt das Bitfenix Portal Gehäuse mit Schubfach, mit dem der gesamte Rechner einfach aus dem Gehäuse geschoben werden kann. Auf Wunsch gibt's auf der Oberseite ein Sichtfenster, in dem die Grafikkarte zur Geltung kommen kann. Mit seinen kompakten Ausmaßen ist das Little Drone System natürlich perfekt fürs Wohnzimmer geeignet.

read more...