King Mod Service


Noise Dampener für Cherry MX Switches, klar - 125 Stk.
High quality King Mod Kit with 125 O-rings in Clear rubber to reduce noise of Cherry MX Switches
Item number: GAZU-095
EAN: 4250144800035
MPN: GAZU-095
Manufacturer: King Mod Service
Product information -
Noise Dampener für Cherry MX Switches, klar - 125 Stk.
Unsere hochwertigen Mini-Donuts sehen zwar aus wie kleine fast durchsichtige Fruchtgummi-Produkte, sind aber nicht zum Verzehr geeignet. Viel bessere Dienste leisten sie stattdessen als dämpfende Elemente unter den Keycaps von mechanischen Tastaturen mit Cherry-MX-Switches. Die hier angebotenen Ringe sind transparent gehalten und somit die ganz sichere Wahl für alle Besitzer einer Tastatur mit einem Backlight, da die Beleuchtung so besser bis in die Keycaps geleitet wird.
Wer kennt es nicht? Wenn man eine Taste auf der Tastatur bis zum Anschlag durchdrückt, ertönt das charakteristische Klack-Geräusch. Im Alltag passiert das beim Schreiben recht häufig. Daher sind gerade bei den beliebten mechanischen Tastaturen weiche O-Ringe aus Gummi oder Silikon sehr gefragt, um die beim Tippen entstehenden Nebengeräusche zu reduzieren.
Unsere beständigen Noise-Dampener-Ringe werden auf die Basis eines jeden Keycaps gesetzt und federn den Tastenschlag ab, so dass keine Kollision des mechanischen Switches mit dem Switch-Gehäuse mehr stattfindet. Dabei verringert sich der maximale Tastenhub der Cherry MX-Switches geringfügig. Insgesamt entsteht so ein durchgängig einheitliches, leiseres Tasten-Geräusch und die Abfederung sorgt für geringere Ermüdungserscheinungen bei längeren Schreib-Sessions.
Bei der Installation ist es erforderlich, jedes einzelne Keycap einmal zu entfernen (wofür diese auch gemacht sind). Anschließend wird die Basis jeder Taste mit einem der O-Ringe versehen und das Keycap schließlich wieder aufgesetzt. Durch einen gefühlvollen Druck auf die Tasten werden die Ringe dann gefestigt. Unsere Noise Dampener sind mit den allermeisten Keyboards mit Switches vom Typ Cherry MX kompatibel und werden aus reißfestem, ermüdungsarmem Material gefertigt.
Hierbei handelt es sich um 125 transparente Ringe aus Silikon, die den Härtegrad Shore 40A besitzen.
Technische Details:
Tasten-Kompatibilität: Cherry MX
Farbe: Transparent
Härtegrad: Shore 40A
Material: Silikon
Außendurchmesser: 8,0 mm
Innendurchmesser: 4,8 mm
Dicke: 1,6 mm
Anzahl: 125 Stück
Further links for

"Noise Dampener für Cherry MX Switches, klar - 125 Stk."
Videos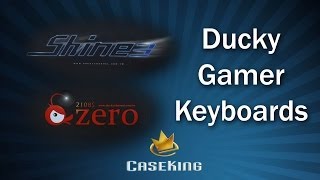 Technical Details
| | |
| --- | --- |
| Switches | all Cherry MX |
| Primary colour | transparent |
| Secondary colour | transparent |
| Material | silicone |