King Mod Systems


Burning Sky System, i7-8700K, GTX 1080
Configurable gaming system with massive power
Intel Core i7-8700K CPU
GeForce GTX 2070
16 GB DDR4-RAM
250 GB SSD
Sleeving extensions & red LED lighting
Item number: SIPC-126
EAN: 0000000000000
MPN: SIPC-126
Manufacturer: King Mod Systems
Product information -
Burning Sky System, i7-8700K, GTX 1080
Attention: Please note our current information on the construction time of full systems near the end of the product description before placing an order.
Kitted out with cutting edge tech, this black and red-themed gaming powerhouse is a force to be reckoned with - blending black-red lighting in a fantastic IN WIN 503 case with a window and front panel made from tempered glass. Needless to say, this system offers massive amounts of gaming power along with impressive energy efficiency to boot. The core components at the heart of this system include a full ATX-format motherboard, a brand new Core i7 8700K processor from Intel's Coffee Lake family of CPUs, and which is available here in a variety of overclocked speeds from 4,8 to 5,1 GHz! This high-powered processor offers, thanks to its cutting-edge 14 nm PLUS microarchitecture, unparalleled energy efficiency and works perfectly when paired with an NVIDIA GeForce RTX/GTX graphics card. This results in high framerates and smooth gaming - including up to enviable resolutions such as 4K/Ultra-HD. In order to give the processor ample cooling, King Mod Systems included an impressive All-in-One watercooler.
Ultimate Gaming PC with Intel Coffee Lake Power
An additional exhaust fan on the rear affords, in conjunction with the red LED fans situated to the back of the front panel, optimal airflow to your case's interior and hardware. The platform on which this system is built is a Z370 chipset, Socket 1151 motherboard. This enables compatibility with incredibly efficient and powerful DDR4 memory. The base configuration includes 16 GB of DDR4-RAM, although this can be increased if needed to a maximum of 32 GB. Additionally buyers can choose from a range of fast SSDs or SSHDs and secondary HDDs for storage. An efficient, high-quality 80Plus Gold-certified power supply rated at 650 Watts is provided. The black-red colour theme blends perfectly with the incredibly clean and tidy cable management as well as the similarly black-red sleeved extension cables from BitFenix used on the power supply. Two red BitFenix LED strips are located in the roof and floor of the case. A compatible operating system is optionally available for purchase alongside your new system, and if you want to get gaming even faster we can have it pre-installed and set up for you too!
The Base Configuration of the System:
Stylish IN WIN 503 Midi-Tower in black-red with window and tempered glass front
Intel Core i7 8700K (Coffee Lake) of your choosing & King Mod OC to the clock frequency of your choosing (see above)!
Optimum cooling thanks to Alpenföhn's Matterhorn Black Edition CPU cooler with the Alpenföhn Wing Boost 2 120 mm fans (PWM) or AiO water cooling with a 120 mm radiator
Socket 1151 motherboard (ATX format) with Intel Z370 chipset
Top gaming graphics card: NVIDIA GeForce GTX 1080 with 8 GB GDDR5X-RAM for smooth gaming (alternative models available)
Faster and more efficient DDR4-RAM in 8GB, 16 GB or 32 GB Dual-Channel kits
Lightning-fast and sought after SSDs or SSHDs with configurable capacities as your primary storage or boot device
Additional hard drives from 1 TB and upwards of your choice to act as secondary storage
Reliable high-quality PSU with high efficiency (80Plus Gold rating) & plenty of Power (650 Watts)
Optimum airflow courtesy of two additional 120 mm fans: 2x BlackSilent Pro Fan from Noiseblocker
Black-red colour theme thanks to BitFenix's extension kit sleeving for the PSU and two red BitFenix LED-strips in the roof and floor - all pre-installed to perfection!
Perfectly mounted with the help of Thermal Grizzly Hydronaut thermal paste
All-round protection: For increased security, every King Mod System comes with BullGuard Internet Security included.
Note: A compatible operating system can be selected from the drop-down menu and ordered to go with your new gaming PC, we'll even pre-install it for you!
Free Games with King Mod Gaming Systems:
Complete systems from Caseking come bundled with the game keys matching the respective current games bundle of the chosen graphics card. Non-qualifying products do not come with game keys. All promotions are limited and only valid while stocks last or until the offer expires. Any recourse to courts of law is excluded. All currently active special offers from AMD, NVIDIA and Intel are listed below:


BullGuard Internet Security for King Mod Gaming Systems:
Every complete system from Caseking comes bundled with BullGuard Internet Security for use on up to 3 devices. The licence lasts one year and allows you to protect yourself against online security threats in the form of viruses and malware. The sophisticated Internet Security Suite from BullGuard offers effective all round protection, maximum security while browsing the internet, while also offering an integrated firewall to go with numerous other functions that combine to successfully protect your system against unwanted intrusions and other direct attacks.
Completely Custom Systems:

NOTHING is standard here! If you have a special wish, let us make it happen! Don't delay, reach us by e-mail at systems@caseking.de or by telephone at +49 (0)30 5268473-07 and we will investigate the technical feasibility of the project and give you a quick answer. Take full advantage of Caseking's huge stock and get a dream system customised to your individual needs, built and tested by the specialists in the Caseking King Mod team!

Caseking's King Mod service will take on the task of building your custom PC and the King Mod experts experts bring the same attention to detail and extensive insider knowledge discerning customers have come to expect over the years to every single system build. Regardless of whether we are talking about pre-installed water coolers, OC motherboard bundles or perfectly soundproofed cases. At Caseking, computers are more than off-the-shelf products: Every complete PC is built according to a code of practice, furnished with the neatest and slickest of cabling, and thereafter runs a gauntlet of extreme performance tests in order to ensure 100% satisfaction.

Premium Cable Management, Express Builds and More Information:

1. Build Time: Please be aware, that the King Mod Service only begins the process of building the system on receipt of your order. The expected standard of build quality requires sufficient time for assembly as well as extensive testing. As a general rule, regardless of order status, you should factor in at least 10 working days before the delivery process can begin. Should this process take any longer, the King Mod team will contact you personally. Providing all necessary components are in stock, if the Express Build Option is selected at the beginning of the build process, we guarantee dispatch within 72 hours for air cooled i.e AiO water cooled systems and 96 hours for custom-watercooled systems! In most cases shipment will be dispatched via UPS, if necessary an alternative shipping provider or forwarding agency will be used.

2. Guarantee: For all of Caseking's own complete systems, Caseking offers a 36 month guarantee, 24 of which include pick-up service. For a justified claim, there must be a technical defect on the PC that has not arisen from usage of the hardware that is outside of specification or that can be traced back to user misuse via proprietary methods or by discussion with a Caseking engineer. Furthermore the delivered system cannot be modified or altered, this includes independently updating the UEFI/BIOS as full functionality can no longer be guaranteed with UEFI/BIOS versions that differ from those originally installed. And as a general rule of thumb, you can't go far wrong with the age-old advice: "Never touch a running system!"

3. Order Production: The illustrations and photographs of computer systems are merely demonstration examples. The final product containing the desired components is built after order placement. The shipped computer may vary from the pictures according to the selection and availability of individual PC components. Under all circumstances however, you will receive a system constructed from the ground up with professionalism and all due care as well as a system where the components are highly tuned and balanced, and that you can be proud to show off at any time, because here at Caseking nothing is standard! When selecting the premium cable management option our engineers will take meticulous care to ensure all cabling in the PC is exceptionally tidy, employing all necessary cable lengths and ties.
Further links for

"Burning Sky System, i7-8700K, GTX 1080"
Videos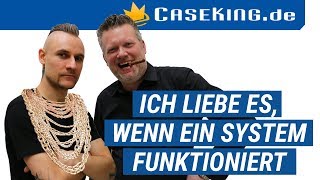 Technical Details
| | |
| --- | --- |
| CPU | Intel Core i7 |
| Graphics chip | GeForce RTX 2070 |
| Cooling | Luftkühlung |
Awards
Das Design ist in klassischem schwarz-rot gehalten, eher dezent und erinnert sicher nicht zufällig an Ferrari und Macho-Rennwagen. Da das Innere gut sichtbar ist, kann man die Sleeve-Verlängerungskabel für das Netzteil sowie die LED-Strips im Deckel und am Boden bewundern. Sehr schick. So ganz im Dunkel der Nacht konkurriert der PC im Zimmer tatsächlich mit einer angenehm wabernden Lavalampe. Die 1999 Euro gehen für den leistungsfähigen PC voll in Ordnung. Er bietet zudem ausreichend Möglichkeiten, in den kommenden Jahren für die Zukunft nachzurüsten.

read more...

Mit unserem King Mod Burning Sky System hat Caseking Wort gehalten und bietet einen tollen Gaming-Rechner, der alles andere als von der Strange ist. Vor allem die Optik ist einfach spitze, extrem durchdacht und wird durch die schicke Beleuchtung perfekt untermalt. Darüber hinaus hat das System Leistung satt für alle Aufgabe kommenden Blockbuster-Spielen.

read more...

Der harte Trainingsparcours des Caseking-Bootcamps wurde durchlaufen und die fordernden Skills der Pro Gamer bescheinigen diesem Produkt herausragende Leistung für professionelle Ansprüche in jeder Wettkampfsituation.

The rigorous training course of the Caseking Boot-camp has been completed and the challenging skills of the pro gamers attested this product an outstanding performance for professional standards in every competitive environment.

read more...