King Mod Systems


Exclusiv Gaming PC für Fallout 76 "Special Edition"
Strahlender High End Gaming-PC mit Coffee Lake-CPU!
in der stylischen Nuka-Cola-Edition von NZXT
Intel Core i7-8700K @ 3,7 GHz
GeForce RTX 2080
500-GB-SSD & 16 GB RAM
Item number: SIPC-541
EAN: 0000000000000
MPN: SIPC-541
Manufacturer: King Mod Systems
Product information -
Exclusiv Gaming PC für Fallout 76 "Special Edition"
Mit der
Nuka Cola Limited Edition
präsentierte
NZXT
in Zusammenarbeit mit Bethesda eine
auf 2.000 Einheiten limitierte Special Edition
für alle Fallout-begeisterten Gamer. Neben einer Plakette mit der Seriennummer ist der stylische Midi-Tower mit einem großen
Nuka Cola-Pin-up-Motiv
und einem entsprechenden Schriftzug ausgestattet. Die Experten bei Casekings King Mod Systems haben in das einmalige Gehäuse ein ebenso einmaliges System integriert.
Einmaliges Gehäuse für ein besonderes System
Das Gehäuse selbst ist nicht nur auf Grund des einprägsamen Motivs ein echter Hingucker. Die linke Seite beherbergt darüber hinaus ein
Fenster aus Temperglas
, das den Blick auf das
rot-schwarze Interieur
des
H700
freigibt. Neben einer weiß lackierten PSU-Shroud glänzt das Gehäuseinnere durch ein großes
Nuka Cola-Werbemotiv
auf der rechten Seite sowie einen entsprechenden Schriftzug an der Front. Auf einer silbernen Plakette, die auf dem Mainboard-Tray aufgebracht ist, ist zudem die Seriennummer sowie die Limitierung zu finden.
Auch die standardmäßig verbaute Hardware kann sich sehen lassen. Herzstück ist ein Mainboard aus der
Aorus-Serie von Gigabyte mit Z390-Chipsatz
für entsprechende CPUs von Intel. In der Basiskonfiguration ist dort
Intels kräftiger Core i7-8700K mit 3,7 GHz
verbaut, der über einen freien Multiplikator für das Overclocking verfügt. Für die Pixelausgabe steht eine brandaktuelle
GeForce RTX 2080 mit 8 GB VRAM
zur Verfügung. Sowohl CPU als auch Grafikkarte werden per Wasserkühlung von
EK Water Blocks auf Temperatur
gehalten. In den transparenten Schläuchen fließt mit
gelben CryoFuel von EK Water Blocks
versetzte Kühlflüssigkeit.
Gut beleuchtet und gut versorgt
Der
16 GB große Arbeitsspeicher stammt von Crucial
und verfügt über RGB-LED-Beleuchtung am Heatspreader. Daten lassen sich auf einer 500 GB großen und pfeilschnellen
M.2 mit PCIe-NVMe-Anschluss
speichern. Für genügend Strom sorgt ein
Netzteil von Seasonic mit satten 850 Watt und Platinum-Plus-Zertifizierung
. Neben dem Arbeitsspeicher sind auch die integrierten Lüfter sowie die Kühler für CPU und Grafikkarte mit RGB-LEDS ausgestattet. Zwei RGB-LED-Strips erweitern die Beleuchtung des coolen Gehäuses.
Die Grundkonfiguration des Systems:
Limitierter Midi-Tower Nuka Cola Limited Edition von NZXT
Gut ausgestattetes Gigabyte Aorus Master Intel Z390 Mainboard
Prozessor der Coffee Lake-Generation: Intel Core i7-8700K (weitere CPUs und Taktraten wählbar)!
High-End-Grafikkarte: Gigabyte GeForce RTX 2080 WindForce 8G
16 GB DDR4-RAM mit 3.000 MHz und LED-Beleuchtung (bis zu 32 GB wählbar)!
Extrem schnelle NVMe-M.2-SSD: Samsung 970 EVO Series SSD mit 500 GB als primärer Datenspeicher (weitere Kapazitäten und Modelle wählbar)
Optional: Große Festplatte als sekundärer Datenspeicher (bis 12 TB Kapazität)
Optional: dedizierte Soundkarten, Headsets, Racing-Chairs, Monitore, Mäuse, Mauspads sowie Gaming-Tastaturen
Zuverlässiges Qualitätsnetzteil mit sehr hoher Effizienz (80 Plus Platinum) & viel Power (850 Watt)
Rundumschutz: Für eine gesteigerte Sicherheit ist jedem King Mod System BullGuard Internet Security beigelegt.
Übrigens: Ein passendes Betriebssystem können Sie im Auswahlmenü gleich mitbestellen und wir installieren es direkt für Sie!
Gratis-Spiele zum King Mod Gaming-System:
Jedem Komplettsystem von Caseking liegen die zur jeweils ausgewählten bzw. verbauten Grafikkarte gehörenden Gutscheincodes der aktuellen Spielebundles bei. Nicht qualifizierten Produkten werden keine Gutscheine beigefügt. Nur Endkunden erhalten kostenlose Beigaben. Alle Promotion-Aktionen sind limitiert und nur gültig, solange der Vorrat reicht oder bis das Angebot beendet wird. Der Rechtsweg ist ausgeschlossen. Nachfolgend sind alle momentan aktiven Gutscheinaktionen von AMD, NVIDIA und Intel aufgeführt:
AMD Ryzen 7 / 5 2000 & Radeon VII / RX: World War Z & The Division 2 Gold Edition. Mehr Infos
NVIDIA GeForce RTX 2080 Ti, 2080, 2070, 2060: Wolfenstein: Youngblood. Mehr Infos
NVIDIA GeForce GTX 1080 (Ti), 1070 (Ti), 1060: Shadow of the Tomb Raider. Mehr Infos
BullGuard Internet Security zum King Mod Gaming-System:
Jedem Komplettsystem von Caseking liegt BullGuard Internet Security zur Nutzung auf 3 Endgeräten bei. Digitale Gefahren in Form von Viren und Malware können über die 1-jährige Lizenzdauer erfolgreich abgewehrt werden. Die umfangreiche Internet Security-Suite von BullGuard bietet einen effektiven Rundumschutz, der höchste Sicherheit beim Surfen gewährleistet und in Kombination mit der integrierten Firewall und zahlreichen weiteren Funktionen das System vor unerwünschten Zugriffen und direkten Angriffen von außen beschützt.
Konfigurierbare Komplettsysteme:

Hier ist NICHTS Standard! Wenn Sie einen speziellen Wunsch haben, setzen wir ihn für Sie um! Zögern Sie nicht, uns per Mail an systems@caseking.de oder per Telefon unter +49 (0)30 4036642-07 zu kontaktieren - wir prüfen die technische Machbarkeit und geben Ihnen rasch Auskunft. Schöpfen Sie voll aus dem riesigen Caseking-Sortiment und erhalten Sie Ihr individuell angepasstes Wunsch-System, gebaut und getestet von den Spezialisten des Caseking King Mod Teams!

Den akkuraten Zusammenbau übernimmt für Sie Casekings King Mod Service - dessen PC-Experten gehen an jeden einzelnen Komplett-Rechner mit derselben Liebe zum Detail und dem umfangreichen Insider-Know-How heran, welche anspruchsvollste Kunden seit Jahren gewohnt sind, egal ob von vormontierten Wasserkühlern, OC-Aufrüst-Bundles oder perfekt gedämmten Gehäusen. Computer sind hier keine Einheitsware: Jeder Komplett-PC wird nach allen Regeln der Kunst montiert, absolut sauber verkabelt und anschließend intensiv auf Herz und Nieren geprüft, um Sie hundertprozentig zufriedenzustellen.

Premium-Kabelmanagement, Express-Bau und weitere Hinweise:

1. Bauzeit: Bitte beachten Sie, dass der King Mod Service das Komplettsystem erst auf Ihre Bestellung hin für Sie zusammenbaut. Der dabei angesetzte Qualitätsanspruch erfordert genügend Zeit bei der Montage und den intensiven Tests. In der Regel ist in Abhängigkeit der Auftragslage mit mindestens 10 Werktagen zu rechnen, bevor der Computer in den Versand gehen kann. Sollte es doch einmal länger dauern, wird sich das King Mod Team mit Ihnen in Verbindung setzen. Sofern alle für das System benötigten Artikel lagernd sind, garantieren wir ab Baubeginn bei Auswahl unserer Express-Bau-Option einen Versand innerhalb von 72 Stunden für luftgekühlte bzw. AiO-Wakü-Systeme und 96 Stunden für custom-wassergekühlte Systeme! Der Versand erfolgt in den meisten Fällen per UPS, kann je nach den Erfordernissen bei einem System aber auch durch einen anderen Versanddienstleister oder per Spedition erfolgen. Bitte beachten Sie auch, dass bei Express-Versand (DHL Express und UPS Express) keine Samstagszustellung und keine Sonntagszustellung erfolgt.

2. Garantie: Für alle eigenen Komplettsysteme übernimmt Caseking eine 36-monatige Garantie, 24 Monate davon mit Pick-up & Return-Service. Voraussetzung für die Inanspruchnahme ist, dass ein technischer Defekt am PC-System vorliegt, der nicht auf unsachgemäßen Gebrauch der Hardware durch den Nutzer zurückzuführen ist und der zunächst mit einem Caseking-Techniker besprochen wurde. Zudem darf das ausgelieferte System nicht modifiziert werden und es sollte von einem eigenmächtigen UEFI/BIOS-Update abgesehen werden, da mit einem abweichenden UEFI/BIOS der volle Funktionsumfang nicht mehr garantiert werden kann. Außerdem gilt die berühmte Technik-Weisheit: Never touch a running system!

3. Auftragsfertigung: Die Abbildungen des Computersystems stellen lediglich eine Beispielkonfiguration dar. Der PC mit der vom Kunden tatsächlich gewünschten Konfiguration wird erst nach Auftragserteilung gebaut. Je nach Ihrer individuellen Auswahl und Verfügbarkeit der einzelnen PC-Komponenten kann der an Sie ausgelieferte Rechner von den Bildern abweichen. In jedem Fall aber erhalten Sie ein fachmännisch und mit aller Sorgfalt montiertes PC-System, das Sie wegen der gut aufeinander abgestimmten Hardware und der hochwertigen Bauteile jederzeit stolz präsentieren können - denn hier ist nichts Standard! Bei Auswahl der Premium-Kabelmanagement-Option werden unsere Techniker sämtliche Kabel des PCs in akribischer Sorgfalt ansehnlich ordentlich verlegen und dabei bei Bedarf auch Kabelkämme und Kabelbinder einsetzen.
Further links for

"Exclusiv Gaming PC für Fallout 76 "Special Edition""
Videos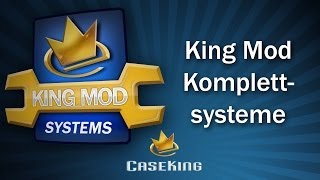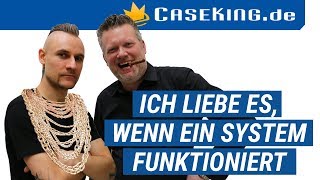 Technical Details
| | |
| --- | --- |
| CPU | Intel Core i7 |
| Graphics chip | GeForce RTX 2080 |
| Cooling | Custom Wasserkühlung |