King Mod Systems


HWLuxx Entry Gaming, Ryzen 5 3600, GTX 1660 Ti
Schneller Gaming-PC von hardwareLUXX und King Mod Systems für Einsteiger
Schallgedämmter Antec P7 Midi-Tower
AMDs Ryzen 5 3600 mit 3,6 HGz
B450 Aorus Pro von Gigabyte
GeForce GTX 1660 Ti
240 GB SSD & 16 GB RAM
Item number: SIPC-253
EAN: 0000000000000
MPN: SIPC-253
Manufacturer: King Mod Systems
Product information -
HWLuxx Entry Gaming, Ryzen 5 3600, GTX 1660 Ti
Die Experten aus der Redaktion der renommierten Webseite
hardwareLUXX
stellen alljährlich Bauvorschläge für Gaming-PCs unterschiedlicher Preisklassen zusammen - hier für einen Einsteiger-Gaming-PC mit einer AMD-CPU. Wer diesen besonderen Rechner nicht selbst zusammenbauen will, kann stattdessen unsere Experten beim King Mod Systems damit beauftragen. Der
HWLuxx Entry Gaming
mit seinem
AMD Ryzen 5 3600 3,6 GHz
und der kräftigen
Gigabyte GeForce GTX 1660 Ti Mini ITX
wird sämtlichen Ansprüchen an Gelegenheitszocker gerecht. Gleichzeitig ist dieser optional erweiterbare PC besonders günstig und noch dazu in einem schicken Gehäuse verpackt. Der
Midi-Tower P7 Silent
aus dem Hause Antec mit seinem schicken Äußeren mit dem Look gebürsteten Aluminiums ist innen ausgiebig mit Schalldämmung ausgekleidet. Die verbaute kräftige Hardware ist damit kaum zu hören!
Starkes Gaming-System mit starker Hardware
Angetrieben vom dem zuverlässigen
400 Watt Netzteil be quiet! Pure Power 11 80 PLUS Gold Netzteil
, wartet der
Antec P7 Silent
mit
AMDs Ryzen 5 3600
auf, der mit
3,6 GHz getaktet
ist. Zusammen mit der
GeForce GTX 1660 Ti Mini ITX von Gigabyte
schafft der
HWLuxx Entry Gaming
locker sämtliche Spiele auch mit mittleren und einige sogar mit hohen Einstellungen. CPU und Pixelbolide sind auf dem
B450 Aorus Pro
installiert, das von Gigabyte stammt und mit dem modernen B450 Chipsatz von AMD ausgestattet ist, samt aktuellen USB-3.1-Steckplätzen.
Damit für umfangreiche Spiele auch Platz ist, steckt
eine 240 GB große SSD von Gigabyte
in dem
HWLuxx Entry Gaming
. Von den insgesamt vier DDR4-Steckplatzen sind bereits zwei mit jeweils
8 GB besonders flottem DDR4-3000 Arbeitsspeicher aus der AEGIS Series von G.Skill
verbaut. Ausgiebigen Daddel-Abenden steht mit dem
HWLuxx Entry Gaming
nichts mehr im Wege.
Die Grundkonfiguration des Systems:
Edler Antec P7 Midi-Tower mit Schalldämmung
Mainboard B450 Aorus Pro von Gigabyte mit B450-Chipsatz von AMD
Starker Sechskern-Prozessor von AMD: AMDs Ryzen 5 3600 CPU mit 3,6 GHz Sockel AM4
Kräftige Grafikkarte: Gigabyte GeForce GTX 1660 Ti Mini ITX mit 6.144 MB GDDR5
16 GB DDR4-RAM von G.Skill AEGIS Series mit 3.000 MHz
Schnelle 2,5-Zoll-SSD von Gigabyte mit 240 GB Speicher
Zuverlässiges Qualitätsnetzteil von be quiet! mit sehr hoher Effizienz (80 PLUS Gold) & viel Power (400 Watt)
Optional: M.2-SSDs, dedizierte Soundkarten, Headsets, Racing-Chairs, Monitore, Mäuse, Mauspads sowie Gaming-Tastaturen
Rundumschutz: Für eine gesteigerte Sicherheit ist jedem King Mod System BullGuard Internet Security beigelegt.
Übrigens: Ein passendes Betriebssystem können Sie im Auswahlmenü gleich mitbestellen und wir installieren es direkt für Sie!
Gratis-Spiele zum King Mod Gaming-System:
Jedem Komplettsystem von Caseking liegen die zur jeweils ausgewählten bzw. verbauten Grafikkarte gehörenden Gutscheincodes der aktuellen Spielebundles bei. Nicht qualifizierten Produkten werden keine Gutscheine beigefügt. Nur Endkunden erhalten kostenlose Beigaben. Alle Promotion-Aktionen sind limitiert und nur gültig, solange der Vorrat reicht oder bis das Angebot beendet wird. Der Rechtsweg ist ausgeschlossen. Nachfolgend sind alle momentan aktiven Gutscheinaktionen von AMD, NVIDIA und Intel aufgeführt:
Ausgewählte AMD Ryzen 3000-Prozessoren: Assassin's Creed Valhalla. Mehr Infos
AMD Radeon RX 5700 (XT), 5600 XT & 5500 XT: World of Warcraft: Shadowlands / Godfall. Mehr Infos
NVIDIA GeForce RTX 2080 (Ti), 2070, 2060 (+SUPER): Rainbow Six Siege Gold Edition. Mehr Infos
BullGuard Internet Security zum King Mod Gaming-System:
Jedem Komplettsystem von Caseking liegt BullGuard Internet Security zur Nutzung auf 3 Endgeräten bei. Digitale Gefahren in Form von Viren und Malware können über die 1-jährige Lizenzdauer erfolgreich abgewehrt werden. Die umfangreiche Internet Security-Suite von BullGuard bietet einen effektiven Rundumschutz, der höchste Sicherheit beim Surfen gewährleistet und in Kombination mit der integrierten Firewall und zahlreichen weiteren Funktionen das System vor unerwünschten Zugriffen und direkten Angriffen von außen beschützt.
Inklusive fünf X-Gamer X-Shotz
Zu jedem King Mod Gaming-System legen wir einen Mix aus fünf variierenden Geschmacksrichtungen der X-Gamer X-Shotz bei. Das isotonische Getränkekonzentrat in Pulverform enthält Dextrose, auch Traubenzucker genannt, und das Kohlenhydratgemisch Maltodextrose. Zudem wurde Taurin und Koffein zur vorübergehenden Leistungssteigerung beigemischt.
Konfigurierbare Komplettsysteme:

Hier ist NICHTS Standard! Wenn Sie einen speziellen Wunsch haben, setzen wir ihn für Sie um! Zögern Sie nicht, uns per Mail an systems@caseking.de oder per Telefon unter +49 (0)30 4036642-07 zu kontaktieren - wir prüfen die technische Machbarkeit und geben Ihnen rasch Auskunft. Schöpfen Sie voll aus dem riesigen Caseking-Sortiment und erhalten Sie Ihr individuell angepasstes Wunsch-System, gebaut und getestet von den Spezialisten des Caseking King Mod Teams!

Den akkuraten Zusammenbau übernimmt für Sie Casekings King Mod Service - dessen PC-Experten gehen an jeden einzelnen Komplett-Rechner mit derselben Liebe zum Detail und dem umfangreichen Insider-Know-How heran, welche anspruchsvollste Kunden seit Jahren gewohnt sind, egal ob von vormontierten Wasserkühlern, OC-Aufrüst-Bundles oder perfekt gedämmten Gehäusen. Computer sind hier keine Einheitsware: Jeder Komplett-PC wird nach allen Regeln der Kunst montiert, absolut sauber verkabelt und anschließend intensiv auf Herz und Nieren geprüft, um Sie hundertprozentig zufriedenzustellen.

Premium-Kabelmanagement, Express-Bau und weitere Hinweise:

1. Bauzeit: Bitte beachten Sie, dass der King Mod Service das Komplettsystem erst auf Ihre Bestellung hin für Sie zusammenbaut. Der dabei angesetzte Qualitätsanspruch erfordert genügend Zeit bei der Montage und den intensiven Tests. In der Regel ist in Abhängigkeit der Auftragslage mit mindestens 10 Werktagen zu rechnen, bevor der Computer in den Versand gehen kann. Sofern alle für das System benötigten Artikel lagernd sind, garantieren wir ab Baubeginn bei Auswahl unserer Express-Bau-Option einen Versand innerhalb von 72 Stunden für luftgekühlte bzw. AiO-Wakü-Systeme. Bei custom-wassergekühlten Systemen ist eine pauschale Angabe der Bauzeit leider nicht möglich und es steht auch keine Express-Bau-Option zur Verfügung, da die Bauzeit hier stets von der individuellen Konfiguration abhängig ist und im Vorfeld mit den Experten des King Mod-Teams eruiert werden muss. Der Versand erfolgt in den meisten Fällen per UPS, kann je nach den Erfordernissen bei einem System aber auch durch einen anderen Versanddienstleister oder per Spedition erfolgen. Bitte beachten Sie auch, dass bei Express-Versand (DHL Express und UPS Express) keine Samstagszustellung und keine Sonntagszustellung erfolgt.

2. Garantie: Für alle eigenen Komplettsysteme übernimmt Caseking eine 36-monatige Garantie, 24 Monate davon mit Pick-up & Return-Service. Voraussetzung für die Inanspruchnahme ist, dass ein technischer Defekt am PC-System vorliegt, der nicht auf unsachgemäßen Gebrauch der Hardware durch den Nutzer zurückzuführen ist und der zunächst mit einem Caseking-Techniker besprochen wurde. Zudem darf das ausgelieferte System nicht modifiziert werden und es sollte von einem eigenmächtigen UEFI/BIOS-Update abgesehen werden, da mit einem abweichenden UEFI/BIOS der volle Funktionsumfang nicht mehr garantiert werden kann. Außerdem gilt die berühmte Technik-Weisheit: Never touch a running system!

3. Auftragsfertigung: Die Abbildungen des Computersystems stellen lediglich eine Beispielkonfiguration dar. Der PC mit der vom Kunden tatsächlich gewünschten Konfiguration wird erst nach Auftragserteilung gebaut. Je nach Ihrer individuellen Auswahl und Verfügbarkeit der einzelnen PC-Komponenten kann der an Sie ausgelieferte Rechner von den Bildern abweichen. In jedem Fall aber erhalten Sie ein fachmännisch und mit aller Sorgfalt montiertes PC-System, das Sie wegen der gut aufeinander abgestimmten Hardware und der hochwertigen Bauteile jederzeit stolz präsentieren können - denn hier ist nichts Standard! Bei Auswahl der Premium-Kabelmanagement-Option werden unsere Techniker sämtliche Kabel des PCs in akribischer Sorgfalt ansehnlich ordentlich verlegen und dabei bei Bedarf auch Kabelkämme und Kabelbinder einsetzen.

4. Zusatzkosten bei Inkompatibilität: Aufgrund des ständigen technologischen Fortschritts und dem Entstehen neuer Trends im Hardwarebereich kann es dazu kommen, dass bei den Hardware-Komponenten Inkompatibilitäten auftreten. Zum Beispiel benötigen diverse AiO-Wasserkühler einen USB-2.0-Header, um alle Features nutzen zu können. Dieser Header wird allerdings nicht mehr auf allen Mainboards bereitgestellt, sodass entsprechende Adapter verbaut werden müssen, um alle Funktionen bereitzustellen. Ein weiteres Beispiel ist das Fehlen eines USB-3.1-Headers für einen entsprechenden USB-Anschluss am Gehäuse. Der Einbau entsprechender Adapter kann zu Zusatzkosten führen. Sollte der Einbau eines Adapters zwingend notwendig oder empfehlenswert sein, setzt sich das Team des King Mod-Services mit Ihnen in Verbindung, um das weitere Vorgehen zu klären. Zusätzlich kann sich die Bauzeit entsprechend verlängern.
Further links for

"HWLuxx Entry Gaming, Ryzen 5 3600, GTX 1660 Ti"
Videos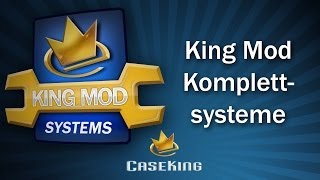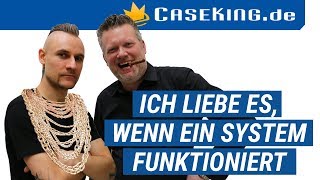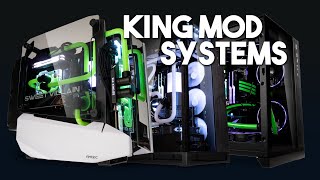 Technical Details
| | |
| --- | --- |
| CPU | AMD Ryzen 5 |
| Graphics chip | NVIDIA GeForce GTX 1060 |
| Cooling | Luftkühlung |