King Mod Systems


PC-Welt Gaming-PC Xtreme Value 2019 Komplett-Bausatz
Komplett-Bausatz zum Eigenbau
Äußerst kompakter Gaming-PC mit AMD Ryzen APU
Bastion RGB-Midi-Tower von Kolink
AMD Ryzen 3 3200G
mit integrierter Grafikeinheit
8 GB RAM
Free of shipping costs!
archived
Item number: SIPC-610
EAN: 0000000000000
MPN: SIPC-610
Manufacturer: King Mod Systems
Product information -
PC-Welt Gaming-PC Xtreme Value 2019 Komplett-Bausatz
Das
Team Hölle der PC-Welt
und die
Experten unseres King Mod Service
haben wieder zugeschlagen und kreierten einen halbwegs kräftigen Gaming-PC mit einem unschlagbaren Preis-Leistungsverhältnis: Den
King Mod Systems PC-Welt Gaming-PC Xtreme Value 2019
als
Komplett-Bausatz
. Die dazugehörige Hardware ist nicht nur für Gelegenheitszocker geeignet, auch viele aktuelle Spiele können bei mittleren bis hohen Einstellungen problemlos in Full-HD gedaddelt werden.
Verpackt ist der
King Mod Systems PC-Welt Gaming-PC Xtreme Value 2019 als Komplett-Bausatz
in dem eleganten
Bastion RGB-Midi-Tower von Kolink
, der mit transparenter Front und einem Window im linken Seitenteil einen Blick auf die starke Hardware im Inneren bietet, zusätzlich beleuchtet durch
einen RGB-LED-Lüfter an der Rückseite
. Weitere Gehäuse lassen sich in unserem Konfigurator selbstverständlich auch auswählen. Egal in welchem Gehäuse, der
King Mod Systems PC-Welt Gaming-PC Xtreme Value 2019 Komplett-Bausatz
ist nicht nur besonders preisgünstig, er sieht auch noch verdammt schick aus.
Selbstverständlich kann der Gaming-PC auch als zusammengebauter Komplett-PC (Artikelnummer: SIPC-266) erworben werden.
Die Hardware im schicken Midi-Tower
Die darin zu verbauende Hardware ist nicht nur für Gelegenheitszocker geeignet, auch viele anspruchsvolle Spiele können bei mittleren Einstellungen problemlos gedaddelt werden. Denn dem Gehäuse ist
AMDs Ryzen 3 3200G (Picasso)
beigelegt, dessen
vier Kerne
mit schnellen 3,6 GHz getaktet ist und einen Boost von 4,0 GHz erreichen, wenn er gefordert wird. Der Clou an der Raven-Ridge-Plattform ist aber die integrierte Grafikeinheit Vega 8 die mit insgesamt 8 Computing Units und 512 Shadern ordentliche Grafikpower liefert. Mit
maximalen 65 Watt TDP
ist der Ryzen 3 3200G trotz seiner Leistung besonders stromsparend. Da bleibt im Portemonnaie mehr Geld für ordentliche Spiele. Wer es noch kräftiger will, findet weitere CPUs in der Optionsliste.
Der Ryzen 3 3200G findet auf dem kompakten
Micro-ATX-Mainboard B450M-HDV-R4.0
von ASRock mit dem AM4-Sockel sein Zuhause. Das Mainboard glänzt mit hochwertigen VRMs und bringt mit seinen ELNA Audio-Kondensatoren und Realtek ALC887 einen ordentlichen 7.1-Sound auf eine entsprechende Anlage. Zudem lässt sich der
King Mod Systems PC-Welt Gaming-PC Xtreme Value 2019 im Komplett-Bausatz
per
LAN ins Netz
verbinden.
Qualität zu einem günstigen Preis
Der auf dem Qualitäts-Mainboard verbaute B450-Chipsatz kommt mit DDR4-RAM zurecht, der bis 3.200 MHz getaktet werden kann. In den beiden vorhandenen Slots verbauen unsere Experten vom King Mod Service standardmäßig
zwei 4-GB-große Riegel
mit einem
Basistakt von 3.000 MHz
. Auch hier gibt es weitere Optionen zur Auswahl, entweder mit einem Heatspreader in einer anderen Farbe, höhere Taktraten oder gleich doppelt so viel Arbeitsspeicher, mehr ist ja bekanntlich immer besser.
Der im Mainboard verbaute Chipsatz unterstützt AMDs StoreMI. Damit können optional auswählbare SSDs und HDDs zu einem einzigen Laufwerk kombiniert werden. Die so konfigurierte Hybrid-Festplatte verschiebt Daten, auf die am häufigsten zugegriffen wird, automatisch auf die SSD und vereint so die schnelle SSD-Reaktionsfähigkeit mit der hohen Speicherkapazität mechanischer Festplatten.
Die Grundkonfiguration des Komplett-Bausatzes:
Schicker Bastion RGB-Midi-Tower Kolink (weitere Gehäuse wählbar)
Gut ausgestattetes ASRock B450M-HDV R4.0, AMD B450 Mainboard mit AM4-Sockel (weitere Mainboards wählbar)
Hochmoderner AMD Ryzen 3 3200G 4-Kern-Prozessor mit integrierter Vega-8-GPU, 4 MB L3-Cache & 4,0 GHz Turbo-Takt (weitere CPUs wählbar)!
8 GB DDR4-RAM (weitere RAM-Kits mit bis zu 32 GB wählbar)
Optional: M.2-NMVe-SSD, SATA-SSD oder große HDD
Zuverlässiges Qualitätsnetzteil von Kolink mit hoher Effizienz (80 PLUS) und 400 Watt
Optional: Headsets, Racing-Chairs, Monitore, Mäuse, Mauspads sowie Gaming-Tastaturen
Rundumschutz: Für eine gesteigerte Sicherheit ist jedem King Mod System BullGuard Internet Security beigelegt.
Übrigens: Ein passendes Betriebssystem können Sie im Auswahlmenü gleich mitbestellen!
Hinweis 1:
Aus Versicherungsgründen müssen Komplett-Bausätze im
auseinandergebauten Zustand
in ihren jeweiligen Verpackungen an Caseking zurückgeschickt werden!
Hinweis 2:
Bitte beachten Sie, dass nach dem Zusammenbau die Radeon-Treiber für die korrekte Bilddarstellung installiert werden müssen.
Hinweis 3:
Je nach ausgewähltem Mainboard und dem ausgewählten Prozessor kann es notwendig sein, ein
BIOS/UEFI-Update
durchzuführen. Dieses Update wird kostenfrei von unserem King Mod-Team durchgeführt. Durch das notwendige Update kann es zu Verzögerungen beim Versand kommen.
Gratis-Spiele zum King Mod Gaming-System:
Jedem Komplettsystem von Caseking liegen die zur jeweils ausgewählten bzw. verbauten Grafikkarte gehörenden Gutscheincodes der aktuellen Spielebundles bei. Nicht qualifizierten Produkten werden keine Gutscheine beigefügt. Nur Endkunden erhalten kostenlose Beigaben. Alle Promotion-Aktionen sind limitiert und nur gültig, solange der Vorrat reicht oder bis das Angebot beendet wird. Der Rechtsweg ist ausgeschlossen. Nachfolgend sind alle momentan aktiven Gutscheinaktionen von AMD, NVIDIA und Intel aufgeführt:
AMD Radeon RX 5700 (XT), 5600 XT & 5500 XT: Resident Evil 3 + 1 weiteres Spiel. Mehr Infos
Caseking Komplett-PCs mit NVIDIA GeForce RTX GPU: Call of Duty: Modern Warfare. Mehr Infos
AMD Ryzen CPUs & Radeon GPUs: 3 Monate Xbox Game Pass für PC. Mehr Infos
BullGuard Internet Security zum King Mod Komplett-Bausatz:
Jedem Komplett-Bausatz von Caseking liegt BullGuard Internet Security zur Nutzung auf 3 Endgeräten bei. Digitale Gefahren in Form von Viren und Malware können über die 1-jährige Lizenzdauer erfolgreich abgewehrt werden. Die umfangreiche Internet Security-Suite von BullGuard bietet einen effektiven Rundumschutz, der höchste Sicherheit beim Surfen gewährleistet und in Kombination mit der integrierten Firewall und zahlreichen weiteren Funktionen das System vor unerwünschten Zugriffen und direkten Angriffen von außen beschützt.
Further links for

"PC-Welt Gaming-PC Xtreme Value 2019 Komplett-Bausatz"
Videos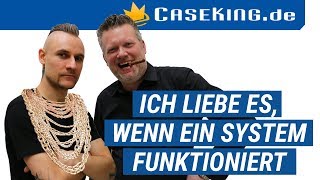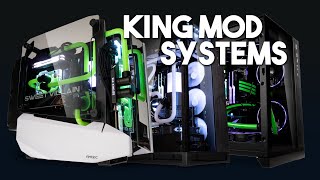 Technical Details
| | |
| --- | --- |
| CPU | AMD Ryzen 3 |
| Graphics chip | AMD Radeon Vega 8 |
| Cooling | Luftkühlung |