Kolink


Continuum 80 PLUS Platinum Netzteil, modular - 1050 Watt
Hochwertiges 80-Plus-Platinum Netzteil mit gigantischen 1.050 Watt Nennleistung
sechs PCIe-Steckern und fünf Jahren Garantie
ohne Kaltgerätekabel
Item number: NEKL-018
EAN: 5999094001411
MPN: KL-C1050PL
Manufacturer: Kolink
Product information -
Continuum 80 PLUS Platinum Netzteil, modular - 1050 Watt
Mit der Continuum-Serie verlässt die ungarische Marke Kolink endgültig den Bereich der Budget-Netzteile und präsentiert ein Oberklasse-Netzteil zum fairen Preis. Ab sofort möchte Kolink auch Gamer mit mehreren (stark) übertakteten Grafikkarten sowie Betreiber von Rendering-Plattformen und Workstations mit Qualität und Preis-Leistung überzeugen. Mit High-End-Modellen mit mehr als 1.000 Watt Nennleistung und 80 PLUS Platin Effizienz steht Kolink ab sofort den in Deutschland bekannteren Marken in nichts nach.
Das Kolink Continuum 80 PLUS Platinum 1050 Watt im Überblick:
1050-Watt-Netzteil mit enorm starker 100-A-Singlerail
Hohe Effizienz durch 80 PLUS-Platinum-Zertifikat
Leiser 140-mm-Lüfter
Vollständig modulares Kabelmanagement mit flachen Kabeln
Sechs 6+2-Pin-PCIe-Stecker für Grafikkarten
High-End-Technik für Netzteile der Oberklasse
Für derartige Leistung setzt Kolink auf Oberklasse-Technik: Während im Primärbereich eine Double-Forward-Schaltung zum Einsatz kommt setzt der Hersteller im Sekundärbereich auf DC-DC-Technik mit unabhängiger Spannungsgregulation. Davon profitieren sowohl der Wirkungsgrad als auch die Präzision der Spannungsversorgung, vor allem bei asymmetrischer Belastung. So darf das Continuum-Netzteil mit der gesamten Nennleistung bei Bedarf auf der +12-Volt-Schiene belastet werden. Gerade bei Systemen mit mehreren Hauptprozessoren und Grafikkarten sind stark unterschiedliche Lastzustände alltäglich - gut, dass Kolink die neue Top-Serie von Anfang an auf Extrem-Szenarien ausgelegt hat.
Dauerhafter Betrieb derart leistungsfähiger Hardware ist sowieso ein teures Vergnügen, schließlich fallen Stromkosten proportional zur Leistungsaufnahme der Komponenten an. Mit dem Kolink Continuum-Netzteil lassen sich die Mehrkosten gegenüber Standard-Systemen etwas reduzieren: Der besonders hohe Wirkungsgrad genügt den Anforderungen von 80 PLUS Platinum und übertrifft somit 92/90/89 Prozent bei 50/20/100 Prozent Last (bei 115 Volt Eingangsspannung). Im europäischen 230-Volt-Netz steigt die Effizienz weiter. Im Vergleich zu einfacheren Netzteilen mit Gold-Zertifizierung spart das Kolink Continuum daher immerhin gut 20 Watt ein. Zudem wird die Abwärme minimiert, was der Kühlung zugutekommt und die Lebensdauer verlängert.
Üppige Anschlussvielfalt und sämtliche Schutzschaltungen
Bei der Komponentenbestückung wählt Kolink Qualität, ausschließlich 105-Grad-Elkos japanischer Marken werden verbaut. Der Name der Continuum-Serie steht schließlich für dauerhaften und störungsfreien Betrieb Für den notwendigen Luftstrom zur Kühlung sorgt ein besonders langsam rotierender 140-Millimeter-Lüfter mit Golfball-Oberflächen und besonders langlebigem doppelten Kugellager. Kolinks Einstieg ins High-End-Segment kann daher nicht nur mit Spannungsqualität, sondern auch mit besonders niedrigem Betriebsgeräusch bei guter Kühlung überzeugen. Die Herstellergarantie von fünf Jahren entspricht dem aktuellen Standard der Oberklasse.
Ein klares Highlight des Kolink Continuum C1050PL ist die gigantische Ausstattung mit Anschlüssen: Neben dem 20+4-Pin-ATX-Stecker für das Board können je ein 4+4-Pin- und ein 8-Pin-12V-EPS-Stecker bis zu zwei High-Prozessoren versorgen. Für die Grafikkarten stehen ganze sechs 6+2-Pin-PCIe-Stecker an drei Kabelsträngen bereit. Selbst Render-Setups mit sechs Mittelklasse-GPUs können so ohne Adapter-Bastellösungen betrieben werden. Die weiteren Komponenten werden mit je acht SATA- und 4-Pin-Molex-Steckern versorgt. Damit kann jedes Netzteil der neuen Continuum-Serie dauerhaft besondere Leistungen erbringen. Ein gelungener Einstieg in den Markt für High-End-Netzteile!
Hinweis:
Zum Wohle der Umwelt verzichtet der Hersteller auf die Mitlieferung eines Kaltgerätekabels für den Netzanschluss.
Technische Details:
Maße: 150 x 86 x 180 mm (B x H x T)
Lüfter: 140 mm (automatische Steuerung)
Farbe: Schwarz (Netzteil, Lüfter)
Effizienz: mindestens 92/90/89 Prozent bei 50/20/100 Prozent Auslastung. Erfüllt die Anforderungen von 80 PLUS Platin. Effizienz im europäischen 230-Volt-Netz liegt um bis zu zwei Prozentpunkte höher
Active PFC
Formfaktor: ATX12V 2.4/EPS12V 2.92
Leistung: 1.050 W
+3,3V: 25 A
+5V: 25 A
+3,3V & +5V kombiniert: 130 W
+12V: 1.050 W / 100 A
-12V: 3,6 W / 0,3 A
+5Vsb: 15 W / 3 A
Anschlüsse (abnehmbar):
Mainboard: 1x 20+4-Pin ATX12V/EPS12V
CPU: 1x 4+4-Pin, 1x 8-Pin ATX12V/EPS12V
3x2 6+2-Pin-PCIe (insgesamt 6x 6+2-Pin-PCIe)
8x SATA
8x 4-Pol-Molex
Schutzschaltungen:
OVP/UVP (Sicherung gegen Über- und Unterspannung)
SCP (Kurzschluss) OPP (Überlast) OCP (Überstrom auf den Schienen +12, +3,3 und +5 Volt)
Herstellergarantie: 5 Jahre
Further links for

"Continuum 80 PLUS Platinum Netzteil, modular - 1050 Watt"
Videos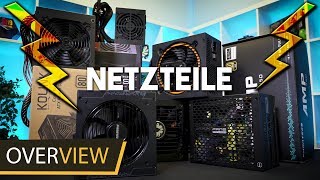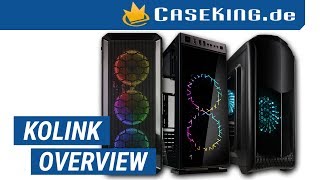 Technical Details
| | |
| --- | --- |
| PSU formfactor | ATX |
| Power category | 1001 to 1200 Watt |
| DC output (accurate) | 1050 Watt |
| 12V power | 1050 Watt |
| 12V Rail distribution | Single Rail |
| modular | yes (semi- or fully-modular), fully-modular |
| semi-passiv | no |
| 6+2-Pin PCIe | 6x |
| CPU power supply | 1x 4+4-Pin, 1x 8-Pin |
| 4-Pin connectors | 8x |
| SATA connectors | 8x |
| PSU fan | 139/140 mm |
| Illumination | no |
| Colour | anthracite, black |
| Depth | 18 cm |
| Case fan controller | no |
| Software Interface (digital) | no |
| Efficiency 80Plus | 80 PLUS Platinum |
| Efficiency Class Cybenetics ETA | A |
| Volume Cybenetics LAMDA | S++ |
Awards
Positive Punkte bei dem Kolink Continuum 1050W


+ hoher Wirkungsgrad (80PLUS Platinum)
+ angemessen leiser Betrieb
+ hohe Leistungsfähigkeit
+ Kondensatoren japanischer Marken verbaut
+ funktionsfähige Schutzschaltungen
+ voll-modulares Kabelmanagement

read more...

Conclusion
The Kolink Continuum 850w is a high-end source ready to fight against the giants of the market. Their weapons are a very good performance, great functionality and a fair price. This is a guarantee source capable of supplying 850W continuously at 40ºC while maintaining high efficiency. A source that's going to make a lot of war in the marketplace and must be very high on your list.

We distinguish the KOLINK Continuum 850W series power supply (KL-C850PL) with our RealHardTechX Gold Award and recommend it to all our readers.

read more...

Kitguru says: The Kolink Continuum KL-C1050PL is not the prettiest looking power supply, but inside is where it counts. All round performance is rock solid and Kolink have adopted high grade Japanese capacitors throughout. It is one of the most competitive priced 1000W+ Titanium, pure modular power supplies on the market today.

read more...