Koolance


QD3 No-Spill Schnellverschluss, Schott female, G1/4 Zoll
Koolance (patent-pending) quick disconnect no-spill coupling with automatic shutoff. 13mm (1/2") ID male straight connection with compression fitting.
Item number: WASA-445
EAN: 0829596909920
MPN: QD3-FSFG4-P
Manufacturer: Koolance
Product information -
QD3 No-Spill Schnellverschluss, Schott female, G1/4 Zoll
Koolance ist unter Kennern ein Garant für hervorragende Qualität und Optik und bietet eine breite Palette von Artikeln im Bereich Wasserkühlung an, die von Kühlkörpern über Fittings und Radiatoren bis hin zu Pumpen und Schläuchen reicht. Der Hersteller weiß also genau, was er seinen anspruchsvollen Kunden anbietet.
Die QD-Serie der Schnellverschlüsse von Koolance ermöglichen es auf sehr einfache und praktische Weise mit einfachem Herunterdrücken eines Metallringes, den Kühlmittelkreislauf zu unterbrechen. Notwendig wird dies vor allem dort, wo häufig Schläuche bzw. darüber eingebundene Wasserkühlungskomponenten vom Rest der Wasserkühlung abgekoppelt werden müssen. Je höher die Bezeichnung des QD-Anschlüsse, desto massiver und größer sind diese ausgeführt und eignen sich dementsprechend für größere Schlauchdurchmesser.
Man denke zum Beispiel an einen externen Radiator, den man beim PC-Transport schnell und sicher von diesem trennen möchte, um ihn separat zu transportieren. Oder an eine Wasserkühlungskomponente, die man häufiger wechselt, sei es aus Experimentierfreude (CPU- , Chipsatz-Kühler) oder wegen regelmäßiger Upgrades (VGA-Kühler).
Zwei QD3-Schnellverschlüsse aus vernickeltem Messing werden dabei miteinander verbunden bzw. voneinander getrennt (einmal male, einmal female), wobei Koolance Ventile entwickelt hat, die, wie der Name No-Spill verrät, eine gewisse Leckagefreiheit gewährleisten sollen. Es ist aber zu beachten, dass eine hundertprozentige sofortige Dichtung nicht möglich ist und bis zu 0,2 ml Flüssigkeit austreten können.
Dieser Schnellverschluss in neuer Revision stellt die gerade Ausführung in female mit einem G1/4-Zoll-Außengewinde dar und besitzt ein Schott zum Festschrauben an Gegenparts wie zum Beispiel einem Gehäuse.
Technische Details:
Größe: 55 x 26 mm
Material: Messing, vernickelt
maximaler Druck im Betrieb: 113,8 psi
Anschlüsse:
QD3: female
Verbindung: ¼ Zoll + Schott
Further links for

"QD3 No-Spill Schnellverschluss, Schott female, G1/4 Zoll"
Videos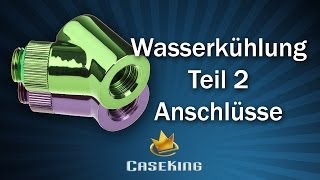 Technical Details
| | |
| --- | --- |
| Outer Diameter | universell (G1/4"-Innengewinde) |
| Inner Diameter | universell (G1/4"-Innengewinde) |
| Water cooling connector type | adapter |
| Set | nein |
| Suitable for Hardtubing | nein |
| Angle | gerade, kein Winkel |
| Rotatable | nein |
| Purpose | Schnellverschluss |
| Connector color | silver glossy |