Laing


Original-Pumpe DDC-1T - 12 Volt
Despite a remarkably small footprint of 2.4" square
This pump features an astounding 13ft of head to provide superior flow rates in today's most complex liquid cooled systems.
Item number: WAPU-015
EAN: 4049469056810
MPN: 6500023
Manufacturer: Laing
Product information -
Original-Pumpe DDC-1T - 12 Volt
Wer von Pumpen für PC-Wasserkühlungen spricht, kommt um "Laing" nicht herum. Hierbei handelt es sich um ein deutsches Unternehmen, welches sich auf die Herstellung verschiedenster Pumpen und Wärmesysteme spezialisiert hat - Heizungs-, Umwälz-, Kondensat oder Industriepumpen - Laing liefert Spitzenqualität für jeden dieser Bereiche. Mit diesem Unternehmens-Knowhow war ein Einstieg in den Bereich der PC-Wasserkühlungen nur ein kleiner Schritt und in der Tat nahm Laing hierbei eine Vorreiterrolle ein.
In Zusammenarbeit mit dem Automobilzulieferer Delphi entstand ein System, welches seit Jahren die Powerreferenz unter den PC-Wakü-Pumpen darstellt und unzählige (inter)nationale Auszeichnungen und Testsiege errungen hat. Besonders bei umfangreichen Systemen mit vielen Kühlern und großem Radiator kann die Pumpe ihr Leistungspotential ausspielen. Vor allem der hohe Druck und damit die Durchflussgeschwindigkeit übertrifft andere Modelle deutlich. Als Beleg hierfür wird zumeist die immense Förderhöhe angeführt. Doch auch der besondere Aufbau zeigt die hohe Ingenieurskunst bei Laing.
Hierbei handelt es sich um eine Originalpumpe von Laing.
Diese werden inzwischen zahlreich kopiert. Die Modelle sind jedoch nicht baugleich und unterscheiden sich insbesondere durch die verwendeten Materialien, was den Nachbauten eine deutlich geringere Lebensdauer und höhere Störanfälligkeit beschert. Andere Kopien sind sogar vollkommen andere Pumpensysteme in angepassten Gehäusen, welche nicht über die Vorteile einer Kugelmotorpumpe verfügen.
Die Pumpe ist in vier Versionen erhältlich. Allen gemeinsam ist der Aufbau, das Gehäuse und die 12V Stromversorgung. Unterschiede ergeben sich bei den Anschlüssen, der Leistungsfähigkeit und der damit verbunden Lautstärke. Hierbei handelt es sich um das Standardmodell mit Steckanschlüssen (Fitting).
Doch zunächst zu den Gemeinsamkeiten: Die DC-Pumpe ist eine sogenannte elektronisch kommutierte Kugelmotorpumpe. Hierbei bewegt sich eine sphärisch geformte Rotoreinheit in einem gleichermaßen geformten Gehäuse - nur durch die umgebenden Magnete in dieser Position gehalten. Als Verbindung dient lediglich eine Keramikkugel, welche durch ihre enorme Härte extrem verschleißfest ist. Auf andere beweglichen Elemente wurde bewusst verzichtet. Für die eigentliche Rotation der Laufradeinheit sorgt ein reibungsloses Magnetfeld, welches von den rundum liegenden Elektromagneten erzeugt wird.
In der Praxis funktioniert das dann so: Das Wasser wird über den oberen-mittigen Zulauf herangeführt, fließt durch die mittige Bohrung der Rotoreinheit nach unten und wird dort durch die Rotation an der Außenseite entlang nach oben befördert und beschleunigt, wo entsprechend der Ausgang sitzt. Offensichtlichster Vorteil dieser Konstruktion ist die minimale Berührungsfläche zwischen den beweglichen Teilen, denn diese beschränkt sich auf die Keramikkugel.
Damit besteht zunächst eine minimale Übertragungsfläche für Vibrationen, was in einer sehr geringen Geräuschkulisse resultiert. Doch besonders im Dauereinsatz kann dieses Prinzip seine Leistungsfähigkeit zeigen: Zunehmendes Lagerspiel und damit eine Lautstärkezunahme kann prinzipbedingt nicht entstehen. Auch eine Schmierung ist nicht notwendig, da hierfür das Wasser selbst sorgt. Ebenso stellt eine Verschmutzung kein Problem dar, denn sollte der Rotor widererwarten doch einmal blockieren, läuft er nach der Entfernung der Störquelle weiter wie zuvor.
Im Ergebnis gibt Laing eine mittlere Lebensdauer von 50.000 Stunden an - also fast sechs Jahre Dauerbetrieb. Ein weiterer Vorteil ist der geringe Strombedarf für die vergleichbar hohe Leistung. Und durch die geringe Bauhöhe der Delphi/Laing-Pumpe wird auch ein Einbau in verschiedene Systeme deutlich flexibler.
Das hier gezeigte "kleinere"* DCC-1T Modell besitzt bereits eine enorme Förderhöhe von 3,7m und damit einen hohen Wasserdruck sowie ein maximales Fördervolumen von 420 Litern pro Stunde. Diese Daten sind zwar niedriger als bei der DDC-1(R)T/Plus Version, dafür überzeugt die DCC-1T mit einer etwas geringeren Lautstärke. Die Pumpe ist damit bereits für umfangreiche Kühlsysteme geeignet.
Als Abgrenzungsmerkmal gegenüber der gleich starken RT Version besitzt die DCC-1T zwei Steckanschlüsse für Schläuche mit 8mm Innendurchmesser. Der Stromanschluss erfolgt mit einem üblichen 4-Pol Molex. Zum Auslesen und zur Steuerung der Pumpe liegt ebenso ein 3-Pin Lüfteranschluss bei, der an das Mainboard oder eine Steuerung angeschlossen werden kann. Die ausgelesene Drehzahl entspricht dann der Pumpenrotation.
Weiterführende Informationen können direkt bei Laing bezogen werden: Neben einem
Informationsprospekt
kann hier auch eine
Bedienungsanleitung
heruntergeladen werden.
*bezieht sich nur auf die Leistung, nicht die Größe
Technische Details:
Abmaße: 62x38x62mm (BxHxT, Ohne Anschlüsse)
Motorbauart: Elektronisch kommutierter Kugelmotor
Nennspannung: 12 V DC Gleichspannung
Spannungsbereich 8 bis 13,2 V
Minimale Anlauf-Spannung: 9 V
Förderhöhe bei 12V: 3,7m
max. Förderleistung: 420 l/h
Maximaler Systemdruck: 150 kPa / 1,5 bar
Fördermedien: Wasser, Wasser-/Glykol-Gemische
Max. Systemtemperatur: 60° C
Anschlüsse: 2x 8mm (Innendurchmesser) Schlauchanschluss
Further links for

"Original-Pumpe DDC-1T - 12 Volt"
Videos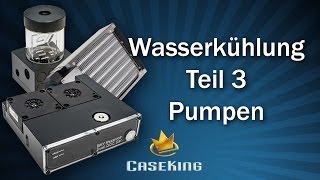 Technical Details
| | |
| --- | --- |
| Liquid cooling component | pump |
| Primary colour | black |
| Height (exact) | 38 |
| Width (exact) | 62 |
| Depth (exact) | 62 |
| Height | up to 100 mm |
| Width | up to 100 mm |
| Depth | up to 100 mm |
| Pump type | DDC |
| Pressure head | 3,7 m |
| Maximum flow | 420 L/h |
| Maximum system temperature | 60 °C |
| Pump connector | 3 Pin (voltage control), Molex (4-Pin) Netzteil |
| Material | plastic |
| Illumination | no |