Lian Li


PC-O11WX Midi-Tower - schwarz Window
Stylischer Midi-Tower von Lian Li
Zwei-Kammer-Design aus Aluminium
Tempered Glas an Front und Seite
max. 9x 120-mm-Lüfter
max. 3x 360-mm-Radiator
Item number: GELI-767
EAN: 4718466008060
MPN: PC-O11WX
Manufacturer: Lian Li
Product information -
PC-O11WX Midi-Tower - schwarz Window
Der schwarze
Lian Li PC-O11WX
ist ein besonders edler Midi-Tower, der gebürstetes Aluminium mit Hartglas-Elementen kombiniert. Das breite Zwei-Kammer-Design des ATX-Gehäuses bietet dabei viel Platz für hochentwickelte Gaming-Komponenten und ermöglicht den Einbau einer umfangreichen Luft- oder Custom-Wasserkühlung. Besonders interessant ist außerdem die Option einer vertikal verbauten Grafikkarte, welche sich durch optionales Zubehör besonders gut in Szene setzen lässt.
Die Features des Lian Li PC-O11WX Midi-Towers:
Edle Kombination aus Aluminium und Tempered Glass
Platz für Mainboards mit E-ATX-, ATX- oder Micro-ATX-Formfaktor
Cleveres Zwei-Kammer-Design
4x 3,5"-HDDs & 4x 2,5"-SSDs
Grafikkarten bis 43 cm Länge
Platz für bis zu drei 360-mm-Radiatoren
Bis zu vier 120er und zwei 80er Fans
Grafikkarte vertikal aufstellbar (optional)
ATX Gehäuse mit edlem Design: gebürstetes Aluminium trifft Tempered Glass
Beim Lian Li PC-O11WX wird gebürstetes Aluminium gekonnt mit einem Seitenteil aus getöntem Tempered Glass (Hartglas) kombiniert. Lian Li geht aber noch einen Schritt weiter und stattet die linke Kammer des ATX-Gehäuses mit einer Front aus Hartglas aus. Der rechte Teil der Front besteht aus gebürstetem Aluminium und beherbergt das Frontpanel mit zwei USB-3.0-Ports, den beiden obligatorischen Audio-Anschlüssen sowie der Möglichkeit einen USB-3.1-Typ-C-Anschluss zu verbauen.
Das Lian Li PC-O11WX kann in der linken Kammer maximal ein E-ATX-Mainboard, eine bis zu
430 mm lange Grafikkarte
und einen bis zu 150 mm hohen CPU-Kühler aufnehmen. Für den Einbau einer AiO- oder Custom-Wasserkühlung bietet das Case die Möglichkeit, bis zu drei 360-mm-Radiatoren zu verbauen. Einer im Deckel, einer am Boden und einer am vorderen Bracket, welches der Nutzer auch weglassen kann.
Diese Radiatorpositionen können natürlich auch nur mit Lüftern belegt werden und nehmen dabei jeweils drei 120-mm-Lüfter auf. Zusätzlich kann die Rückseite des Gehäuses noch zwei 80-mm-Fans aufnehmen. Die rechte Kammer beherbergt die Hardware, die kaum Wärme abstrahlt und nicht besonders gekühlt werden muss. Neben dem ATX-Netzteil und viel Platz für Kabelmanagement können hier Datenspeicher untergebracht werden.
Für die Montage besagter Datenspeicher dienen zwei modulare HDD-Racks. Auf diesen Racks können jeweils zwei 3,5-Zoll-HDDs und zwei 2,5-Zoll-SSDs installiert und von jeweils zwei weiteren dieser Größe an verschiedenen Positionen im Gehäuse ergänzt werden. Insgesamt lassen sich also jeweils vier 3,5-Zoll- und 2,5-Zoll-Datenträger montieren.
Das Lian Li PC-O11WX steht leicht erhöht auf einem kleinen Podest, damit kühle Luft durch den mit Staubfiltern versehenen Boden in das Gehäuse eindringen kann. Durch das Kamin-Prinzip steigt die warme Luft nach oben, wo sie durch den ebenfalls mit einem Staubfilter versehenem Deckel entweicht.
Das elegante Case ist definitiv ein echter Hingucker und kann Gaming-Hardware ohne Mühe unterbringen. Besonderes Highlight ist außerdem die Möglichkeit der vertikalen Installation von bis zu zwei Grafikkarten, wodurch sich diese besonders gut präsentieren lassen. Dazu werden jedoch optionale Riserkabel sowie eine optionale Blende für die PCIe-Slots benötigt.
Technische Details:
Maße: 277 x 506 x 457 mm (B x H x T)
Material: gebürstetes Aluminium (Chassis), Stahl (Innenraum), gehärtetes Glas (Vorderseite, Seitenteil)
Gewicht: ca. 10,6 kg
Farbe: Schwarz
Formfaktor: E-ATX, ATX, Micro-ATX
Lüfter insgesamt möglich:
3x 120 mm (Boden)
3x 120 mm (Deckel)
3x 120 mm (Vorderseite; nur mit installiertem Bracket) 2x 80 mm (Rückseite)
Radiator-Mountings (Verzicht auf Lüfter-Slots):
1x max. 360 mm (Deckel)
1x max. 360 mm (Boden)
1x max. 360 mm (Vorderseite; nur mit installiertem Bracket)
Filter: Boden, Deckel
Laufwerksschächte:
4x 3,5-Zoll-Laufwerke (intern)
4x 2,5-Zoll-Laufwerke (intern)
Netzteil: 1x ATX (optional)
Erweiterungsslots: 8
I/O-Panel:
2x USB 3.0 (interne Anbindung)
1x je Audio In/Out
An-/Ausschalter
Maximale Grafikkartenlänge: 430 mm
Maximale CPU-Kühler-Höhe: 150 mm
Maximale Netzteillänge: 430 mm
Further links for

"PC-O11WX Midi-Tower - schwarz Window"
Videos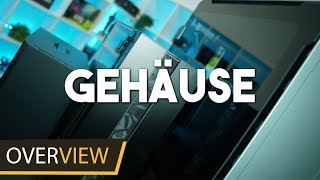 Awards
PROS
+ Supports up to three 3x 120mm radiators
+ Empty space to hold a wide range of cooling components and oversized cards
+ Supports oversized motherboards
+ Modular components available from Lian Li

read more...