Lian Li


Strimer 8-Pin RGB PCIe VGA Power Cable
30 cm long dual 8-Pin PCIe VGA extension cable
includes addressable RGB lighting
includes controller & Aura sync-compatibility
Item number: ZUAD-911
EAN: 4718466008886
MPN: Strimer 8 pin
Manufacturer: Lian Li
Product information -
Strimer 8-Pin RGB PCIe VGA Power Cable
The
Lian Li Strimer 8-pin PCIe RGB VGA power cable
enables impressive lighting effects on the cables supplying your graphics card with power. Thanks to eight individually controlled RGB-LEDs, each individual wire is illuminated and users can enjoy
complex lighting effects
. These can either be controlled by a 3-pin digital RGB header on a compatible motherboard or controlled by the bundled controller.
The Lian Li Strimer 8-Pin PCIe RGB VGA Power Cable at a Glance:
Innovative extension cable with addressable RGB lighting
Includes controller with ten lighting effects
Compatible with motherboards that have digital 3-pin RGB headers
Premium white sleeves for vibrant colours
Stylish Extension Cable with Digital RGB Lighting
Created in conjunction with overclocking champion der8auer, this white braided cable offers
intense and vibrant colours
. The 6+2-pin PCIe GPU extension cable connects the 8-pin cable of any standard ATX power supply with the 8-pin or 6-pin connector on your GPU.
The lighting units is affixed using cable combs to the power cable and consists of twelve transparent light lines which are illuminated by
addressable RGB-LEDs
. Thanks to the included controller, a total of ten different lighting modes are available and even the speed and brightness or the lighting can be adjusted to taste.
Should you have a digital
3-pin RGB header
on your motherboard, the
Strimer
can be conveniently controlled using ASUS Aura Sync software and then synchronised with other compatible components.
Technical Details:
Length: 300 mm
Colour: White (sleeves), Black (connectors)
Power Cable:
2x 6+2-pin PCIe
2x 8-pin PCIe
Controller Connections:
1x SATA power supply
1x 3-Pin RGB (digital)
Further links for

"Strimer 8-Pin RGB PCIe VGA Power Cable"
Videos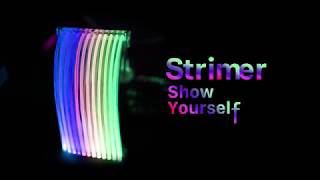 Awards
If you have a compatible 5V RGB header and are looking to add a splash of color your high-end graphics card's PCIe power cables, the Strimer 8 Pin is easy to recommend. But it's best suited to those who already own the 24-pin Strimer, and it's not designed for cards that don't require two PCIe connectors.

read more...

Pro

+ hochwertig umgesetzte Kabel-Sleeves
+ Orientierung anpassbar
+ weitere Produkte anschließbar
+ einfache Installation
+ theoretisch Reparierbar


read more...

Letztendlich erfüllt der Strimer sowohl in der 24-Pin- als auch in der 8-Pin-Version seine Aufgabe zur vollen Zufriedenheit. Der Einbau ist jedoch unerwartet schwierig und mit einigen Stolpersteinen versehen. Vor dem Kauf des Kabels sollte unbedingt geklärt werden, ob ausreichend Platz zur Verfügung steht. Der Strimer selbst ist wenig flexibel und erfordert daher ein großzügiges Raumangebot. Auch die Bedienung ist eher schwierig und eingeschränkt, sofern die beiliegende Steuerung verwendet wird.

read more...