Lioncast


LM60 Pro Gaming Maus - schwarz
Optische Pro-Gamer-Maus in Schwarz von Lioncast
Pixart-Sensor mit 16 000 DPI
einstellbare RGB-LED-Beleuchtung mit 4 Zonen
7 programmierbaren Tasten
Omron-Switches ausgelegt für 50 Mio. Klicks
Item number: GAMO-805
EAN: 4250541921777
MPN: 15551
Manufacturer: Lioncast
Product information -
LM60 Pro Gaming Maus - schwarz
Lioncast
baut sein Portfolio an Gaming-Zubehör und Eingabegeräten stetig aus. Die
LM60 Pro
ist eine Gaming-Maus und mit einem optischen Sensor aus dem Hause Pixart ausgestattet, welcher mit einer Auflösung von bis zu 16.000 DPI aufwarten kann. Über zwei DPI-Tasten lässt sich die Auflösung in vier Stufen anpassen. Hochwertige Switches vom japanischen Spezialisten Omron gewährleisten eine lange Haltbarkeit und ein perfektes Feedback bei jedem Klick. Dank der RGB-LED-Beleuchtung mit vier Zonen kann die Maus auch optisch überzeugen.
Die Lioncast LM60 Pro Gaming Maus im Überblick:
Hochwertige Gaming-Maus für Rechtshänder und alle Griff-Stile
Präziser optischer 16.000-DPI-Sensor von Pixart
Hochwertige Omron-Switches für lange Haltbarkeit
7 programmierbare Tasten
Hohe Polling-Rate von 1000 Hertz
DPI-Taster und LED-Anzeige
RGB-LED-Beleuchtung mit vier Zonen
Die Features der Lioncast LM60 Pro Gaming Maus im Detail
Die
Lioncast LM60 Pro
verfügt über insgesamt sieben Maustasten. Die Omron-Schalter der zwei Haupt-Tasten der
LM60 Pro
sind für extreme Belastung und 50 Millionen Klicks ausgelegt. An der linken Seite befinden sich drei mit dem Daumen erreichbare Tasten, auf der Oberseite befinden sich neben den zwei Haupttasten noch eine Taste vor dem Mausrad und das Rad selbst. Alle Tasten sind frei programmierbar, was eine komplette Individualisierung der Gaming-Maus ermöglicht. Fünf Profile können
in der Software hinterlegt
werden.
Die
LM60 Pro
besitzt neben der DPI-Regelung durch die beiden Switches an der Oberseite auch eine LED-Anzeige an der Vorderseite, die die jeweiligen Empfindlichkeitsstufen über drei Balken visualisiert. Der
optische Sensor Pixart PMW-3389
erfasst Bewegungen selbst bei einer Geschwindigkeit von bis zu 1016 Zentimetern pro Sekunde hoch-präzise und ermöglicht es in jeder noch so hektischen Situation Kontrolle über das Spielgeschehen zu behalten.
Das Handling der ergonomisch geformten Rechtshänder-Maus ist vorbildlich. Rutschfeste, optimal geformte Gummigriffflächen sowie die glatte Oberfläche mit Anti-Schweiß-Beschichtung beugen Überlastungen des Handgelenks vor und sorgen auch bei längerem Einsatz für maximalen Komfort. Das Scroll-Rad bietet durch seine Oberfläche genügend Grip. Die
Lioncast LM60 Pro
bringt ein geringes Gewicht von nur 105 Gramm auf die Waage
.
Das 2 Meter lange, stoffummantelte Kabel ist besonders flexibel und sorgt in Verbindung mit den Teflon-Füßen für ungestörtes Gleiten. Über die
Lioncast
-Software lässt sich die
RGB-LED-Beleuchtung
des Logos, der zwei seitlichen LED-Zierstreifen und des Mausrades individuell steuern und mit anderen RGB-Komponenten synchronisieren, was komplexe Beleuchtungseffekte in bis zu 16,8 Millionen Farben ermöglicht.
Technische Details:
Maße: 125 x 39 x 68 mm (B x H x T)
Gewicht: ca. 105 g
Farbe: Schwarz, matt
Sensor: Pixart PMW-3389
Auflösung: 100 - 16.000 DPI
Polling-Rate: 1000 Hz
LED-Beleuchtung: RGB, 16,8 Millionen Farben
DPI Switch: verstellbar in 4 Stufen
Tasten: 7 (inklusive Scrollrad und DPI-Switch)
Anschluss: USB
Kabellänge: 2,0 m
Further links for

"LM60 Pro Gaming Maus - schwarz"
Videos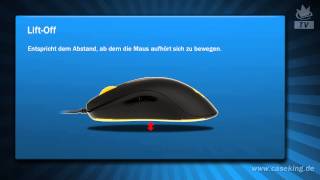 Technical Details
| | |
| --- | --- |
| Form Factor | right-handed |
| Number of Buttons | more than 6 |
| Sensor | optical |
| DPI Adjustment | yes |
| DPI max. | 16 000 DPI |
| Cable length | 190 to 209 cm |
| Connectivity | USB |
| Primary colour | black |
| Illumination | yes |
| Illumination colour | RGB (selectable) |
| Adjustable weight | no |
| Weight in g | 100 - 200 g |
Awards
Pro
+ stabile Verarbeitung
+ präziser Sensor
+ hohe Gleitfähigkeit
+ ausreichend langes und flexibles Datenkabel
+ liegt gut in der Hand (Rechtshänder)
+ hohe Gleitfähigkeit
+ umfangreiche Software
+ Profile, Makros
+ Onboard Speicher
+ anpassbare Vier-Zonen-RGB-Beleuchtung
+ Angle Snapping und LOD anpassbar
+ fairer Preis

read more...