MagiCool


Copper Radiator 720 Hexa Xtreme
With its compact design and excellent cooling performance
the Magicool radiators become top choice of water cooling users.
Item number: WARA-170
EAN: 4260242980096
MPN: MC-HEXA720
Manufacturer: MagiCool
Product information -
Copper Radiator 720 Hexa Xtreme
Magie muss nicht zwangsläufig einhergehen mit vordergründiger Effekthascherei und simplen Tricks. Der chinesische Hersteller Magicool bietet im Gegenteil grundsolide Wakü-Technik mit hervorragendem Preis-Leistungs-Verhältnis. Nach den herkömmlichen 140er und 120er Modellen erweitert Magicool die eigene Palette um diesen riesigen Hexa-Radiator. Die sechs 120-mm-Lüfter werden dabei jedoch nicht hintereinander installiert - das würde schließlich einen unpraktikabel langen Radiator erfordern - sondern in zwei nebeneinanderliegenden Reihen zu jeweils drei Ventilatoren.
Mit dieser ungewöhnlichen Konfiguration dürfte der interne Gehäuseeinbau lediglich im Seitenteil möglich sein. Praktischer ist jedoch gleich die externe Aufstellung. Zum Lieferumfang gehört eine Montage- und Abdeckblende für die Lüfter sowie sechs Silikonrahmen zur Vibrationsdämpfung.
Für eine noch höhere Kühlleistung können Lüfter auf beiden Seiten montiert werden, so dass insgesamt bis zu zwölf 120er installierbar sind.
Technische Details:
Maße: 395 x 45 x 240 mm (BxHxT)
Material: Kupfer (Lamellen), Messing (Vorkammern)
Farbe: Schwarz
Kompatibilität: 6x 120 mm Lüfter
Anschlüsse: 2x G1/4
Further links for

"Copper Radiator 720 Hexa Xtreme"
Videos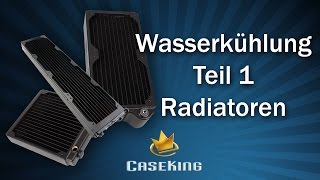 Technical Details
| | |
| --- | --- |
| Radiator size | external |
| Radiator Typ | Multipass |
| Radiator height (exact) | 45 mm |
| Radiator width (exact) | 240 mm |
| Radiator lenght (exact) | 395 mm |
| Radiator height | 40 - 49 mm |
| Radiator width | over 200 mm |
| Radiator lenght | 300 - 399 mm |
| No. of water cooling fittings | 2x G1/4" |
| Cooler Material | copper, brass |
| Fan compatibility | 12x 120 mm |
| Fan / radiator mounting | M3 thread |
| Fin spacing (fins per inch) | 8 FPI |
| Pressure tested | 1,5 Bar |
| Weight in g (exact) | 1.750 |
| Weight in g | 1700 - 1800 g |
| Primary colour | black |
| Secondary colour | silver |