ModMyMachine


SlamePad Aluminium - black angel
The best Gaming Surface in the world is finally here at Caseking!
Item number: GAMA-441
EAN: 4260267860021
MPN: MMMS01
Manufacturer: ModMyMachine
Product information -
SlamePad Aluminium - black angel
Genug von selbsternannter Ultimate-High-End-Super-Evolution-Pro-Gaming-Hyper-Frag-Peripherie?
Here comes the real deal!
Es kommt der Punkt im Leben, da reichen markige Sprüche einfach nicht mehr aus! Dann willst du mehr, lässt dich nicht mehr von der Oberfläche blenden, willst das Beste und nicht nur das scheinbar Beste. Dann bist du bereit für ModMyMachine! Dahinter verbirgt sich eine kleine Gruppe von Profi-Moddern, die in der Casemod und Casecon Szene für ihre kreativen und hochwertig umgesetzten Arbeiten bereits seit vielen Jahren hohe Bekanntheit und Anerkennung genießen.
Im Umgang mit anspruchsvollen Materialien geschult, entstand die Idee eines eigenen Mauspads eher zufällig beim Testen verschiedener Beschichtungen für Aluminium. Dabei stießen die Modder offensichtlich auf den heiligen Gral der Oberflächenveredelung, denn das "SlamePad" getaufte Ergebnis (die Leute haben offensichtlich Selbstironie) ist das erste Aluminium-Mauspad der Welt, welches in vielen verschiedenen Farben angeboten wird und bei allen Colorierungen eine perfekte Abtastung jedweder Sensoren bietet (was natürlich intensiv beim gemeinsamen Zocken getestet wurde).
Wer sich schon einmal mit Metall-Mauspads beschäftigt und eventuell sogar eines besessen hat, wird wissen, dass dieser Umstand keineswegs selbstverständlich ist. Gerade gebürstete und stark glänzende Oberflächen halten oft nicht die Versprechen der Hersteller. Das Problem hat sich zudem mit dem Übergang von optischen zu Laser-Sensoren nochmals verschärft.
Das ist an sich sehr schade, da Aluminium viele Vorzüge aufweist. Da wären zunächst die hohe Stabilität und Haltbarkeit, welche alle anderen Pads (Stoff, kunststoffbeschichtet oder Hartplastik) erheblich übertrifft. Hierbei muss man nicht unbedingt eSportler sein und alle zwei Monate ein Pad verschleißen, um zu wissen, dass es sich um eine deutlich langlebigere Investition handelt. Hinzu kommt die flexiblere Nutzung für den mobilen Bereich oder im Wohnzimmer, da sich das Pad nicht durchbiegt. Durch die glatte Oberseite werden Bewegungen zudem deutlich leichtgängiger, schneller und ermüdungsärmer.
Die ModMyMachine Crew hat sich jedoch nicht auf Style (coole Farbpalette) und Funktion (hohe Kompatibilität, Haltbarkeit und Geschwindigkeit) beschränkt. Vielmehr setzt das SlamePad ganz im Sinne der Erschaffer auch auf maximale Qualität. Aluminium bietet ja von sich aus schon ein einmaliges Finish, aber was die Modder hier aus ihren sündhaft teuren Fräsmaschinen holen, übertrifft einfach alles.
Besonders deutlich wird dies am Rand und beim Schriftzug. Keine Frage - die Leute verstehen ihr Handwerk. Um diese Qualität zu erreichen und dauerhaft zu gewährleisten, wird das Pad komplett in Deutschland gefertigt. Für die Unterseite setzt ModMyMachine auf eine dünne Textilmatte mit Gumminoppen, um das Pad da zu halten wo es hingehört.
Hinweise: Das Laufgeräusch lässt sich gegebenenfalls mit guten Glides deutlich reduzieren. Die abgebildete Maus "NZXT Avatar" ist nicht im Lieferumfang enthalten und dient lediglich dem Größenvergleich anhand eines Referenzobjektes. Bild 5 zeigt die gesamte Farbpalette der angebotenen SlamePads, die jedoch nicht zum Lieferumfang gehören.
Technische Details:
Größe: 315 x 4 x 235 mm (BxHxT)
Material: spezialbeschichtetes-eloxiertes Aluminium, Schaumgummi (Boden)
Farbe: schwarz
Kompatibel mit allen Sensoren
Further links for

"SlamePad Aluminium - black angel"
Videos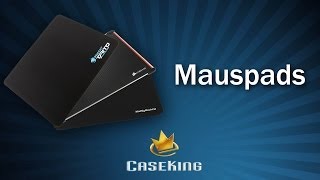 Technical Details
| | |
| --- | --- |
| Primary colour | black |
| Secondary colour | white |
| Material | aluminium, Gummi |
| Width (exact) | 315 |
| Height (exact) | 4 |
| Depth (exact) | 235 |
| Width | 300 - 400 mm |
| Height | 3 - 4,9 mm |
| Depth | 200 - 300 mm |
| Illumination | no |
Awards
Ce SlamePad Golden Nugget est un tapis très haut de gamme. L'excellente qualité de fabrication fait cependant déséquilibre avec la qualité de glisse globalement décevante avec toutes les souris.

read more...

InfoHw.com - ModMyMachine SlamePad Aluminium

Despite its high price, the quality of the material makes it worth spending so much a product of its kind.

With the possibility of many different colors on SlamePad is for everyone, you can almost get it in the color you want. The color of the sample was "Blue Water". With Logo ModMyMachine engraved in the right corner you get an incredible elegant design.

read more...

The SlamePad does not come cheap; it can be found at CaseKing for about 39.90 Euros but considering that this is a long time investment and is built from high quality materials, it is not something that we should pass up easily.


read more...

Surface wise the mat is very well equipped, gamers looking for a very smooth surface coupled with a really low drag should definitely consider the SlamePad. The surface of the SlamePad is one of the most picky ones around when it comes to mouse feet.

read more...

Pcworldoc.com - ModMyMachine SlamePad Aluminium

In conclusion, we find the mat Slamepad great variation on traditional mats, office people who love modding computers, will be in good company Slamepad, elegant and comfortable.

It is a mat to professionals and / or fans with high accuracy, speed and wear resistance. Very comfortable and easy to use. Its size is, in my opinion, the ideal.

read more...

Syndrome-OC.net - ModMyMachine SlamePad Aluminium

and the finish is somewhat reminiscent of Lian Li casings to the argument except that it has ten colors, each more beautiful than others. Skiing is good and no problem of dropout