Nitro Concepts


Deskmat, 1600x800mm - schwarz
Massive mouse pad and desk surface from Nitro Concepts
160 x 80 cm area
just 3 mm thick
stitched edges
stealthy design in black
precision aiming & smooth movement
Item number: GAMA-798
EAN: 4251442502591
MPN: NC-GP-MP-005
Manufacturer: Nitro Concepts
Product information -
Deskmat, 1600x800mm - schwarz
Nitro Concepts
is already renowned for their range of stylish gaming chairs, but the arrival of the
Deskmat
now gives users the option to add an iconic colour coordinated addition
to their office desk as well
. The large surface for keyboards and gaming mice offers a dynamic yet smart design that will match the rest of your setup perfectly for smart and uniform look.
The
Nitro Concepts DM16 Deskmat
offers a huge playing area of 160 x 80 cm and is designed to form the perfect base for your full-size keyboards and gaming mice. Aesthetically speaking, the gaming surface allows gamers to tie together the look of their overall desk setup - and thanks to the use of
precisely crafted and woven materials
, users will also enjoy the smoother mouse movement it brings.
The materials used are
exceptionally durable
and the stitched outer edges are not just for looks either, they also help prevent unwanted fraying of the
3 mm thick
mat over time. The natural rubber anti-slip underlay of the mat surface makes sure that even in the heat of online competition, the surface stays exactly where you need it.
The
DM16 Deskmat
is available here in an ultra
sleek and stealthy design with an attractive glossy black Nitro Concepts flame logo
in the upper right corner. The monochrome style helps ensure that it fits in perfectly with just about any of Nitro Concepts' range of gaming chairs as well as most other gaming setups
Technical Details:
Dimensions: 1.600 x 3 x 800 mm (W x H x D)
Material: Cloth / Rubber
Colour: Black (Stealth Black)
Further links for

"Deskmat, 1600x800mm - schwarz"
Videos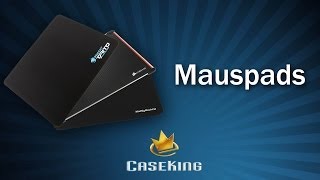 Technical Details
| | |
| --- | --- |
| Primary colour | black |
| Material | Stoff, Gummi |
| Width (exact) | 1600 |
| Height (exact) | 3 |
| Depth (exact) | 800 |
| Width | more than 1000 mm |
| Height | 3 - 4,9 mm |
| Depth | 700 - 800 mm |
| Illumination | no |
Awards
Ocaholic - Nitro Concept Deskmat DM16

The Nitro Concepts Deskmat comes well packaged in a big cardboard tube dominating with brand colors. The packaging features the main characteristics of the product and the serial number. The dimensions of the pad are very generous in size, in fact it measures 160 centimeters in length and 80 height. To be honest, I haven't a desk big enough in my flat and for this reason I took the pictures on the parquet. Since it's pretty big and requires plenty of space, you should first check if you have enough surface on your desk. The upper right corner feature a glossy black Nitro Concepts flame logo. The surface area is made out cloth and it looks very smooth, while the base features anti-slip material that provides the perfect grip on your desk.

Pro:
+ Schlichtes Design
+ Guter Verarbeitung
+ Vernähter Rand
+ Rutschsicher
+ Sehr groß

read more...

Mod-your-case - Nitro Concepts - Deskmat

Pro
+ Rutschfeste Unterseite
+ Sehr präzise und gleitfreudige Oberfläche
+ Verschiedene Größen
+ Verarbeitung

Die Nitro Concepts Deskmats sind ein vollwertiges Upgrade für jedes Gaming-Setup, ob schlicht elegant in Schwarz oder im feurigen Rot. Mit ihrer feinen Oberfläche übertragen sie jede Bewegung einer Maus exakt weiter und sind dank ihrer Robustheit leicht zu reinigen.

read more...

Zeden - Nitro_Concepts DM12 Stealth Black

For
+ Non-standard dimensions;
+ Quality of finish;
+ No waves on the surface;
+ Silent pad
+ Excellent value