noblechairs


EPIC Gaming Chair - mousesports Edition - Black/Red
Breathable gaming chair from noblechairs
with mousesport design
Full upholstery & cover in vegan PU leather in black and red
60 mm casters & 4D armrests
+ Das perfekte Add On
+ The perfect Add On
FUßSTÜTZEN von
FOOTRESTS from
Item number: GAGC-127
EAN: 4251442502072
MPN: NBL-PU-MSE-001
Manufacturer: noblechairs
Product information -
EPIC Gaming Chair - mousesports Edition - Black/Red
For those of you on the lookout for a premium executive gaming chair, prepare to breathe a sigh of relief:
The noblechairs EPIC gaming chair is now available in the mousesports Edition and blends PU leather with the premium design and ergonomic posture of an office chair. As a gaming chair built from the ground up for enthusiasts, gamers and power users, a gaming chair from noblechairs represents far more than an ergonomic office chair that draws inspiration from racecar seats. This gaming chair is not just a must-have item for real mousesports fans either!

mousesports is the most successful eSports organisation in Germany and has stormed the leaderboards by taking home a recordbreaking 18 titles in the Counterstrike ESL championships. Since they were founded in 2002, they managed to achieve an array of wins and successes across a wide variety of games including Starcraft II, FIFA and the MOBA Vainglory. In terms of the greatest sporting successes experienced by mousesports, or "mouz" for short, include their placing in the top 3 at the World Cyber Games and the Electronic Sports World Cup, including first place at the ESL Intel Extreme Masters II. This is how the team went about successfully training players capable of bringing home the trophies, such as Faith "gob b" Dayik or Nikola "Niko" Kovac. In total, mousesports has been the recipient of prize money amounting to in excess of three million Euros. The noblechairs EPIC mousesports Edition gaming chair is a celebration of all that they have achieved in this time!
Premium Design - Precision, Machine-Automated Construction
The machine-automated manufacturing enables noblechairs to use cutting-edge equipment to blend premium materials with precision craftsmanship. The steel frames of gaming chairs are welded with the help of robotic arms, similar to what one might expect to see on an automotive production line. This enables the construction of a flawless and exceptionally durable frame. The seat's cover is also tailored with the assistance of industrial sewing machines to allow noblechairs to attain the requisite perfection.
The Features of the noblechairs EPIC Gaming Chair in the mousesports Edition:
mousesports logo adorns the headrest and reverse of the backrest
mousesports logo on the rear of the bottom section
Premium PU leather covering
Comfortable & breathable cold foam upholstery
Armrests adjustable in 4 directions
Premium rocking mechanism
Large, quiet-running 60mm casters
Two cushions included
---
The noblechairs EPIC is the best gaming-chair of 2017!
European Hardware Awards 2017
At Computex 2017 in Taipei (Taiwan) the European Hardware Association bestowed on the EPIC series from noblechairs the sought after European Hardware Award 2017 in the "Best Gaming Chair" category and so the excellent range was crowned leader!

The award and all other winners can be seen here (external link).
Caseking congratulates
noblechairs
on their well-deserved win!
---
Premium Gaming Chair with mousesports Design & Logos
The noblechairs EPIC gaming chair, available here in the mousesports edition with the official team colours as well as the mousesports logo, is covered in vegan PU leather. The combination of breathable cold-foam and high-quality covering prevents you from sweating even amidst the most heated of online battles.
Attention to Detail
The stitching on the seams and the backrest was made possible with the help of industrial sewing machines and makes for an elegant addition to the black-red PU leather. An attractive, oval-shaped aluminium plaque bearing the golden noblechairs logo is located at shoulder height and a mousesports logo is also to be found at head height and on the rear of the backreset. These touches help to round out the design of this throne among gaming chairs.
Durable and robust
The cushioning used by noblechairs consists of a deformation-resistant cold foam with an exceptionally high 55% density. The breathable cold foam improves airflow while simultaneously maintaining its form, even over long periods of use. Standing in stark contrast to competing gaming chairs, noblechairs offers a solid steel frame ensconced within the upholstery.
---
Pure Ergonomics: 4D Armrests, Height Adjustable Rocking Mechanism
Aside from the improved breathability of noblechairs they also offer a multitude of ergonomic adjustment options, meaning that once you've sat down you won't be in a hurry to get up again. As a result, noblechairs EPIC gaming chairs also allow the height to be adjusted by 10cm. In conjunction with the adjustable rocking mechanism that enables the backrest of the seat to find the ideal ergonomic sitting position, the end result is a chair that makes sure nothing gets in the way of gaming!
Achieving the Optimal Position for Every User
The 4D armrests of noblechairs are adjustable in four dimensions, making it possible for anyone to find the perfect sitting position. The high backrest can be adjusted to an angle of 135° and the cushions bundled with the chair add an ergonomic and aesthetic flourish to the chair. The small cushion supports the neck and the large cushion supports the lumbar region. The elastic supports the lumbar region. The elastic straps on the cushion enable the cushion to be firmly attached to the chair and the height customised in accordance to the precise needs of the user.
Suitable for Hard- & Soft Flooring
The base of the gaming chair from noblechairs is formed from a five-point powder-coated base consisting of solid aluminium as well as five 60mm casters with nylon cores that make them equally at home on hard- and soft flooring. The Safety Class 4 gas lift is designed to support up to 120 kg.
Take it to the Next Level with a noblechairs Footrest!
Build on the premium comfort of noblechairs by investing in ergonomic accessories, not just a sensible addition but an active measure against poor posture in the long term. With the noblechairs footrests the noblechairs team has created just such an accessory. The noblechairs footrest maximises not just comfort, it is also back-friendly and helps maintain circulation. They also help to take the weight of your feet and back, contributing to a more natural and health posture. The choice of premium manufacturing materials when it comes to the accessories also helps to complement the elegant design of the chair.
---
The noblechairs EPIC Real Leather Gaming Chair in Review
The professionals at gaming-stuhl.de took the noblechairs EPIC Real Leather gaming chair for a spin - as well as an indepth review.
First impressions, when it comes to the build, seated comfort, and the adjustability options - personal preferences over the pros and cons of real leather aside - are universally positive when it comes to this gaming chair.
Summary:
"The noblechairs EPIC Real Leather gaming chair actually deserves 6-stars: This epic and innovative product sets new standards when it comes to design, manufacturing- and material quality. From every angle, there is no doubt about this being an absolutely high-end luxury product - one where the word "premium" alone almost doesn't quite do it justice. This is a clear 'buy' from us!"
---
Technical Details:
Height Specifications:
Total height (with base): ca. 131 - 141 cm
Seat pan height (with base): ca. 49,5 - 59,5 cm
Backrest height: ca. 87 cm
Inner backrest width: ca. 29,5 cm
Outer backrest width (widest point): ca. 54,5 cm
Inner seat area: ca. 35 cm
Outer seat area width (widest point): ca. 56 cm
Seat area depth: ca. 49,5 cm
Total depth (without base): ca. 56,5 cm
Minimum armrest height: ca. 66,5 cm
Approx:
ca. 27 kg
Rocking mechanism adjustability:
max. 11°
Material:
Steel (frame)
Cold foam (upholstery)
PU leather (cover)
Aluminium (base)
Nylon / Polyurethane (casters)
Polyurethane (armrests)
Colour:
Black / Red
Maximum Load:
120 kg
Manufacturer's Guarantee:
2 Years
Certifications:
DIN EN 1335 office chair, ANSI/BIFMA X5.1 2011 office chair, TÜV-test gas lift
Features:
Stylish mousesports design
Practical rocking function
4D Armrest adjustability
Adjustable angle of backrest (up to 135 degrees)
Adjustable seat height
Incl. cushions for back and neck
Deformation-resistant cold foam
Durable gas lift (Safety Class 4)
Strong 5-point base in solid aluminium
60 mm casters for hard- and soft flooring
Robust steel-frame construction
Further links for

"EPIC Gaming Chair - mousesports Edition - Black/Red"
Videos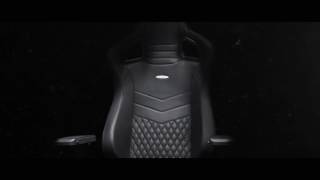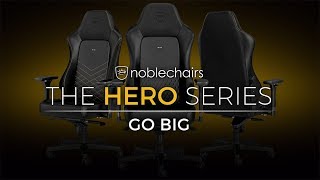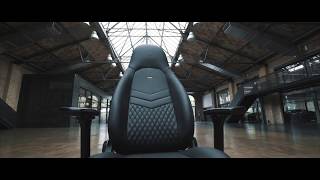 Technical Details
| | |
| --- | --- |
| Serie | EPIC |
| Primary colour | black |
| Secondary colour | red |
| Seat cover material | synthetic leather |
| Adjustable back rest | Yes |
| Adjustable armrests | Yes |
| Height adjustment | Yes |
| Adjustable seating angle | Yes |
| Maximalbelastung / Gewichtsbereich (exakt) | 120 kg |
| Weight limit | Up to 125 kg (275 lbs) |
| Seatbelt guide | Yes |
| Weight (exact) | 27 |
| Weight | 26 to 28 kg (57.3 to 61.7 lbs) |
| Gesamthöhe, mit Basis (exakt) | 129,5 cm, 139,5 cm |
| Tiefste Sitzposition, einstellbar (exakt) | 48 cm |
| Höchste Sitzposition, einstellbar (exakt) | 58 cm |
| Höhe Rückenlehne (exakt) | 87 cm |
| Breite Rückenlehne innen (exakt) | 29,5 cm |
| Breite Rückenlehne außen, breitester Punkt (exakt) | 54,5 cm |
| Breite Sitzfläche innen (exakt) | 35 cm |
| Breite Sitzfläche außen, breitester Punkt (exakt) | 56 cm |
| Tiefe Sitzfläche (exakt) | 49,5 cm |
| Gesamttiefe, ohne Basis (exakt) | 56,5 cm |
| Minimalhöhe der Armlehnen (exakt) | 66,5 cm |
| Total height (including base) | 130 to 139.9 cm (51.1 to 55 inch), 140 to 149.9 cm (55.1 to 59 inch) |
| Lowest seating position (adjustable) | 40 to 49 cm (15.7 to 19.2 inch) |
| Highest seating position | 50 to 59 cm (19.6 to 23.2 inch) |
| Back rest heigth | 80 to 89 cm (31.4 to 35 inch) |
| Back rest width (inner dimension) | Up to 30 cm (11.8 inch) |
| Back rest width (widest outer dimension) | 50 to 54 cm (19.6 to 21.2 inch) |
| Seat width (inner dimension) | 35 to 39 cm (13.7 to 15.3 inch) |
| Seat width (widest outer dimension) | 55 to 59 cm (21.6 to 23.2 inch) |
| Seat depth | 45 to 49 cm (17.7 to 19.2) |
| Total depth (without base) | 50 to 59 cm (19.6 to 23.2 inch) |
| Minimalhöhe der Armlehnen | 65 bis 69 cm |
| Head cushion included | Yes |
| Lumbar cushion included | Yes |
| Material base | plastic, nylon, steel |
Awards
Das zweite Jahr in Folge hat die European Hardware Association der EPIC-Serie von noblechairs den begehrten European Hardware Award in der Kategorie "Best Gaming Chair" verliehen und der exzellenten Reihe damit erneut die verdiente Krone aufgesetzt.

read more...

Was alle drei Stühle gemeinsam haben ist die hervorragende Verarbeitung, die perfekte Materialwahl, haltbare mechanische Bauteile sowie eine von uns geprüfte mehrjährige Haltbarkeit. Im Grunde genommen also genug um alle drei mit besten Auszeichnug auszustatten.

read more...

The KitGurus readers have vote Noblechairs for: BEST FOR GAMING CHAIRS.

read more...

Bereits zum zweiten Mal hat die European Hardware Association (EHA) der noblechairs EPIC-Serie auf der Computex in Taipeh (Taiwan) den begehrten European Hardware Award in der Kategorie "Best Gaming Chair" verliehen. Somit ist noblechairs der ungeschlagene Gewinner dieser Produktkategorie und die EPIC-Serie sichert sich den verdienten Thron mit einer zweiten Auszeichnung.

read more...

+ Interesting design
+ Robust, comfortable design
+ Very good quality of workmanship
+ Two included, good cushions
+ TILT function
+ Multilock function
+ Adjustable 4D armrests
+ Aluminium, robust base

read more...

Pros
+ Looks fantastic!
+ Feels solid and well built
+ Premium materials used
+ Available in a range of colours
+ Vegan friendly options
+ Can lie down
+ 180KG weight limit

read more...

HardwaremAx - noblechairs EPIC

Keine Frage, Der noblechairs EPIC hat auch bei uns einen positiven Eindruck hinterlassen. Dabei glänzt der Stuhl nicht nur mit einer herausragenden Verarbeitung, sondern auch einer makellosen Materialwahl. Das PU-Leder zählt mit zum Besten was wir bis jetzt in der Redaktion hatten. Zusätzlich kann man den Stuhl durch seine vielfältigen Einstellungsmöglichkeiten, auch passend optimieren.

Die Sitzeigenschaften gefallen uns ebenfalls sehr gut. Der EPIC sitzt sich wie er aussieht, stramm und stabil wie in einem Sportwagen. Dabei mussten wir bei unserem Langzeittest feststellen, dass man nach vielen Stunden der Arbeit, aus einem festen Stuhl wieder leichter hoch kommt, als bei einem weichen. Hierbei spielt auch bestimmt die persönliche Präferenz eine Rolle. Uns hat das Gesamtkonzept jedoch sehr überzeugt. Kaum setzt man sich in den Stuhl und schon fühlt man sich wohl.

Vorteile:

+ Hervorragende Verarbeitung
+ Tolles Design, exakt wie ein Auto-Sportsitz
+ Sehr standstabil
+ Sehr bequem, insbesondere nach hinten gelegt
+ Gute Körperführung
+ Nackenkissen und Lendenkissen sehr schön
+ Gute Verstellbarkeit, insbesondere Armlehnen
+ Bürostuhl Zertifizierung DIN EN 1335
+ PU-Leder sehr robust und unempfindlich
+ Verkürzte Gasfedern für kleinere Personen mit -1,5 und -3 cm erhältlich

read more...

Pros:

+ Great build quality.
+ Clear instructions and simple to assemble.
+ Very adjustable.
+ Good to look at with it's clean and sleek design.

read more...

Auf der Computex 2017 in Taipeh (Taiwan) hat die European Hardware Association der EPIC-Serie von noblechairs den begehrten European Hardware Award 2017 in der Kategorie "Best Gaming Chair" verliehen und der exzellenten Reihe damit die verdiente Krone aufgesetzt.

read more...

...the noblechair epic is placed in the basket compared to the competition. And to stand out, it is very simple, everything is in the detail.
The logos discreetly stamped on the headrest and backrest, the third on the seat, subdued colors if you do not take the black model with a few keystrokes by here and there through the son, etc. Little things that can make the difference and make the seat less aggressive than many others in the design.

read more...

Mod-Your-Case - noblechairs - EPIC Gaming Stuhl

Mit dem EPIC Gaming Stuhl, welchen es in verschiedenen Farbkombinationen gibt, macht noblechairs seinem Namen aus unserer Sicht alle Ehre. Der EPIC Gaming Stuhl eignet sich bestens für Anwender, die nicht nur eine Runde an ihrem Rechner zocken wolle, sonder zudem auch einen ganzen Arbeitstag auf dem Stuhl verbringen müssen und somit auf einen entsprechend hohen Sitzkomfort angewiesen sind. Um einem diesen Komfort bieten zu können, hat noblechairs den EPIC Gaming Stuhl mit einer ganzen Reihe an Verstellungsmöglichkeiten versehen, wodurch er einem nicht nur eine bequeme Sitzposition bieten kann, in welcher man auch einmal etwas ausspannen kann, sondern auch eine sehr ergonomische Sitzposition gewährleistet, in der man viele Stunden am Schreibtisch arbeiten kann, ohne das man sich mit der Zeit hin und her bewegen muss, um den Rücken etwas zu entlasten. Mittels der mitgelieferten Kissen kann der Komfort zusätzlich gesteigert werden. Durch seine Ergonomie hebt sich der noblechairs EPIC Gaming Stuhl nicht nur deutlich von den anderen Gaming Stühlen am Markt ab, sondern sorgt bei der richtigen Nutzung auch langfristig gesehen dazu, Rückenschädigungen vorzubeugen. Der EPIC Gaming Stuhl konnte in unserem Test jedoch nicht nur durch einen hohen Sitzkomfort überzeugen, sondern auch durch eine überaus hohe Verarbeitungsqualität.

The noblechairs EPIC certainly lives up to its name, being one of the best designed and made gaming chairs on the market today. You might feel it's expensive, but all will be forgiven the moment you build it and roll it up to your desk to play some games.

read more...

Insgesamt hat uns der Noblechairs Epic Gaming-Stuhl sehr überzeugt. Nach dem schnellen Zusammenbau wusste er mit seinem "Racing-Look" sehr zu gefallen und konnte, abgesehen von einer offenen Naht, mit einer hohen Materialgüte überzeugen. Vor allem die Kaltschaumpolsterung sorgt auch bei längeren Gaming-Sessions für einen hohen Sitzkomfort, während die Perforierung der Sitzfläche eine große Wärmeentwicklung verhindert.

read more...

Marketed at 339eur rate, this series Nobechairs Epic chair holds all its promises, look fabulous, high quality, ease of use, all here! If we add to this the ease of assembly and the many adjustment options, we can advise you and award a gold Watermod!

read more...