noblechairs


EPIC Limited Edition Gaming Chair - Black/White/Blue
Exclusive gaming chair from noblechairs in a limited edition
Fully upholstered in 2 kinds of vegan PU-leather
in black and white and blue with white stitching
60 mm casters & 4D armrests
+ Das perfekte Add On
+ The perfect Add On
FUßSTÜTZEN von
FOOTRESTS from
Item number: GAGC-132
EAN: 4251442502225
MPN: NBL-PU-BWB-001
Manufacturer: noblechairs
Product information -
EPIC Limited Edition Gaming Chair - Black/White/Blue
"noblechairs EPIC Limited Edition Gaming Chair - Black/White/Blue"
Anyone on the lookout for a premium executive-style chair for gamers, prepare to breathe a sigh of relief:
This exclusive limited edition EPIC Gaming Chair from noblechairs blends the premium material quality we've all come to expect, like the extra thick vegan PU leather and subtle racing-inspired design with the ergonomic characteristics of an office chair. As a gaming seat for enthusiasts, gamers and power users, a gaming chair from noblechairs represents far more than just an ergonomic office chair with a racing design. The EPIC Black/White/Blue Limited Edition is adorned with stylish white strips and blue stitching. The seat pan and backrest and backrest are covered in bright white stitching in an attractive diamond pattern. In combination, these characteristics lend the noblechairs EPIC Gaming Chair a quality and aesthetic all of its own. Grab it while you can!
Premium Materials with Extremely Precise Manufacturing
Due to the fact that noblechairs fuse all-machine manufacturing utilising state of the art machinery, noblechairs are able to unify the highest possible quality of materials with extremely precise construction. Similar to the high-precision production lines of car manufacturers, robot arms create the steel frame ensconced within all noblechairs. This affords not only a flawless manner of construction, but also an extremely durable one that removes any shadow of a doubt over its durability over time. Even the coverings of the chair are created by industrial embroidery machines as no other method can guarantee the same consistency and quality of results.
The Features of the noblechairs EPIC Limited Edition Gaming Chair:
Durable PU leather with superior durability
Comfortable and breathable cold-foam upholstery
Maximum adjustability thanks to 4D armrests
First class rocking mechanism
Large, smooth-running 60 mm casters
---
The noblechairs EPIC is 2017's Best Gaming Chair 2017!
European Hardware Awards 2017
At Computex 2017 in Taipei (Taiwan) the European Hardware Association bestowed upon noblechairs' EPIC Series the highly sought after 2017 European Hardware Award in the "Best Gaming Chair" category.

More information on the award itself and other winners is available here (external link)
Here at Caseking we would like to extend our congratulations to noblechairs on their win!
---
Premium Gaming Chair with PU Leather Covering!
The noblechairs EPIC Gaming Chair, available here in the black variant with white stripes and blue stitching, is furnished with a PU leather covering that is highly durable. Moreover, the combination of porous cold-foam and the perforated diamond pattern stitching in the lumbar area and seat ensure that - even amidst the heat of online battle - gamers remain cool and comfortable. The blue stitching on the seams and the backrest have been created with exceptional precision thanks to noblechairs opting to use industrial sewing machines, offering an elegant and aesthetically pleasing contrast to the black PU leather.
Attention to Detail
One of the special features offered by this EPIC Gaming Chair includes the white stripes located on the sides. Adding to the instant recognisability of the chair is the unmistakable noblechairs logo on the white background on the right side of the seat. An attractive, durable aluminium badge adorned with the noblechairs logo is also located at shoulder height to round out the design of this gaming throne.
Durable and Robust
The upholstery utilised comes in a deformation resistant cold foam with an exceptionally high density of 55%. The porous cold foam is especially breathable whilst adept at retaining it shape over long periods of time while remaining cool in warm conditions. This noblechairs gaming chair also offers a full steel frame ensconced within its upholstery, again demonstrating its superiority when compared to competing products.
---
Pure Ergonomics: 4D Armrests, Height Adjustability & Rocking Mechanism
Apart from the high degree of breathability that noblechairs offer, noblechairs offer an unparalleled array of adjustability options, the likes of which result in a chair that - once you've sat in it - you won't want to stand up again. The EPIC Series of gaming chairs also come with 10 cm of height adjustability. In conjunction with the adjustable rocking mechanism and backrest, these features ensure that nothing - ergonomically speaking - can stand in the way of your gaming experience.
Optimised Posture for Every User
The 4D armrests used by noblechairs are adjustable in four dimensions to enable the optimal seating position for every user. The high backrest can also be adjusted back to an angle of 135&deg to permit a greater degree of comfort. This is then combined with the rocking function to enable the noblechairs EPIC to offer the optimal customised seating position to keep you comfortable throughout length gaming sessions.
Designed for Both Hard & Soft Flooring
The base of this noblechairs gaming chair is formed from a powder-coated five-point base consisting of solid aluminium and special casters. These 60 mm wheel casters have nylon cores and a polyurethane coating, meaning they function quietly and smoothly on both hard and soft flooring. The safety class 4 hydraulic gas lift is designed to support up to 120 kg.
Upgrade Your Throne with Premium Accessories from noblechairs!
These premium chairs deliver, without a shadow of a doubt, a sublime seated experience straight out of the box, and the only way this could be improved upon is with the help of premium accessories from noblechairs. In order to adjust the gaming chair to perfectly fit the requirements of the user, noblechairs offers practical 60 mm hard floor casters with automatic brakes which bring to an end any unwanted forward or backwards sliding during use. Additionally shorter gas lifts offer a lower height to the seat, thereby enabling optimal comfort for smaller users.
Maximise Your Comfort While Optimising Your Posture!
The comfort offered by noblechairs is well established, but investing in ergonomic accessories is not just a sensible idea, it's a way of taking preemptive action against the negative side-effects that arise with poor posture over the long term. In bringing the noblechairs footrest to market, the team noblechairs team has created just such an accessory. The noblechairs footrest not only maximises comfort, it is also back-friendly and helps maintain circulation. In minimising the load placed on the feet and back, the footrest makes a significant contribution to a natural and healthy posture. Benefits to your posture and comfort aside, the aesthetics of the chair are nothing less than stellar given the stunning craftsmanship and the choice of materials that went into making this premium accessory.
The perfect maintenance set for your noblechairs!
This noblechairs noblecare maintenance pack for real- and PU leather chairs doesn't just assist owners of noblechairs in keeping their prized noblechairs clean, this set helps owners to keep their noblechairs gaming chair looking brand new for as long as possible - while also helping to retain that factory-fresh new leather smell. To this end, the set includes two colourless care products, one for cleaning said gaming chair, the other for forming a kind of protective layer over its surface that simultaneously refreshes that distinctive smell of premium quality leather.

Packaged in attractive-looking bottles with pump dispensers, the noblecare cleansing- and care products can be applied by means of the included microfiber cloths and the premium polishing sponge. The cleaning products come packaged together in high-quality packaging, the likes of which owners everywhere have come to associate with the noblechairs brand.
---
The noblechairs EPIC Real Leather Gaming Chair Review
The professionals at gaming-stuhl.de took their noblechairs EPIC Real Leather chair out for a spin.
Regarding our initial impressions of the construction, seat comfort, and adjustability options as well as the advantages and disadvantages of real leather, we only have positive things to say about our findings on this gaming chair.
Summary:
"The noblechairs EPIC Real Leather Gaming chair actually deserves 6 stars: This epic and innovative product sets new benchmarks in terms of design, manufacturing, and material quality. This is, by any measure, a truly luxurious product for which the term "premium" is scarcely sufficient. Our verdict: A must-buy!"
---
Technical Details:
Height Specifications:
Total Height (with base): approx. 129,5 - 139,5 cm
Seat Pan Height (with base): approx. 48 - 58 cm
Backrest Height: ca. 87 cm
Inner Backrest Width: ca. 29,5 cm
Outer Backrest Width (widest point): approx. 54,5 cm
Inner Seat Surface Area: approx. 35 cm
Outer Seat Surface Area (widest point): ca. 56 cm
Depth Seating Area: approx. 49,5 cm
Total Depth (without base): approx. 56,5 cm
Minimum Armrest Height: approx. 66,5 cm
Weight:
approx. 27 kg
Rocking Mechanism Tilt:
max. 11°
Material:
Steel (frame), Cold Foam (upholstery), PU-Leather (cover), Aluminium (base), Nylon / Polyurethane (casters), Polyurethane (armrests)
Colour:
Black, White, Blue
Maximum Load:
120 kg
Manufacturer's Guarantee:
2 Years
Certifications:
DIN EN 1335 Office Chair, ANSI/BIFMA X5.1 2011 Office Chair, TÜV-tested gas lift
Features:
Practical rocking function
4D-Armrest adjustment
Adjustable backrest angle (up to 135 degrees)
Adjustable seat height
Deformation resistant hard foam
Durable Safety Class 4 gas lift
Strong 5-point full aluminium base
60 mm casters for hard- and soft flooring
Robust steel core construction
Further links for

"EPIC Limited Edition Gaming Chair - Black/White/Blue"
Videos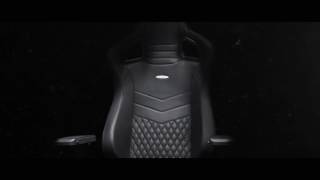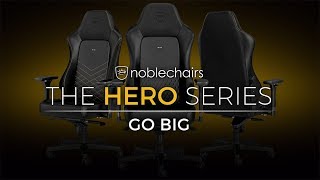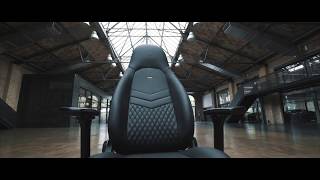 Technical Details
| | |
| --- | --- |
| Serie | EPIC |
| Primary colour | black |
| Secondary colour | blue, white |
| Seat cover material | synthetic leather |
| Adjustable back rest | Yes |
| Adjustable armrests | Yes |
| Height adjustment | Yes |
| Adjustable seating angle | Yes |
| Weight limit | Up to 125 kg (275 lbs) |
| Seatbelt guide | Yes |
| Weight | 26 to 28 kg (57.3 to 61.7 lbs) |
Awards
Was alle drei Stühle gemeinsam haben ist die hervorragende Verarbeitung, die perfekte Materialwahl, haltbare mechanische Bauteile sowie eine von uns geprüfte mehrjährige Haltbarkeit. Im Grunde genommen also genug um alle drei mit besten Auszeichnug auszustatten.

read more...

The KitGurus readers have vote Noblechairs for: BEST FOR GAMING CHAIRS.

read more...