noblechairs


HERO Gaming Stuhl - schwarz/schwarz + Fußstütze - schwarz
Edler Gaming- und Bürostuhl von noblechairs
inklusive Fußstütze für Premium gaming- and office chair from noblechairs
noblechairs footrest inclusive
PU-leather in black
Comfortable cold foam upholstery
Superior ergonomics thanks to adjustment options
+ Das perfekte Add On
+ The perfect Add On
FUßSTÜTZEN von
FOOTRESTS from
Item number: GABU-185
EAN: 0000000000000
MPN: GABU-185
Manufacturer: noblechairs
Product information -
HERO Gaming Stuhl - schwarz/schwarz + Fußstütze - schwarz
The perfect pair: The HERO Gaming Chair and the noblechairs footrest
Built for HEROS
In the course of designing the new HERO Series, noblechairs took extensive input and guidance from eSports professionals. The result: the most ergonomic and feature-rich gaming chair ever made and one that offers consistent comfort, even after prolonged hours of working or gaming at your desk. The new stepless lumbar support integrated into the backrest helps to provide superb ergonomic customisation. The headrest is now filled with memory foam to allow its cushioning to better conform to individual head shapes. Furthermore, the backrest, seat area and armrests have all been increased in size. When you're this comfortable, it's tough to tear yourself away from the HERO.
The noblechairs HERO Gaming Chair in Black at a Glance:
Infinitely adjustable lumbar support for your lower back
Larger surface area for the seat- and backrest, optimised for long gaming sessions
Enlarged 4D armrests with padding
Memory foam embedded into the headrest for improved comfort
Comfortable and breathable cold foam upholstery
Suitable for users up to 150 kg
---
Comfortable Gaming Chair
Premium ergonomics is what differentiates a good chair from a great chair, especially when used over extended periods of time. With that in mind, noblechairs took a range of feedback on board and integrated long requested features into the HERO gaming chair. One of the most popular requests was for adjustable lumbar support to be integrated into the backrest, something that can be adjusted to meet your precise preferences thanks to the infinitely adjustable wheel design. This is a feature that has been limited to only the highest of high-end office chairs. This enables the HERO to conform to the natural curvature of lower back and provide a more natural posture when seated.

The surface area of the seat as well as the size of the backrest have also both been increased due to popular request. Furthermore, the 4D armrests are significantly larger so as to not only make the HERO look more impressive as a whole, but to also make it significantly more comfortable. The improved comfort provided is also due in no small part to the PU padding.
---
Maximise Your Comfort White Optimising Your Posture!
The comfort offered by noblechairs is well established, but investing in ergonomic accessories is not just a sensible idea, it's a way of taking preemptive action against the negative side-effects associated with poor posture over the long term . In bringing the noblechairs footrest to market, the noblechairs team has developed just such an accessory.

The noblechairs footrest not only maximises comfort, it is also back-friendly and helps maintain circulation. In minimising the load placed on the feet and back, the footrest makes a significant contribution to a natural and healthy posture. Benefits to your posture and comfort aside, the aesthetics of the chair are nothing less than stellar given the stunning craftsmanship and the choice of materials that went into making this premium accessory.
---
Technical Details (noblechairs HERO):
Height Specification:
Total Height (with base): ca. 129 - 137 cm
Seat Pan Height (with base): ca. 48 - 58 cm???
Backrest Height: ca. 89 cm
Inner Backrest Width: ca. 32,5 cm
Outer Backrest Width (widest point): ca. 57 cm
Inner Seat Surface Area: ca. 35 cm
Outer Seat Surface Area (widest point): ca. 52 cm
Depth of Seating Area: ca. 50 cm
Total Depth (without base): ca. 55 cm
Armrest Width: ca. 10,5 cm
Armrest Depth: ca. 27 cm
Weight:
ca. 28 kg
Rocking Mechanism Adjustment:
max. 11°
Backrest Angle:
90° to 135°
Material:
Steel (frame)
Cold foam (upholstery)
Shape Memory Polymer (head support)
PU Leather (cover -> seat + contact area + reverse)
Aluminium (base)
Nylon / Polyurethane (casters)
Polyurethane (armrests)
Colour:
Black (Cover, Stitches)
Maximum Load:
150 kg
Manufacturer's Guarantee:
2 Years
Features:
Integrated lumbar support for lower back
4D Armrests with maximum adjustability
Adjustable backrest angle (90 to 135 degrees)
Flexible seat surface area
Deformation-resistant cold foam
Memory foam in the headrest
Durable gas lift (Safety Class 4)
Strong 5-point base in solid aluminium
60 mm casters for hard- and soft floors
Solid steel frame
Supports up to 150 kg
Technical Details (Footrest):
Dimensions:
Height (with base): approx. 43,5 cm
Width (widest point): approx. 49 cm
Depth: approx. 39,5 cm
Incline:
max. 57°
Materials:
Cold foam (upholstery)
PU leather (cover)
Aluminium / plastic (base)

Colour:
Black
Manufacturer's Guarantee:
2 Years
Further links for

"HERO Gaming Stuhl - schwarz/schwarz + Fußstütze - schwarz"
Videos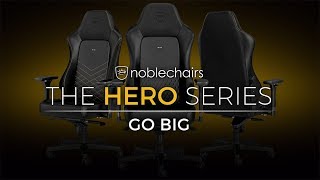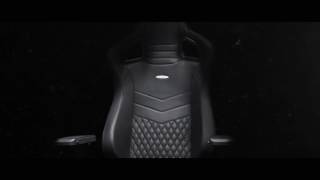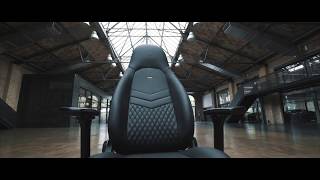 Technical Details
| | |
| --- | --- |
| Serie | HERO |
| Primary colour | black |
| Secondary colour | black |
| Seat cover material | synthetic leather |
| Adjustable back rest | Yes |
| Adjustable armrests | Yes |
| Height adjustment | Yes |
| Adjustable seating angle | Yes |
| Maximalbelastung / Gewichtsbereich (exakt) | 150 kg |
| Weight limit | 126 to 155 kg (277 to 341 lbs) |
| Seatbelt guide | No |
| Weight (exact) | 28 kg |
| Weight | 28 to 30 kg (61.7 to 66.1 lbs) |
| Gesamthöhe, mit Basis (exakt) | 127,5 cm, 135,5 cm |
| Tiefste Sitzposition, einstellbar (exakt) | 46,5 cm |
| Höchste Sitzposition, einstellbar (exakt) | 54,5 cm |
| Höhe Rückenlehne (exakt) | 89 cm |
| Breite Rückenlehne innen (exakt) | 32,5 cm |
| Breite Rückenlehne außen, breitester Punkt (exakt) | 57 cm |
| Breite Sitzfläche innen (exakt) | 35 cm |
| Breite Sitzfläche außen, breitester Punkt (exakt) | 52 cm |
| Tiefe Sitzfläche (exakt) | 50 cm |
| Gesamttiefe, ohne Basis (exakt) | 55 cm |
| Minimalhöhe der Armlehnen (exakt) | 66,5 cm |
| Total height (including base) | 120 to 129.9 cm (47.2 to 51.1 inch), 130 to 139.9 cm (51.1 to 55 inch) |
| Lowest seating position (adjustable) | 40 to 49 cm (15.7 to 19.2 inch) |
| Highest seating position | 50 to 59 cm (19.6 to 23.2 inch) |
| Back rest heigth | 80 to 89 cm (31.4 to 35 inch) |
| Back rest width (inner dimension) | 30 to 34 cm (11.8 to 13.3 inch) |
| Back rest width (widest outer dimension) | 55 to 59 cm (21.6 to 23.2 inch) |
| Seat width (inner dimension) | 35 to 39 cm (13.7 to 15.3 inch) |
| Seat width (widest outer dimension) | 50 to 54 cm (19.6 to 21.2 inch) |
| Seat depth | 50 to 54 cm (19.6 to 21.2 inch) |
| Total depth (without base) | 50 to 59 cm (19.6 to 23.2 inch) |
| Minimalhöhe der Armlehnen | 65 bis 69 cm |
| Head cushion included | Yes |
| Lumbar cushion included | Yes |
| Material base | aluminum, plastic, nylon, steel |