noblechairs


ICON Gaming Chair - Black Edition
Stylish gaming armchair from noblechairs
innovative breathable imitation leather in black
stainless steel handles
comfortable cold foam upholstery
high ergonomics thanks to flexible adjustment options
60 mm castors
load capacity up to 150 kg
+ Das perfekte Add On
+ The perfect Add On
FUßSTÜTZEN von
FOOTRESTS from
Item number: GAGC-166
EAN: 4251442503239
MPN: NBL-ICN-PU-BED
Manufacturer: noblechairs
Product information -
ICON Gaming Chair - Black Edition
ICON Gaming Chair Black Edition
The best just got even better!
The arrival of the Black Edition from noblechairs represents a successful addition to an already successful line up. With 500,000 gaming chairs sold already, noblechairs has managed to redefine the premium gaming chairs segment. Countless national and international awards later, along with thousands of independently published customer reviews, noblechairs gaming chairs can now count themselves among the most popular products in the world of gaming. Not only do gamers enjoy them, but also those who work in a seated position much of the time and who appreciate the value of optimal comfort and ergonomics.

With the arrival of the Black Edition, the noblechairs ICON range is receiving a visual and material upgrade. The new and unique upholstery belongs to the next generation of breathable seating materials. This innovative hybrid material from Germany that consists of an ingenious blend of vinyl and polyurethane manages to offer the very best characteristics of both. The result is an ultra-soft surface that is exceptionally durable. Additionally, the new stainless steel grips and the improved armrests help round out this premium upgrade to an already high-quality gaming chair.
---
Innovative PU Leather for Perfect Seated Comfort & Extended Durability
Only raw materials absent conventional solvents and that are based on high-quality aqueous PU systems and finishings are used. Thanks to a remarkable chemical reaction that occurs during the manufacturing process, users are able to benefit from the presence of microfine pores that are formed within the material that are permeable to both air and water vapour. This property ensures a unparalleled comfort over extended periods of time. No matter how long you sit, the surface is designed to prevent sticking and discomfort. Moreover, the durability of the material is outstanding: Even after years the surface will still look good. The material is tear-resistant, durable, highly abrasion-resistant and easy to clean.
---
The noblechairs ICON Gaming Chair - Black Edition at a Glance:
Newly developed PU leather covering with breathable micro-pores
Comfortable & breathable cold foam upholstery
Increased durability thanks to increased thickness
Stunning stainless steel height/angle adjustment mechanisms
Maximum adjustability thanks to 4D armrests
Adjustables rocking mechanism and backrest
Quiet 60 mm castors designed for hard- and soft flooring
Designed for users up to 150 kg
---
The noblechairs ICON is the Best Gaming Chair of 2018!
European Hardware Awards 2018
At Computex 2018 in Taipei (Taiwan) the European Hardware Association bestowed the noblechairs ICON series the sought-after European Hardware Award 2018 in the "Best Gaming Chair" category, awarding them their well-earned crown for their superb series.

The award and all other award winners can be viewed here (external link).
Here at Caseking we would like to extend our congratulations on their win!
---
Premium Gaming Chair with Revolutionary PU Leather Covering!
Not only the suspension of a sports car determines the quality of every ride, but also the comfort of the seat. Thanks to this symbiosis of unique imitation leather, noble racing seat design and excellent ergonomic features, an icon among gaming chairs has been created that was developed for true champions: the noblechairs ICON gaming chair in the Black Edition.

The noblechairs ICON Gaming Chair Black Edition, which is offered here in a completely black version, is covered with fine imitation leather cover on the seat and contact surfaces. The backrest cover is also made of unique PU leather for optimum durability. The imitation leather developed and manufactured in Germany has an extremely soft texture. With its microfine pores, it also ensures maximum airflow. The combination of breathable, soft PU leather and open-pored cold foam ensures users enjoy the most comfortable seated experience for even the longest gaming sessions.
Durable Materials & Premium Workmanship
Of course noblechairs also relies on precision machine-only manufacturing, as this is what makes the renowned perfection of noblechairs possible. Similar to the high-precision production lines of car manufacturers, robot arms create the steel frame ensconced within all noblechairs. This affords not only a flawless manner of construction, but also an extremely durable one that removes any shadow of a doubt over its durability over time. Even the coverings of the chair are created by industrial embroidery machines as no other method can guarantee the same consistency and quality of results.

The distinguished design of the noblechairs series also takes the form of a discrete black aluminium plate adorned with the silver noble logo as well as the enlarged noblechairs logo which is embossed into the headrest, allaying any doubt as to your membership of the noble-club.
Premium Cushioning with Exceptional Durability
The development of the ICON Series meant getting back to basics and returning to the drawing board, and the cushioning of the chair in respect to ergonomics has been improved. First and foremost this is noticeable in the optimised backrest, which now offers even better lumbar support.

The cushioning of the chair consists of porous, deformation-resistant cold foam with an extremely high 55% density which, in the long term, retains its breathable and dimensionally stable characteristics. In comparison to other gaming chairs an executive chair from noblechairs utilises a full steel frame ensconced within its upholstery.
---
First Class Adjustability & Ergonomics
ICON Series from noblechairs also manages to offer not only a fresh sporting design, thanks to the use of attractive stainless steel handles for adjusting the chair, but also an unparalleled variety of adjustability options. Once you've taken a seat in the ICON gaming chair and adjusted it to your personal requirements, you won't want to get up again. Apart from 10cm height adjustability this gaming throne includes a comfortable rocking mechanism and an adjustable backrest and extremely practical 4D armrests.
The Perfect Position for Every User
The overhauled 4D armrests now better match the overall image of the chair, also enabling adjustment in four dimensions to allow every user to experience the perfect position for themselves.

Apart from the smooth rocking mechanism allowing the chair to tip up to 11°, the backrest can also be adjusted from 90° to 135°.
Designed for Hard & Soft Flooring
The base of the ICON Series from noblechairs is formed from a newly improved, powder-coated five-point base consisting of solid aluminium and special casters. These 60 mm casters have nylon cores and a polyurethane coating. As a result of the materials they are soft, quiet during movement, and equally suited to soft and hard flooring. The hydraulic gas lift is safety class 4 certified and, in combination with the newly optimised base, suited for a maximum load of up to 150 kg.
---
Upgrade Your Throne with Premium Accessories from noblechairs!
These premium chairs deliver, without a shadow of a doubt, a sublime seated experience straight out of the box, and the only way this could be improved upon is with the help of premium accessories from noblechairs. In order to adjust the gaming chair to perfectly fit the requirements of the user, noblechairs offers practical 60 mm hard floor casters with automatic brakes which bring to an end any unwanted forward or backwards sliding during use. Additionally shorter gas lifts offer a lower height to the seat, thereby enabling optimal comfort for smaller users.
---
Maximise Your Comfort Without Compromising on Posture!
The comfort offered by noblechairs is well established, but investing in ergonomic accessories is not just a sensible idea, it's a way of taking preemptive action against the negative side-effects that arise with poor posture over the long term. In bringing the
noblechairs footrest
to market, the team noblechairs team has created just such an accessory. The noblechairs footrest not only maximises comfort, it is also back-friendly and helps maintain circulation. In minimising the load placed on the feet and back, the footrest makes a significant contribution to a natural and healthy posture. Benefits to your posture and comfort aside, the aesthetics of the chair are nothing less than stellar given the stunning craftsmanship and the choice of materials that went into making this premium accessory.
Every gaming chair deserves cushions, and none more so than noblechairs - that's why noblechairs has released their own
brand of premium quality cushions
. Offering improved neck and lumbar support, these cushions support and encourage a more natural posture while making the gaming chairs even more comfortable than they already are. Thanks to their exceptional flexibility and adjustability, the cushions can be placed exactly where they're needed for maximum comfort. Fine elasticated bands help hold the cushions in the desired position.
The
noblechairs cushions
are both soft yet supportive so as to provide the best possible support while also conforming to the contours of the body. The noblechairs range of cushions are easy to maintain and care for, given that they can simply be washed like any other material. Care and comfort aside, noblechairs cushions aren't lacking in the aesthetic department either: they include the famous noblechairs logo in multiple colours, in this instance in black, stitched into the cushions. By any measure, these represent a must own accessory for the owners of noblechairs everywhere.
---
Keeping Your Gaming Throne in Perfect Condition!
The
noblechairs premium care and cleaning kit
for real- and PU leather chairs helps ensure you not only enjoy a clean and hygienic seat surface, but it also helps ensure that your noblechairs gaming chair remains looking brand new for as long as possible - while even smelling like fresh leather. To this end, the set offers two colour-neutral cleaning agents, one which serves to clean the gaming chair and the other which helps to apply a protective layer to the surface of the chair and that also gives it the delicate scent of real leather.
Packaged in attractive bottles with a dispenser, the cleaning- and polishing agents can be applied using the included microfibre cloths and the premium quality sponge. All contents are beautifully packaged in a manner appropriate to its namesake: noblechairs.
---
Technical Details:
Height specifications:
Total height (with base): ca. 126,5 - 136,5 cm
Height of seat (with base): approx. 46.5 - 56.5 cm
Backrest height: approx. 86 cm
Width of inner backrest: approx. 29.5 cm
Width backrest outside (widest point): approx. 52 cm
Width seat inside: approx. 34 cm
Wide seat outside (widest point): approx. 51.5 cm
Seat depth: approx. 49 cm
Total depth (without base): ca. 57 cm
Width of armrests: approx. 10 cm
Depth of armrests: approx. 24.5 cm
Weight:
approx. 28 kg
Tilting mechanism:
max. 11°
Backrest tilt angle:
90° to 135°
Material:
Steel (frame)
Cold foam (padding)
PU leather (cover -> seat + contact surface)
PU leather (cover -> backside)
Aluminium (base)
Nylon / Polyurethane (castors)
Polyurethane (armrests)
Color:
Black
Maximum load:
150 kg
Manufacturer warranty:
2 years
Certifications:
DIN EN 1335 Office chair, ANSI/BIFMA X5.1 2011 Office chair, TÜV tested gas pressure spring
Features:
Practical rocking function
4D armrests with maximum adjustability
Adjustable angle of the backrest (90 to 135 degrees)
Adjustable seat height
Deformation resistant cold foam
Column with durable gas spring (class 4)
Strong 5-point base made of solid aluminium
60 mm rolls for hard and soft floors
Sturdy steel construction in the core
Load capacity up to 150 kg
Further links for

"ICON Gaming Chair - Black Edition"
Videos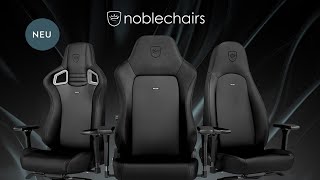 Technical Details
| | |
| --- | --- |
| Serie | ICON |
| Primary colour | black |
| Secondary colour | black |
| Seat cover material | Hybrid Kunstleder |
| Adjustable back rest | Yes |
| Adjustable armrests | Yes |
| Height adjustment | Yes |
| Adjustable seating angle | Yes |
| Maximalbelastung / Gewichtsbereich (exakt) | 150 kg |
| Weight limit | 126 to 155 kg (277 to 341 lbs) |
| Seatbelt guide | No |
| Weight (exact) | 28 kg |
| Weight | 28 to 30 kg (61.7 to 66.1 lbs) |
| Gesamthöhe, mit Basis (exakt) | 126,5 cm |
| Tiefste Sitzposition, einstellbar (exakt) | 46,5 cm |
| Höchste Sitzposition, einstellbar (exakt) | 56,5 cm |
| Höhe Rückenlehne (exakt) | 86 cm |
| Breite Rückenlehne innen (exakt) | 29,5 cm |
| Breite Rückenlehne außen, breitester Punkt (exakt) | 52 cm |
| Breite Sitzfläche innen (exakt) | 34 cm |
| Breite Sitzfläche außen, breitester Punkt (exakt) | 51,5 cm |
| Tiefe Sitzfläche (exakt) | 49 cm |
| Gesamttiefe, ohne Basis (exakt) | 57 cm |
| Minimalhöhe der Armlehnen (exakt) | 66,5 cm |
| Total height (including base) | 120 to 129.9 cm (47.2 to 51.1 inch), 130 to 139.9 cm (51.1 to 55 inch) |
| Lowest seating position (adjustable) | 40 to 49 cm (15.7 to 19.2 inch) |
| Highest seating position | 50 to 59 cm (19.6 to 23.2 inch) |
| Back rest heigth | 80 to 89 cm (31.4 to 35 inch) |
| Back rest width (inner dimension) | Up to 30 cm (11.8 inch) |
| Back rest width (widest outer dimension) | 50 to 54 cm (19.6 to 21.2 inch) |
| Seat width (inner dimension) | 30 to 34 cm (11.8 to 13.3 inch) |
| Seat width (widest outer dimension) | 50 to 54 cm (19.6 to 21.2 inch) |
| Seat depth | 45 to 49 cm (17.7 to 19.2) |
| Total depth (without base) | 50 to 59 cm (19.6 to 23.2 inch) |
| Minimalhöhe der Armlehnen | 65 bis 69 cm |
| Head cushion included | Yes |
| Lumbar cushion included | Yes |
| Material base | aluminum, nylon, steel |
Awards
DD World - Noblechairs EPIC Black Edition - TEST quality gaming chair with a new breathable cover

The design of the chair is excellent in the given price, which I expected from this German manufacturer, because it is not the first chair I have tested so far. Therefore, I was most curious about the new material replacing the leatherette. Here, I'm quite skeptical at first, because genuine leather is just genuine leather, but in the end I had to admit that this new material is really much further than all the leatherette covers I've had the opportunity to test so far.

Sitting like a king since the reception of this Noblechairs Hero gaming chair. I realize how patient I was but also careless for my back comfort. Luxury and comfort certainly come at a price, which is perfectly reflected in the entire range of Noblechairs seats. From € 399 for the PU leather version and up to € 659 if you opt for genuine leather. This seat promises absolute comfort for those who want a wider seat than others. Luxury and quality gaming chairs have always been a dream. However, I think it may make more sense to invest for the long term. Special mention for the leather finishes that enhance your new favorite chair. Noblechairs manages to combine comfort here, customization and high-end to satisfy your most delicate positions. The Hero of Noblechairs will satisfy the most difficult of you. Finally, believe me, your back will say thank you!

read more...

+ Price range
+ Comfortable and firm cushioning
+ Good build quality
+ Quality build materials
+ Adjustable dimensions
+ Adjustable and smooth ergonomic features
+ Quality caster wheels
+ DIN EN 1335-1/2 and BS 5852 UK fire safety compliance
+ Color-consistent details
+ Impeccable stitching
+ Extra accessories to purchase for customization
+ Weight capability

read more...

Pro

+ Sober and elegant design
+ Ergonomics
+ Robustness and build quality
+ Numerous adjustments

read more...

Mit der Neuauflage verbessert Noblechairs nicht nur einen der besten "Bürostühle", sondern bietet weiterhin bezahlbaren Luxus, nicht nur für Gamer. Die Verarbeitung und Auswahl der Materialen ist tadellos und bietet uns das Beste vom Besten. Edelstahl im Detail sowie die wohlwollende Bezugsoberfläche lassen uns nur ungern wieder aufstehen. Die perfekte Ergonomie trägt neben den zahlreichen Einstellmöglichkeiten dazu bei. Optisch bietet sich zwar ein Rennsitz, der sich im schwarzen Look dezent überall integrieren lässt. Er ist schick und sehr edel und stellt so manchen Gaming-Stuhl schnell in den Schatten.

read more...

Der neue EPIC kommt, genau wie seine Kollegen HERO & ICON, nun mit noch hochwertigerer Ausstattung zu dir nach Haus.

Ein neues Gesamtpaket bestehend aus Optik, Haptik und dem wahnsinnig angenehmen Bezugsmaterial lässt mir keine andere Wahl, als euch die noblechairs Black Edition ans Herz zu legen.

read more...

Pros:

+ Plenty of adjustability.
+ Hybrid fabric is soft and breathable.
+ High quality construction and premium feel.
+ Easy to assemble.
+ Attractive design.

read more...

Positive points +

+ Design
+ Finish
+ Quality of materials
+ Quality of Hybrid leatherette
+ Base and aluminum straps
+ Multiple settings
+ 4D armrests
+ Improved cervical cushion

read more...

PROS

- hochwertige Materialien und Verarbeitungsqualität
- Schickes, schlichtes und sehr hochwertige Design komplett in schwarz
- Viele Einstellungsmöglichkeiten für perfekte Sitzpostion
- Neue Hybrid-Material des Bezugs weich und atmungsaktiv
- Von der Lederversionen nicht zu unterscheiden
- Leise und leichtgängige 60mm Rollen
- Umweltfreundlich

read more...

HardwaremAx - NOBLECHAIRS HERO BLACK EDITION

Das neue Material ist nicht nur super weich, sondern auch noch immens atmungsaktiv und an die eigene Körpertemperatur schnell anpassend. Die umweltfreundliche Herstellung, sowie die leichte Reinigung runden das Komplettpaket weiter ab. Ganz ohne Nähte und Löcher lässt es sich mit dem HERO wirklich angenehm sitzen. Dass er durch die Edelstahlhebel auch haptisch deutlich zugelegt hat, setzt dem ganzen dann noch die Krone auf.

noblechairs zeigt mir der Black Edition wie es richtig geht. Die an sich schon sehr guten Produkte so aufzuwerten das kann schon was. Durch das neu entwickelte "Hybrid Material" werten sich die Stühle noch einmal ordentlich auf.

Dabei zeigt das neue Material seine Stärken bei der Atmungsaktivität sowie der raschen Übernahme der eigenen Körpertemperatur. Einen Vergleich mit "herkömmlichen" Leder kann man da also schon ziehen. Ebenfalls bewundernswert ist die umweltfreundliche Herstellung der aktuellen Black Edition. Des Weiteren können mit dem neuen Hybrid Material auch neue Designs umgesetzt werden, weil man für keine kleinen Löcher bei der Atmungsaktivität sorgen muss.

Dass der von uns getestete Hero Stuhl auch von der Verarbeitung her überzeugt, gilt als selbstverständlich. So repräsentiert sich die komplette Mechanik des Stuhles als absolut stabil. Gleiches gilt für die Polsterung des Sitzes oder eben der Ausführung der Rückenlehne. Durch die neuen Edelstahlakzente, legt der Stuhl aber auch haptisch noch einmal ein gutes Stück zu. Viel Luft nach oben gibt es also nicht mehr. Wir sind aber trotzdem schon neugierig was sich in diesem Bereich in Zukunft noch abspielen wird.

read more...