Noctua


NF-F12 industrialPPC-3000 PWM - 120mm
Based on the popular NF-A14 retail fan
Noctua's dustproof industrialPPC fans are designed with one thing in mind
high performance
as well as all the other innovative features one has come to expect
Item number: LUNA-043
EAN: 4716123315414
MPN: NF-F12 industrialPPC-3000 PWM
Manufacturer: Noctua
Product information -
NF-F12 industrialPPC-3000 PWM - 120mm
Noctua gehört zu den bekannten Größen im Silent-Cooling-Bereich. Besonders die CPU-Kühler des österreichischen Herstellers genießen einen hervorragenden Ruf. Sie verbinden eine ausgezeichnete Verarbeitungsqualität mit einer hohen Kühlleistung und einer minimalen Geräuschentwicklung. Hierfür sind auch die Lüfter von Noctua maßgeblich verantwortlich, die auch separat erhältlich sind, um als Gehäuse- oder CPU-Lüfter zu dienen.
Zusätzlich zu Noctuas Standardsortiment leiser Premium-Lüfter, die über alle neusten Noctua-Technologien verfügen, mit einem breiten Zubehörpaket ausgeliefert werden und durch das bekannte braune Farbschema erkennbar sind, bietet der Hersteller nun auch zwei zusätzliche Produktlinien an, redux und industrialPPC.
Die Produktlinie industrialPPC (Protected Performance Cooling) wurde für anspruchsvolle Industrieanwendungen konzipiert und auf harte Beanspruchung sowie Betrieb unter schwierigen Bedingungen ausgelegt. Sie umfasst robustere, schneller drehende Versionen von Noctuas Standard-Modellen, die fast ganz in Schwarz gehalten sind.
Dank der hervorragenden aerodynamischen Effizienz des NF-F12-Designs sowie eines neuartigen dreiphasigen Motors bietet diese industrialPPC-Versionen des Noctua NF-A14 mit ihrer höheren Drehzahl (max. 3.000 U/min) echte Hochleistungskühlung, verfügt dabei jedoch gegenüber vergleichbar schnell drehenden Lüftern über eine moderate Geräuschentwicklung und Leistungsaufnahme.
Mit seiner fiberglasverstärkten Polyamid-Konstruktion sowie erweitertem Wasser- und Staubschutz nach Schutzklasse IP52 eignet sich der NF-F12 industrialPPC auch für den Einsatz in anspruchsvollen Umgebungen. Zugleich garantiert das hochwertige SSO2-Lager eine Lebensdauer von über 150.000 Stunden.
Ergänzt durch die von Noctua gewohnte Zuverlässigkeit und sechs Jahre Herstellergarantie ist der NF-F12 industrialPPC mit 3.000 U/min und PWM-Steuerung eine perfekte Wahl für besonders herausfordernde Anwendungen, die überlegene Kühlleistung und höchste Betriebssicherheit verlangen.
Technische Details:
Maße: 120 x 120 x 25 mm (B x H x T)
Material: Kunststoff
Farbe: Schwarz, Braun
Drehzahl: 750 - 3.000 U/min (+/- 20 %)
Luftdurchsatz: max. 186,7 m³/h
Statischer Druck: max. 7,63 mm H2O
Lautstärke: max. 43,5 dB(A)
Spannung: max. 12 V
Verbrauch: max. 3,6 W
Anschluss: 4-Pin-PWM
Lebensdauer: 150.000 h (MTBF)
Herstellergarantie: 6 Jahre
Wasser- und Staubschutz: IP52
Lieferumfang:
Lüfter
4x Lüfterschrauben
Further links for

"NF-F12 industrialPPC-3000 PWM - 120mm"
Videos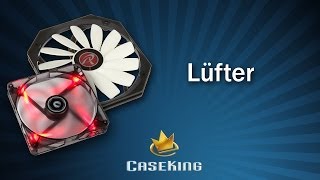 Technical Details
| | |
| --- | --- |
| Primary colour | black |
| Secondary colour | brown |
| Fan connector | 4 Pin (PWM) |
| Illumination | no |
| Max rpm (exact) | 3000 U/min |
| Min rpm (exact) | 750 U/min |
| Max noise level (exact) | 43,5 dB(A) |
| Max air volume (exact) | 186,7 m³/h |
| Max rpm | 3000 - 3499 U/min |
| Min rpm | 750 - 999 U/min |
| Max noise level | 40 - 44 dB(A) |
| Max air volume | 175 - 199 m³/h |
| Rotor diameter | 120 mm |
| Mounting holes | 120 mm |
| Warranty | 6 years |
Awards
For

+ performances
+ Black color for a Noctua fan
+ IP52 or IP67 protection rating
+ Up to 3000 RPM
+ Anti-vibration pads
+ 6 years warranty

read more...

The Noctua industrialPPC fans that we have tested in this review have impressed us. It's probably a little unfair to pitch them against the humble stock chassis fan, but most people will have them right now in their system and any upgrade is always a welcome one. The Noctua industrialPPC fans are not aimed at the average desktop end-user, but they can be applied with success.

The larger NF-A14 gives a great improvement over the stock fan on test and a couple of these would be excellent in a homeserver for example, or on a water-cooled systems radiators, the would move a lot of hot air away from the cooling fins. The NF-F12 would be an excellent upgrade for a normal desktop system too, they would comfortably cool servers and water-cooled rigs as well, but have a little better sound performance, so your tolerance is not tested by noisy fans.

read more...

The Noctua NF-A14 IndustrialPPC and Noctua NF-F12 IndustrialPPC fans are perfect examples; continuing to meet and go above expectations. Since these fans are intended for 24V industrial applications, with the superior material used for the construction of the frames, they do have exceptional build quality. They can be run in 12V environments, but they will not reach their maximum RPM. Through our tissue paper tests, we have seen all four models perform well with consistent airflow and abundant static pressure, although they can get pretty loud even at the maximum 12V speed. All models all have braided cables, which are always a welcome sight to see.

read more...