Noctua


NF-P12-PWM Lüfter - 120mm
The NF-P12 has been specifically developed for applications such as CPU coolers that demand superior pressure and airflow performance.
Item number: LUNA-010
EAN: 4716123314745
MPN: NF-P12-PWM
Manufacturer: Noctua
Product information -
NF-P12-PWM Lüfter - 120mm
Bei vielen gängigen Lüfter-Serien kommen über alle Performance-Bereiche hinweg dieselben Schaufelgeometrien zum Einsatz und werden sowohl im High-Performance-Bereich mit hohen Drehzahlen als auch im Low-Noise-Segment mit niedriger Rotation eingesetzt. Dabei eignen sich unterschiedliche Designs für ganz unterschiedliche Einsatzzwecke, so dass stets in mindestens einem der Anwendungsszenarien solche konventionellen Lüfter nicht optimal arbeiten - sie sind entweder unnötig laut oder leistungsschwach.
Mit dem NF-P12-Lüfter hat der österreichische Lüfter- und Kühlerspezialist Noctua bewiesen, dass auch bei höheren Umdrehungszahlen eine geringe Lautstärke und erstaunliche Laufruhe möglich sind. Dadurch eignet sich der Lüfter nach wie vor bestens zum Einsatz in Gehäusen, in denen sehr potente Hardware geräuscharm gekühlt werden soll. Auch als Fan auf CPU-Kühlern ist der NF-P12 mit seinem hohen Fördervolumen bislang keine schlechte Wahl gewesen, allerdings hatte er den Nachteil, nicht über die PWM-Steuerung des Mainboards automatisch regelbar zu sein.
Genau diese Lücke füllt nun der NF-P12-PWM mit Noctuas selbst entwickeltem PWM-Steuerungs-Chip NE-FD1. Wie der normale NF-P12 verfügt die PWM-Version über das "Nine Blade Design" und die "Vortex Control Notches". Die versetzten Einkerbungen an den Lüfterblättern sorgen dafür, dass die Geräuschemission über einen breiteren Frequenzbereich verteilt wird, wodurch der Lüfter für das menschliche Ohr weniger störend klingt. Um den Lüfter noch leiser zu machen, kommt das bewährte SSO-Lager zum Einsatz, wodurch überdies eine hervorragende Langzeitstabilität erreicht wird.
Der 120 mm große Lüfter kommt von Haus aus mit einem "Low-Noise Adapter" (L.N.A.) daher, mit dem die Maximaldrehzahl von 1.300 auf 900 U/min bei höchstens 12,6 dB(A) reduziert werden kann, wodurch der Fan ideal an die eigenen Bedürfnisse anpassbar ist. Außerdem befinden sich im Lieferumfang neben vier herkömmlichen Lüfterschrauben sowie vier Entkopplungsstiften auch ein 30 cm langes PWM-Verlängerungskabel und ein Y-Verteilerkabel zum Anschluss zweier Lüfter an einen Mainboard-PWM-Anschluss.
Technische Details:
Format: 120 x 120 x 25 mm (B x H x T)
Lagertyp: SSO-Bearing
Blattgeometrie: Nine Blade Design mit Vortex Control Notches
Leistungsaufnahme: max. 0,6 W
Stromstärke: max. 0,05 A
Betriebsspannung: 12 V
MTBF: > 150.000 Stunden
Anschluss: 4-Pin PWM
Herstellergarantie: 6 Jahre

PWM-Betrieb ohne Adapter (+/- 10%):

Drehzahl: 300 - 1.300 U/min
Geräuschentwicklung: max. 19,8 dB(A)
Fördervolumen: max. 92,3 m³/h
Statischer Druck: max. 1,68 mmH2O

(PWM-)Betrieb mit L.N.A. (+/- 10%):

Drehzahl: max. 900 U/min
Geräuschentwicklung: max. 12,6 dB(A)
Fördervolumen: max. 63,4 m³/h
Statischer Druck: max. 1,21 mmH2O

Lieferumfang:
4-Pin Low-Noise Adapter (L.N.A.)
4-Pin Y-Kabel
4-Pin Verlängerungskabel (30 cm)
4x Vibration-Compensators
4x Lüfterschrauben
Further links for

"NF-P12-PWM Lüfter - 120mm"
Videos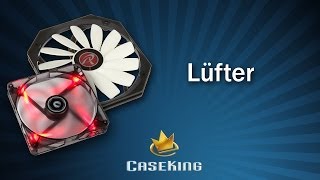 Technical Details
| | |
| --- | --- |
| Primary colour | brown |
| Secondary colour | beige |
| Fan connector | 4 Pin (PWM) |
| Illumination | no |
| Max rpm (exact) | 1300 U/min |
| Min rpm (exact) | 300 U/min |
| Max noise level (exact) | 19,8 dB(A) |
| Max air volume (exact) | 92,3 m³/h |
| Max rpm | 1000 - 1499 U/min |
| Min rpm | 250 - 499 U/min |
| Max noise level | 15 - 19 dB(A) |
| Max air volume | 75 - 99 m³/h |
| Rotor diameter | 120 mm |
| Mounting holes | 120 mm |
| Warranty | 6 years |
Awards
Hardware Inside - Noctua NF-P12 & NF-A12x25 Lüfter

Pro:
+ hervorragende Verarbeitung
+ umfangreicher Lieferumfang
+ geringe Lautstärke
+ gute Leistung

Hardware Inside - Noctua NF-P12 & NF-A12x25 Lüfter

Pro:
+ hervorragende Verarbeitung
+ umfangreicher Lieferumfang
+ geringe Lautstärke
+ gute Leistung