Noctua


NF-S12A PWM chromax.black.swap Lüfter - 120mm
Besonders laufruhiger 120 mm Lüfter
schwarzer Rahmen und Rotor
SSO2-Lagertyp
Rahmen mit Advanced Acoustic Optimisation
Item number: LUNA-071
EAN: 9010018100419
MPN: NF-S12A PWM CH.BK.S
Manufacturer: Noctua
Product information -
NF-S12A PWM chromax.black.swap Lüfter - 120mm
Noctua gehört zu den bekannten Größen im Silent-Cooling Bereich. Besonders die CPU-Kühler des österreichischen Herstellers genießen einen hervorragenden Ruf. Sie verbinden eine ausgezeichnete Verarbeitungsqualität mit einer hohen Kühlleistung und einer minimalen Geräuschentwicklung. Hierfür sind auch die selbst entwickelten Lüfter von Noctua maßgeblich verantwortlich, die auch separat erhältlich sind, um als CPU- oder wie hier als Gehäuselüfter zu dienen.
Der NF-S12A Gehäuselüfter markiert die dritte Generation von Noctuas klassischer S12-Serie, die in der internationalen Fachpresse mehr als 250 Auszeichnungen und Empfehlungen erhalten hat. Jetzt hat Noctua auf mehrfachen Kundenwunsch diesen populären Lüfter ganz in Schwarz veröffentlicht - unter der Namenserweiterung Chromax Black Swap.
An der Technik hat Noctua erfreulicherweise nichts verändert. Weiterhin sorgt die fein justierte Blattgeometrie mit Anti-Stall Knobs und den neuen AAO-Rahmen (kurz für Advanced Acoustic Optimisation) des NF-S12A PWM Chromax.Black.Swap im Vergleich zu seinem renommierten Vorgänger eine um bis zu 8% höhere Effizienz sowohl bei der Förderleistung als auch bei der Geräuschentwicklung. Seine hervorragende Laufruhe, das SSO2 Referenzklasse-Lager und Noctuas bewährte Premium-Qualität machen den NF-S12A PWM Chromax.Black.Swap zu einer erlesenen Wahl für geräuschoptimierte Gehäusekühlung.
Der NF-S12A PWM Chromax.Black.Swap nutzt die dritte Evolutionsstufe von Noctuas klassischem Straight Blade Design, das der S12-Serie unzählige Empfehlungen von Hardware Enthusiasten und Journalisten rund um den Globus eingetragen hat. Weiter optimiert für eine noch bessere Airflow/Noise-Effizienz, macht es den NF-S12A PWM Chromax.Black.Swap zum idealen leisen Gehäuselüfter.
Die Anti-Stall Knobs des NF-S12A PWM Chromax.Black.Swap reduzieren Wirbelablösungsphänomene in Situationen mit mittlerem bis hohem Strömungswiderstand und erweitern damit die sogenannte Stall Margin (Strömungsabrissgrenze). Dies macht den NF-S12A PWM Chromax.Black.Swap noch vielseitiger als seinen Vorgänger und ermöglicht bessere Ergebnisse auf Kühlkörpern und Radiatoren.
Noctuas AAO (Advandced Acoustic Optimisation) Rahmen verfügen über integrierte Vibrationspuffer sowie einen abgestuften Einlassbereich (Stepped Inlet Design) und eine Mikrostruktur im Innenbereich (Inner Surface Microstructures), die eine noch bessere Performance/Noise-Effizienz ermöglichen.
Durch den abgestuften Einlassbereich des Stepped Inlet Designs entstehen im Zulauf mehr Turbulenzen. So wird der Übergang von laminarer zu turbulenter Strömung erleichtert, die besser am Rahmen anhaftet (Flow Attachment) und damit insbesondere bei beschränktem Ansaugbereich die Saugkapazität des Lüfters erhöht.
Die Mikrostruktur im Innenbereich des Rahmens (Inner Surface Microstructures) erzeugt eine Grenzschicht, durch die sich die Spitzen der Lüfterblätter bewegen. Dies verringert die Stromablösung von der Saugseite der Blattspitzen, was eine erhebliche Reduktion des Drehtons sowie eine Steigerung der Druck- und Luftstromeffizienz zur Folge hat.
Der NF-S12A PWM Chromax.Black.Swap ist mit der weiter optimierten zweiten Generation von Noctuas bewährtem SSO-Lagersystem ausgestattet. Bei SSO2 sitzt der rückseitige Magnet näher an der Lüfterachse und bewirkt so eine noch bessere Stabilisierung, was zu einer weiter verbesserten Präzision und Haltbarkeit führt. Beim NF-S12A PWM Chromax.Black.Swap lassen sich außerdem die Entkoppler-Ecken in mehreren Farben verwenden. Dem Lüfter liegen sie in den Farben Schwarz, Weiß, Gelb, Grün, Rot und Blau bei.
Noctuas Lüfter sind für ihre makellose Qualität und herausragende Langlebigkeit bekannt. Wie alle Noctua-Lüfter verfügt der NF-S12A PWM Chromax.Black.Swap über eine MTBF-Spezifikation von über 150.000 Stunden und wird mit vollen 6 Jahren Herstellergarantie ausgeliefert.
Technische Daten:
Maße: 120 x 120 x 25 mm (B x H x T)
Lochabstand: 105 x 105 mm
Material: Kunststoff
Normalmodus: 1.200 U/Min, 17,8 dB(A), 107.5 m³/h
Statischer Druck: 1,19 mmH2O
Spannung: 12 V
Leistungsaufnahme: 1,44 W
Anschluss: 4-Pin-PWM
Lebenserwartung: 150.000 h
Herstellergarantie: 6 Jahre
Lieferumfang:
4x Lüfterschrauben
24x Vibrationshemmer
1x Verlängerungskabel
Further links for

"NF-S12A PWM chromax.black.swap Lüfter - 120mm"
Videos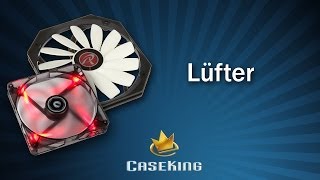 Technical Details
| | |
| --- | --- |
| Rotor diameter | 120 mm |
| Mounting holes | 120 mm |
| Primary colour | black |
| Secondary colour | blue, yellow, green, red, black, white |
| Fan connector | 4 Pin (PWM) |
| Illumination | no |
| Max rpm (exact) | 1200 U/min |
| Max noise level (exact) | 17,8 dB(A) |
| Max air volume (exact) | 107,5 m³/h |
| Max rpm | 1000 - 1499 U/min |
| Min rpm | 250 - 499 U/min |
| Max noise level | 15 - 19 dB(A) |
| Max air volume | 100 - 124 m³/h |
| Warranty | 6 years |
Awards
+ Chromax customization allows for a lot of color accents to match your build
+ All black color scheme option allows for universal compatibility in any DIY system
+ Very efficient motor that consumes relatively little power and can have the fan run at low speeds
+ One of the best fan bearings in the retail market today
+ 6-year warranty

read more...

This is all about how it looks, and will this make a difference to the Noctua range and the beige branding that is loved or hated. Noctua is an industry-leading brand in performance and design, and that sounds a little like a tagline, but it's something they live up to.

read more...