Noiseblocker


BlackSilent Pro Fan PK2 - 140mm
The high-quality NB-EKA Plus II drive and the almost noiseless NB-NanoSLI bearings guarantee operating noise levels which are particularly low over the long term
Item number: LUNO-030
EAN: 4250051906295
MPN: ITR-PK-2
Manufacturer: Noiseblocker
Product information -
BlackSilent Pro Fan PK2 - 140mm
Noiseblocker ist der Spezialist für besonders leise Lüfter. Um dies zu erreichen, setzt das Unternehmen auf maximale Qualität mit geringen Fertigungstoleranzen und hohes, technologisches Know-How mit deutscher Ingenieurskunst. Zudem gibt der Hersteller an, dass seine technischen Spezifikationen realistische Werte darstellen, die deshalb nicht direkt mit anderen Herstellern verglichen werden können.
Mit der BlackSilentPRO-Serie vervollständigt Noiseblocker nun sein Portfolio um Modelle mit besonders umfangreicher Ausstattung. Sie wurden in Zusammenarbeit mit der Community des Portals Hardwareluxx entwickelt und gegenüber den normalen BlackSilent-Modellen neben dem Zubehör auch technisch nochmals verbessert. Damit mutieren die BackSilentPRO zu High-End-Lüftern.
Die Form des Rahmens und der Lüfterblätter haben sie mit den normalen BlackSilent gemeinsam, grenzen sich jedoch durch eine komplett schwarze Gestaltung ab. Von der Multiframe-Serie übernehmen die Pro-Modelle hingegen die bessere Elektronik (NB-EKA Plus) sowie die optimierten Lager (NB-NanoSLI). Damit wird eine Auto-Restart-Funktion, eine sehr geringe Geräuschentwicklung und eine sehr hohe Lebenserwartung von 140.000 Stunden ermöglicht.
Das Montagesystem des Lüfters ist besonders raffiniert und minimiert die Schwingungsübertragung. Dabei sorgt ein großer Silikonrahmen für eine reduzierte Lautstärke. Zusätzlich wurde der Rahmen für den Einsatz auf Radiatoren ausgelegt, wo er neben der Entkopplung für eine optimale Abdichtung sorgt. Damit wird verhindert, dass Luft über den minimalen Spalt zwischen Lüfter und Radiator entweicht und damit nicht mehr zur Kühlung beitragen kann.
Selbst bei den Kabeln hat sich Noiseblocker etwas Besonderes einfallen lassen. So kann das gesleevte 20-cm-Kabel, um ein beiliegendes 50-cm-Kabel erweitert werden (ebenfalls gesleevt). Der Anschluss erfolgt über 3-Pin.
Hierbei handelt es sich um das Silent-Modell mit 140 mm Größe. Die mittlere Drehzahl von 1.200 U/Min erlaubt einen guten Kompromiss aus hohem Fördervolumen (93 m³/h) für gute Kühlleistung bei angemessener Geräuschentwicklung von 20 dB(A).
Technische Details:
Maße: 140 x 140 x 25 mm
Gewicht: 135 g
Material: Kunststoff
Lautstärke: 20 dB(A)
Drehzahl: 1.200 U/Min
Airflow: 93 m³/h
Luftdruck: 1,295 mm-H2O
Startspannung: 4,5 V
Betriebsspannung: 4 - 13,8 V
Leistungsaufnahme: 1,08 W / 0,09 A
Anschluss: 3-Pin (20 + 50 cm Kabel)
Lebenserwartung: 140.000 Stunden
Garantie: 6 Jahre
Further links for

"BlackSilent Pro Fan PK2 - 140mm"
Videos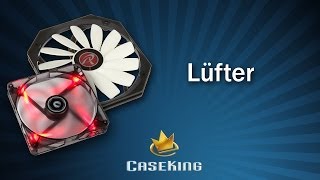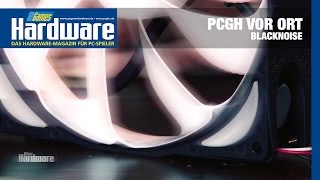 Technical Details
| | |
| --- | --- |
| Rotor diameter | 140 mm |
| Mounting holes | 140 mm |
| Primary colour | black |
| Secondary colour | black |
| Fan connector | 3 Pin |
| Illumination | no |
| Initial Voltage | 4,5 V |
| Max rpm (exact) | 1200 U/min |
| Max noise level (exact) | 20 dB(A) |
| Max air volume (exact) | 93 m³/h |
| Max rpm | 1000 - 1499 U/min |
| Max noise level | 15 - 19 dB(A) |
| Max air volume | 75 - 99 m³/h |
| Warranty | 6 years |
Awards
The good:

+ All performed very well regarding noise output
+ Good mix of quality and performance
+ The antivibration systems work extremely well
+ Their presentation is very professional and rich with technical details
+ Sleeved and long cables

read more...

At this price, it is hard to go wrong with it given the excellent build quality, universally fitting color scheme, bundled accessories and 6 year warranty. Speaking of the accessories, most of them can actually come in handy even with use of a radiator and I encourage the buyers to explore options on using them even if it does not seem immediately obvious.

read more...

Schon der PK1 setzt neue Maßstäbe in punkto Laufruhe, Scalierbarkeit und nebengeräuschfreier Lagerung.

Der PK2 knüpft nahtlos an die Qualitäten des PK1 an, wobei er durch seine höheren Drehzahlen und Luftvolumina ein größeres Spektrum an Einsatzmöglichkeiten abdeckt.

Empfehlung: CPU und/oder Gehäuselüfter bei 7 Volt
Einbaulage: vertikal und horizontal

read more...