Noiseblocker


Multiframe S-Series M12-3 - 120mm
The Multiframe S series made by (((Noiseblocker)))®
which is generally recognised as the reference standard
is the first fan with a vibration-free fan frame.
Item number: LUNO-016
EAN: 4250051906387
MPN: ITR-M12-3
Manufacturer: Noiseblocker
Product information -
Multiframe S-Series M12-3 - 120mm
Jetzt mit zusätzlicher Silikon-Dichtung!
Durch seine Black Silent Fan und Ultra Silent Fan Serien ist der Hersteller Noiseblocker besonders bei Silent-Fans sehr bekannt - können doch mit Hilfe leiser Lüfter die Lautstärke und anfallende Vibrationen im Gehäuse deutlich gesenkt werden.
Mit der brandneuen und innovativen Multiframe S-Serie präsentiert Noiseblocker einen Lüfter, wie ihn die PC Welt bisher noch nicht gesehen hat. Scheinbar alles wurde von Grund auf neu durchdacht und optimiert. Doch die zweifelsfrei größte Neuerung findet sich an den Ecken des auf den ersten Blick ungewöhnlich aussehenden Lüfters.
Statt eines festen Lüfterrahmens besitzt die Multiframe S-Serie einen glasfaserverstärkten Rahmen mit integrierten Körperschalldämpfern. In Verbindung mit dem extrem leisen und langlebigem NanoSLI Lager und dem EKAPlus Antrieb ist der angestrebte Thron unter den Lüftern zum Greifen nah.
Der Clou an diesem schwarzen 120mm Lüfter ist eindeutig die Befestigung, denn diese ist durch vier komplett entkoppelte abnehmbare Eckstücke aus Silikon gelöst worden. Einsetzen, anschrauben und die Ruhe genießen. Vibrationen, die vom Lüfter an das Gehäuse weitergegeben werden, gehören mit der Multiframe S-Serie der Vergangenheit an.
Ein weiteres Detail, was besonders Freunde der Langlebigkeit zu schätzen wissen, sind die ungewöhnlichen 6 Jahre Garantie. Kein Wunder, gibt der Hersteller doch eine Lebenserwartung von bis zu 130.000 Stunden an.
Extreme 124 m³/h schafft der Lüfter mit seinen 1.800 Umdrehungen in der Minute, wobei die Lautstärke bei voller Leistung mit ca. 27 dB(A) auf einem angenehm leisen Niveau bleibt. Durch das 3-Pin Molex Kabel ist der Lüfter zudem sehr gut regelbar und kann bereits mit nur 4,5 Volt zum Starten bewegt werden.
Technische Details:
Maße: 120 x 120 x 25 mm
Gewicht: ca. 150 g
Lautstärke: 27 dB(A)
Drehzahl: 1.800 U/Min
Airflow: max. 124 m³/h
Startspannung: 4,5 V
Leistungsaufnahme: 0,96 W
Anschluss: 3-Pin
Lebenserwartung: 130.000 Stunden
Garantie: 6 Jahre
Further links for

"Multiframe S-Series M12-3 - 120mm"
Videos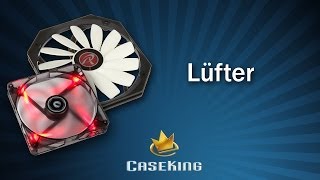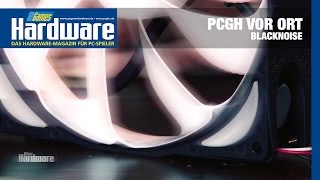 Technical Details
| | |
| --- | --- |
| Rotor diameter | 120 mm |
| Mounting holes | 120 mm |
| Primary colour | black |
| Secondary colour | black |
| Fan connector | 3 Pin |
| Illumination | no |
| Initial Voltage | 4,5 V |
| Max rpm (exact) | 1800 U/min |
| Max noise level (exact) | 27 dB(A) |
| Max air volume (exact) | 124 m³/h |
| Max rpm | 1500 - 1999 U/min |
| Max noise level | 25 - 29 dB(A) |
| Max air volume | 100 - 124 m³/h |
| Warranty | 6 years |
Awards
I'm really impressed with these fans; the series provides a fan for basically every user depending on what levels of noise and cooling you wish to achieve. The best performing fan rivals the best of the best and even beats the NF-P12 in some instances.

read more...