Noiseblocker


Multiframe S-Series M12-PS Fan - 120mm PWM
The Multiframe S series made by (((Noiseblocker)))®
which is generally recognised as the reference standard
is the first fan with a vibration-free fan frame.
Item number: LUNO-032
EAN: 4250051906394
MPN: ITR-M12-PS
Manufacturer: Noiseblocker
Product information -
Multiframe S-Series M12-PS Fan - 120mm PWM
Bei einem Lüfter von einem High-End-Produkt zu sprechen, scheint zunächst etwas lächerlich. Etwas Plastik, eine Spule und ein Kabel scheinen demnach auch deplatziert in der High-Tech-Welt des PC-Innenraums - wo Transistoren im Milliarden-Pack verbaut und mikroskopische Leiterbahnen auf mehrere Layer verteilt werden.
Dennoch gibt es Unternehmen, die bei der Entwicklung dieser unscheinbaren Produktkategorie ebensolche Sorgfalt, Akribie und Optimierungswahn an den Tag legen. Deutsche Ingenieure gehören - wie sollte es anders sein - auch in diesem Feld zur Weltspitze. Bei Noiseblocker wird ihnen ausreichender Spielraum eröffnet, um ihre kreativen Ideen umzusetzen. Ergebnis sind Lüfter für Enthusiasten, die das Optimum suchen und besonderen Wert auf eine geringe Geräuschentwicklung legen.
Die Multiframe-Modelle stellen dabei die Spitzenprodukte von Noiseblocker dar und vereinen daher die innovativsten Ansätze und hochwertigsten Fertigungsmethoden. Wie der Name bereits erahnen lässt, galt dem Rahmen die zentrale Aufmerksamkeit. So besitzt die Multiframe-S-Serie einen glasfaserverstärkten Rahmen mit integrierten Körperschalldämpfern.
Die Befestigung erfolgt über vier abnehmbare und komplett entkoppelte Eckstücke aus Silikon. Vibrationen, die beim Lüfter zwangsläufig in Folge der Drehung auftreten, werden damit praktisch nicht mehr an das Gehäuse weitergegeben. Damit wird eine wesentliche Lärmquelle ausgeschalten, schließlich regen besagte Schwingungen die Außenflächen des Gehäuses zum Mitschwingen an, was letztlich für die störende Geräuschkulisse sorgt.
Weniger spektakulär wirkt zunächst die Lagertechnik, doch auch sie stellt einen wesentlichen Baustein für die Lärmreduzierung dar. Das aufwändige NanoSLI-Lager sorgt darüber hinaus für eine extreme Einsatzdauer (durchschnittlich 130.000 Stunden) - wesentliches Zeichen der hohen Fertigungsqualität und minimalen Toleranzen. Dies verdeutlicht auch die sehr lange Garantiezeit von 6 Jahren.
Die optimierte Revision 1.01 verfügt zusätzlich über einen Silikonrahmen. Dieser wird zwischen Lüfterrahmen und Ventilator-Slot platziert, um zusätzlich die Schwingungsübertragung zu dämpfen. Darüber hinaus wurde der Rahmen für den Einsatz auf Radiatoren ausgelegt, wo er neben der Entkopplung für eine optimale Abdichtung sorgt. Damit wird verhindert, dass Luft über den minimalen Spalt zwischen Lüfter und Radiator entweicht und damit nicht mehr zur Kühlung beitragen kann.
Hierbei handelt es sich um einen PWM-Lüfter, der entsprechend über einen 4-Pin-Anschluss gesteuert werden kann. Die M12PS-Version ist dabei auf eine niedrigere Drehzahl ausgelegt, was den Lüfter noch besser für Silent-Systeme qualifiziert. Dabei steht ein Drehzahlbereich zwischen 600 und 1.500 U/Min zur Verfügung, was für minimale 7 dB(A) und maximale 133 m³/h sorgt.
Technische Details:
Maße: 120 x 120 x 25 mm
Gewicht: ca. 155 g
Material: Kunststoff, Silikon
Lautstärke: 7 - 23 dB(A)
Drehzahl: 600 - 1.500 U/Min
Airflow: 40 - 100 m³/h
Startspannung: 5,5 V
Leistungsaufnahme: max. 1,56 W
Anschluss: 4-Pin PWM
Lebenserwartung: 130.000 Stunden
Garantie: 6 Jahre
Further links for

"Multiframe S-Series M12-PS Fan - 120mm PWM"
Videos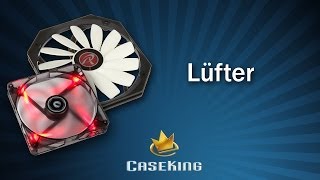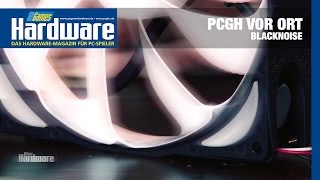 Technical Details
| | |
| --- | --- |
| Rotor diameter | 120 mm |
| Mounting holes | 120 mm |
| Primary colour | black |
| Secondary colour | black |
| Fan connector | 4 Pin (PWM) |
| Illumination | no |
| Initial Voltage | 5,5 V |
| Max rpm (exact) | 1500 U/min |
| Min rpm (exact) | 600 U/min |
| Max noise level (exact) | 23 dB(A) |
| Min Noise Level (exact) | 7 dB(A) |
| Max air volume (exact) | 100 m³/h |
| Min air volume (exact) | 40 m³/h |
| Max rpm | 1500 - 1999 U/min |
| Min rpm | 500 - 749 U/min |
| Max noise level | 20 - 24 dB(A) |
| Min Noise Level | 5 - 9 dB(A) |
| Max air volume | 100 - 124 m³/h |
| Min air volume | 25 - 49 m³/h |
| Warranty | 6 years |
Awards
overclockear.com - Noiseblocker BlackSilent Fan XL2 und Multiframe S-Series M12

Both models are well built and designed, but designed for different tasks. Comparison can catalog the XL2 BlackSilentFan Rev 3.0 as the "base model" of Noiseblocker and Multiframe S-Series M12-PS as the higher end.

We can install the XL2 BlackSilentFan Rev 3.0 and forget it's there, and that just generates 21 dB / A and is not illuminated, by loq eu is a great choice for HTPC computers or for those users who do not like his team become a Christmas tree just by installing a fan.



The Multiframe S-Series M12-PS is a high-end fan offers an incredible aesthetic, PWM control and exclusive technologies Noiseblocker as " Nano SLI NB (UUltra Silent Bearing) and " NB Multiframe "thanks to which the S M12-PS-Series generated a large flow of air with low noise level. Also, I have to confess that the first fan I have in my hands that can be configured according to the utility that Le Valle to give, what else can a fan ask?

Hardwareluxx [printed] 05/2010 - Noiseblocker Multiframe S-Series M12 Rev. 1.01 - 120mm PWM

Die innovative technische Ausführung, eine perfekte Verarbeitung und die sehr gesunde Mischung aus Geräuschcharakteristik und Leistung machen ihn zu unseren Favoriten.