Noiseblocker


NB-eLoop Fan B12-1 - 120mm
Noiseblocker is the number one specialist for quiet fans. To achieve this
the company relies on maximum quality
technological know-how and advanced German engineering.
Item number: LUNO-052
EAN: 4250051906417
MPN: ITR-B12-1
Manufacturer: Noiseblocker
Product information -
NB-eLoop Fan B12-1 - 120mm
Noiseblocker ist dem Silent-Fan bereits durch die Black Silent Fan- und Ultra Silent Fan-Serien in großem Umfang bekannt - können doch mit Hilfe leiser Lüfter die Lautstärke und anfallende Vibrationen im Gehäuse deutlich gesenkt werden. Schon die besagten Serien konnten mit tollen Silent-Eigenschaften und hervorragender Technik begeistern. Die NB-eLoop setzen jetzt mit ihrer bionischen Basis noch einmal eins oben drauf.
Das auffallendste Kennzeichen der neuen bionischen Lüfter von Noiseblocker ist eine vollständig neue Flügelform, mit der die Geräuschentwicklung im Luftstrom selbst leiser gemacht wird. Gleichzeitig bündeln die neuen Lüfter den Luftstrom. Das ermöglicht im Einsatz einen gerichteten Luftstrom mit weniger Streuverlust was je nach Einsatzgebiet und kombinierter Technik (gerichteter Lufttransport, Airflow-Management, Wasserkühlung) entsprechende Vorteile bieten kann.
Die neuen Lüfter setzen auf die Forschungsergebnisse des Bionikers Dr. Rudolf Bannasch auf, der mit seinen Forschungen die grundlegenden Prinzipien des Schlaufenrotors entwickelt hat. Die neue Technik wurde in den letzten zwei Jahren dann im Entwicklungslabor von Noiseblocker zur Anwendungs- und Produktionsreife gebracht. Möglich wurde die aufwendige Entwicklung durch Fördergelder des Bundesministeriums für Wirtschaft und Technologie. Zielsetzung des Projektes ist die Entwicklung der "leisesten Lüfter der Welt".
Durch die Technologie wird die Geräuschemission der Luft verringert, Luftfördermenge bei gleicher Drehzahl auf einer definierten Fläche erhöht und es können auch Energieeinsparungen beim Betrieb realisiert werden. Neben der bionischen (also der in der Natur vorkommenden, nachempfundenen) Lüfterform und optimierten Elektronik können die Hightech-Lüfter auch weitere innovative Neuerungen aufweisen. Darin enthalten sind ein weiter entwickeltes NanoSLI-Lager (Version 2) von Noiseblocker und eine geschlossene Verkapselung zum Schutz gegen Staub.
Weiter verfügt der NB-eLoop über ein Lüfterkabelmanagement, am Lüfter selbst ist nur ein sehr kurzes 3-Pin-Kabel angebracht, das durch zwei mitgelieferte Adapterkabel in der Länge variiert werden kann. Dank der Materialwahl Polycarbonat, im speziellen Makrolon, ist auch das Chassis resonanzgedämpft und kommt mit zusätzlichen Entkopplern im Lieferumfang.
Die vorliegenden Version B12-1 arbeitet mit bis zu 800 U/min, kann dabei einen beachtlichen statischen Druck von 0,585 mmH2O. Absolut beeindruckend wird es dann allerdings beim Betrachten des Airflows, also der Luftförderleistung. Enorme 57,3 m³/h werden trotz der sehr niedrigen Drehzahl hier generiert. Bei 12 Volt Spannung und voller Drehzahl ist der Lüfter trotzdem nicht lauter als maximal 7,83 dB(A) - das ist an der Hörgrenze operierend.
Technische Details:
Maße: 120 x 120 x 25 mm
Lautstärke: max. 7,83 dB(A)
Drehzahl: max. 800 U/Min
Airflow: max. 57,3 m³/h
Startspannung: 5,4 V
Leistungsaufnahme: 0,33 W
Anschluss: 3-Pin
Lebenserwartung: 160.000 Stunden
Garantie: 6 Jahre
Further links for

"NB-eLoop Fan B12-1 - 120mm"
Videos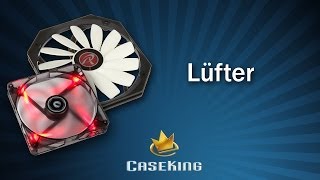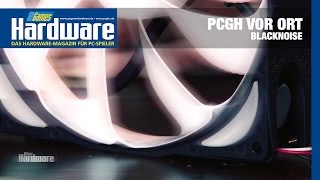 Technical Details
| | |
| --- | --- |
| Rotor diameter | 120 mm |
| Mounting holes | 120 mm |
| Primary colour | white |
| Secondary colour | black |
| Fan connector | 3 Pin |
| Illumination | no |
| Initial Voltage | 5,4 V |
| Max rpm (exact) | 800 U/min |
| Max noise level (exact) | 7,83 dB(A) |
| Max air volume (exact) | 57,3 m³/h |
| Max rpm | 500 - 999 U/min |
| Max noise level | 5 - 9 dB(A) |
| Max air volume | 50 - 74 m³/h |
| Warranty | 6 years |
Awards
For those who are looking for an all-round case fan, our efficiency test will be the most interesting. ... Noiseblocker NB-eLoop 1300rpm, ...and Noiseblocker NB-eLoop 1500rpm are the big winners in this regard.

read more...

Diese Steifigkeit in Verbindung mit den Resonanz Transformatoren tragen enorm dazu bei, dass Vibrationen und Resonanzen nahezu völlig eliminiert wurden. Das gekapselte, staubgeschützte NB-NanoSLI 2 Magnetschwebelager mit seiner lageinvarianten Endlosschmierung liefert das dazu perfekt passende Lagerungssystem.

read more...