NZXT


KRAKEN X52 V2 Komplett-Wasserkühlung - 240mm
All-in-One-Wasserkühlung von NZXT
240-mm-Radiator aus Aluminium
2x Aer P 120-mm-PWM-Lüfter
LED-Beleuchtung mit Unendlichkeitsspiegel
CAM-Steuerungssoftware
kompatibel zu vielen AMD- und Intel-Sockeln
Item number: WASE-322
EAN: 5060301693757
MPN: RL-KRX52-02
Manufacturer: NZXT
Product information -
KRAKEN X52 V2 Komplett-Wasserkühlung - 240mm
Die
NZXT Kraken X52 V2
ist eine moderne Komplett-Wasserkühlung, die es in diesem Format von NZXT vorher noch nicht gegeben hat. Dabei kommt sie mit den gleichen Verbesserungen daher, welche der große Bruder X62 V2 und der kleine Bruder X42 V2 erhalten hat. Neben einem neuen Design für Lüfter, Pumpe und Radiator, kann die X52 V2 mit einem hohen statischen Druck, einer geringeren Lautstärke und verstärkten Schläuchen für eine erhöhte Haltbarkeit aufwarten. Die Pumpe selbst ist mit einem kleinen Unendlichkeitsspiegel ausgestattet und ermöglicht vielfältige Beleuchtungsoptionen, welche neben den Einstellungen für die Pumpe über die fortschrittliche CAM-Software direkt am Desktop angepasst werden können. Das NZXT auf die ausgesprochen hochwertige Qualität ihrer Produkte vertraut, zeigt die für eine All-in-One-Wasserkühlung sehr lange Herstellergarantie von sechs Jahren.
Die NZXT Kraken X52 V2 Komplett-Wasserkühlung im Überblick:
Komplettes Wakü-System mit einfacher Installation
240-mm-Radiator aus Aluminium
Zwei 120-mm-Lüfter (Aer P120) inklusive
Stylischer LED-Beleuchtungseffekt auf der Pumpe
Mit Kontroll- und Steuerungsoption per CAM-Software
Hohe Kompatibilität zu AMD und Intel
6 Jahre Herstellergarantie
Pumpe, Lüfter & Kühlperformance
Die NZXT Kraken X52 V2 setzt auf einen Dualradiator aus Aluminium im 240-mm-Format. Dabei wird die Kühlleistung sowie die entstehende Lautstärke nicht nur über die Lüfterdrehzahl der mitgelieferten 120-Millimeter-Lüfter geregelt, sondern zusätzlich auch über die Motorgeschwindigkeit der Pumpe, welche zwischen 1.000 und 2.800 U/Min liegen kann. Die Pumpe ist wie gewohnt rückseitig in den CPU-Kühlblock integriert, der mit seiner Kupferfläche auf dem AMD- oder Intel-Prozessor aufliegt.
NZXT verwendet zur Kühlung des Radiators zwei ihrer modernen Aer-P-Lüfter im 120-Millimeter-Format. Dank der abgewinkelten Luftein- und austrittsöffnungen sowie den sogenannten "Winglet"-Lüfterflügeln wird der Luftwiderstand minimiert und die Lüfterleistung sowie der statische Druck verstärkt. Dies führt dazu, dass die PWM-Lüfter eine ausgezeichnete Kühlperformance von bis zu 124,21 m³/h liefern. Durch die verwendeten Fluiddynamik-Lager aus Kupfer ergibt sich für die Aer-P-Lüfter sogar eine verlängerte Lebensdauer auf über sechs Jahre. Zudem sorgen sie für eine stets gleichmäßige Schmierung, wodurch sich die Geräuschkulisse während des Betriebs merkbar reduziert.
Der Anschluss der Pumpe ans Mainboard erfolgt standesgemäß per USB, während die Lüfter wie üblich direkt mit der Pumpe verbunden werden.
Unendlichkeitsspiegel, LED-Beleuchtung & CAM-Software
Hinsichtlich Design hat sich NZXT etwas ganz Besonderes einfallen lassen. Auf der Rückseite des Kühlblocks befindet sich eine stylische LED-Beleuchtung mit Unendlichkeitsspiegel, wodurch ein fantastischer Effekt erzielt wird. Mit dieser Beleuchtung ist es möglich, den NZXT-Schriftzug sowie den kreisförmigen LED-Streifen je nach Vorstellungen und Belieben des Nutzers in den unterschiedlichsten Farben und Effekten zu beleuchten, was auf dem Mainboard jede Menge hermacht.
NZXT gibt dem Nutzer mit der CAM-Software sogar die Möglichkeit an die Hand, Pumpen- und Lüfterleistung selbst anzupassen. Wer also die Balance zwischen Kühlung und Lautstärke oder zwischen Pump- und Fan-Geschwindigkeit noch anpassen möchte, anstatt auf die Out-of-the-Box-Settings zu vertrauen, hat bei der KRAKEN X52 V2 die Möglichkeit dazu. Zusätzlich werden hier auch aktuelle Wasser- und Kerntemperatur angegeben und es lässt sich sogar zwischen verschiedenen Profilen wechseln.
Kompatibilität & Herstellergarantie
Wen die bereits aufgeführten Punkte noch nicht von der NZXT Kraken X52 V2 überzeugt haben, der sollte noch ein kleines Stück weiterlesen, denn die X52 V2 ist nicht nur ausgesprochen kühlstark und arbeitet relativ geräuscharm, sie ist zudem auch hochkompatibel zu allen modernen Sockeln von AMD und Intel und lässt sich sehr leicht montieren. Insbesondere ist ab der V2-Modellreihe AM4- und TR4-Kompatibilität gegeben. Weiterhin fällt auf, dass der geschlossene Wasserkreislauf natürlich nicht gewartet werden muss und die komplette Wasserkühlung auch in manch kleinere Gehäuse hineinpasst, in welche ausladende Tower-Lüftkühler keinen Platz finden.
Die Kraken X52 V2 wird vorbefüllt und mit bereits aufgetragener Wärmeleitpaste auf der CPU-Kontaktfläche ausgeliefert. Dank 40 cm langer Schläuche lässt sich der Radiator flexibel an zwei nebeneinanderliegenden 120-Millimeter-Lüfterslots im Gehäuse positionieren. Zudem wird diese hochwertige Kompaktwasserkühlung mit einer Herstellergarantie von ganzen sechs Jahren bedacht, woran abzulesen ist, wie nachhaltig das Prinzip der All-in-One-Wasserkühlung funktioniert.
Technische Details:
Maße:
Radiator: 275 x 123 x 30 mm (B x H x T)
Pumpe: 80 x 80 x 52,9 mm (B x H x T)
Gewicht: 1,08 kg
Materialien: Aluminium, Kupfer, Kunststoff, Gummi, Nylon
Pumpengeschwindigkeit: 1.000 - 2.800 U/Min +/- 300 U/Min
Spannung (Pumpe): 12 V
Anschluss (Pumpe): USB
LED-Beleuchtung (Pumpe): RGB
Schlauchlänge: 40 cm
Lüfter:
Typ: 2x 120 mm (Aer P120)
Drehzahl: 500 - 2.000 U/Min +/- 300 U/Min)
Fördervolumen: 31,06 - 124,21 m³/h
Statischer Druck: 0,18- 2,93 mm H2O
Lautstärke: 21 - 36 dB(A)
Anschluss: 4-Pin-PWM
Kompatibilität:
Intel-Sockel: 115x, 1366, 2011(-V3), 2066
AMD-Sockel: AM2(+), AM3(+), AM4, TR4, FM1, FM2(+)
Herstellergarantie: 6 Jahre
Further links for

"KRAKEN X52 V2 Komplett-Wasserkühlung - 240mm"
Videos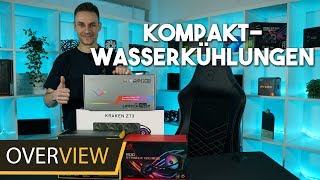 Technical Details
| | |
| --- | --- |
| CPU socket | 1150, 1151, 1155, 1156, 1366, 2011, 2011-V3, 2066, AM2, AM3, AM3+, AM4, FM1, FM2, FM2+ |
| Radiator size | 240 mm |
| Radiator height (exact) | 30 mm |
| Radiator height with fan (exact) | 56 mm |
| Radiator height | 30 - 39 mm |
| Radiator height with fan | 50 - 69 mm |
| Illumination | yes |
| Illumination colour | RGB (selectable) |
| Included fans | 2x |
| Rotor diameter | 120 mm |
| Fan colour | black |
| Fan connector | 4 Pin (PWM) |
| Pump connector | 3 Pin (voltage control), SATA (power), USB |
| Max noise level | 35 - 39 dB(A) |
| Tube lenght (exact) | 40 cm |
| Tube lenght | 33 - 40 cm |
| CPU cooler type | AiO liquid cooler |
| Warranty | 6 years |
Awards
The performance difference between the model I had, the NZXT Kraken X53, and the one Andy had, the Kraken Z63, was quite surprising. Clearly his was better, but wowzers, was it more expensive! For the price though, I think this one is very competitive and while at full load, it kept up with the Noctua flagship. However, at idle and gaming loads, there was a clear advantage to the X53 performance.

read more...

Pro
+ Verarbeitung
+ Sehr gute Kühlleistung
+ Sehr geringe Lautstärke (Pumpeneinheit)
+ Kompatibilität
+ Umfangreiche Software
+ 6 Jahre Garantie

read more...