NZXT


Kraken X63 Komplett-Wasserkühlung - 280mm, schwarz
All-in-One-Wasserkühlung in Schwarz
280-mm-Radiator aus Aluminium
2x Aer P140-mm-PWM-Lüfter
LED-Beleuchtung mit Unendlichkeitsspiegel
CAM-Steuerungssoftware
kompatibel zu vielen AMD- und Intel-Sockeln
Item number: WASE-430
EAN: 5060301695447
MPN: RL-KRX63-01
Manufacturer: NZXT
Product information -
Kraken X63 Komplett-Wasserkühlung - 280mm, schwarz
Die
NZXT Kraken X63
ist eine performante Komplett-Wasserkühlung mit stylischen Beleuchtungseffekten. Neben einem neuen Design für Lüfter, Pumpe und Radiator, kann die X63 mit einem hohen statischen Druck, einer geringeren Lautstärke und verstärkten Schläuchen für eine erhöhte Haltbarkeit aufwarten. Die Pumpe selbst ist mit einem kleinen Unendlichkeitsspiegel ausgestattet und ermöglicht vielfältige Beleuchtungsoptionen, welche neben den Einstellungen für die Pumpe über die fortschrittliche CAM-Software direkt am Desktop angepasst werden können.
Die NZXT Kraken X63 Komplett-Wasserkühlung im Überblick:
Komplettes Wakü-System mit einfacher Installation
280-mm-Radiator aus Aluminium
Zwei 140-mm-Lüfter (Aer P140) inklusive
Drehbarer LED-Beleuchtungseffekt auf der Pumpe
Mit Kontroll- und Steuerungsoption per CAM-Software
Hohe Kompatibilität zu AMD und Intel
6 Jahre Herstellergarantie
Pumpe, Lüfter & Kühlperformance
Die
NZXT Kraken X63
setzt auf einen
Dualradiator aus Aluminium im 280-mm-Format
. Dabei wird die Kühlleistung sowie die entstehende Lautstärke nicht nur über die Lüfterdrehzahl der mitgelieferten 140-Millimeter-Lüfter geregelt, sondern zusätzlich auch über die Motorgeschwindigkeit der Pumpe, welche zwischen 800 und 2.800 U/Min liegen kann. Die Pumpe ist wie gewohnt rückseitig in den CPU-Kühlblock integriert, der mit seiner Kupferfläche auf dem AMD- oder Intel-Prozessor aufliegt.
NZXT
verwendet zur Kühlung des Radiators zwei ihrer modernen
Aer-P-Lüfter im 140-Millimeter-Format
. Dank der abgewinkelten Luftein- und austrittsöffnungen sowie den sogenannten "Winglet"-Lüfterflügeln wird der Luftwiderstand minimiert und die Lüfterleistung sowie der statische Druck verstärkt. Durch die verwendeten Fluiddynamik-Lager aus Kupfer ergibt sich für die Aer-P-Lüfter sogar eine verlängerte Lebensdauer auf über sechs Jahre. Zudem sorgen sie für eine stets gleichmäßige Schmierung, wodurch sich die Geräuschkulisse während des Betriebs merkbar reduziert.
Der Anschluss der Pumpe ans Mainboard erfolgt per USB, das Tachosignal wird über einen 3-Pin-Lüfterheader ausgelesen, das ebenfalls mit dem Mainboard verbunden wird. Über einen SATA-Stromanschluss wird die
NZXT Kraken X63
mit Energie versorgt.
Unendlichkeitsspiegel, LED-Beleuchtung & CAM-Software
Hinsichtlich des Designs hat sich
NZXT
etwas ganz Besonderes einfallen lassen. Auf der Rückseite des Kühlblocks befindet sich eine stylishe RGB-Beleuchtung mit Unendlichkeitsspiegel, wodurch ein fantastischer Effekt erzielt wird. Mit dieser Beleuchtung ist es möglich, den NZXT-Schriftzug sowie den kreisförmigen LED-Streifen je nach Vorstellungen und Belieben des Nutzers in den unterschiedlichsten Farben und Effekten zu beleuchten. Durch die drehbare Oberseite kann das Logo in gewünschter Position ausgerichtet werden, je nachdem in welcher Richtung der Kühler montiert ist.
NZXT
gibt dem Nutzer mit der CAM-Software sogar die Möglichkeit an die Hand,
Pumpen- und Lüfterleistung selbst anzupassen
. Wer also die Balance zwischen Kühlung und Lautstärke oder zwischen Pump- und Fan-Geschwindigkeit noch anpassen möchte, anstatt auf die Out-of-the-Box-Settings zu vertrauen, hat bei der
KRAKEN X63
die Möglichkeit dazu. Zusätzlich werden hier auch aktuelle Wasser- und Kerntemperatur angegeben und es lässt sich sogar zwischen verschiedenen Profilen wechseln.
Die
Kraken X63
wird vorbefüllt und mit bereits aufgetragener Wärmeleitpaste auf der CPU-Kontaktfläche ausgeliefert. Dank der
nylonummantelten Schläuche mit 40 cm Länge
, lässt sich der Radiator flexibel an zwei nebeneinanderliegenden 140-Millimeter-Lüfterslots im Gehäuse positionieren.
Technische Details:
Radiator:
Maße: 315 x 143 x 30 mm (B x H x T)
Material: Aluminium
Farbe: Schwarz
CPU-Kühler/Pumpe:
Maße: 80 x 53 mm (B x H)
Material Wasserblock: Messing + Plastik
Material Bodenplatte: Kupfer
Geschwindigkeit: 800 - 2.800 U/Min +/- 300 U/Min
Lautstärke: k.A.
Anschlüsse:
1x 4-Pin-PWM (Pumpensteuerung)
1x 3-Pin-RGB (5V)
Schläuche:
Länge: 400 mm
Material: Gummi (Nylon-Ummantelung)
Anschlüsse: 90 Grad gewinkelt, drehbar
Lüfter:
Typ: 2x 140 mm (Aer P140)
Drehzahl: 500 - 1.800 U/Min +/- 300 U/Min)
Fördervolumen: 46,33 - 166,79 m³/h
Statischer Druck: 0,21 - 2,71 mmH2O
Lautstärke: 21 - 38 dB(A)
Anschlüsse:
4-Pin-PWM
Kompatibilität:
Intel-Sockel: LGA 1200, 115x, 1366, 2011(-V3), 2066
AMD-Sockel: AM4, TR4* (*Threadripper-Halterung nicht enthalten), FM1, FM2(+)
Lieferumfang:
1x NZXT Kraken X63 Komplett-Wasserkühlung
2 x 120-mm-Lüfter
1x Lüfter-Splitterkabel
1x Lüfter-Anschlusskabel
1x Micro-USB-Kabel
1x Daisy-Chain-Kabel
1x Breakout-Kabelsatz
Montage-Zubehör für angegebene Sockel
Montageschrauben für Lüfter und Radiator
Herstellergarantie: 6 Jahre
Further links for

"Kraken X63 Komplett-Wasserkühlung - 280mm, schwarz"
Videos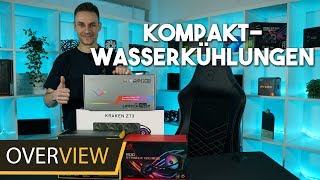 Technical Details
| | |
| --- | --- |
| CPU socket | 1150, 1151, 1155, 1156, 1366, 2011-V3, 2011, 2066, AM4, AM3+, AM3, AM2, FM2+, FM2, FM1 |
| Radiator size | 280 mm |
| Radiator height (exact) | 30 mm |
| Radiator height with fan (exact) | 55 mm |
| Radiator height | 30 - 39 mm |
| Radiator height with fan | 50 - 69 mm |
| Lighting | yes |
| Lighting colour | RGB (selectable) |
| Included fans | 2x |
| Rotor diameter | 140 mm |
| Fan colour | black |
| Fan connector | 4 Pin (PWM) |
| Pump connector | 3-Pin (Tacho), SATA (power), USB |
| Tube lenght (exact) | 40 cm |
| Tube lenght | 33 - 40 cm |
| CPU cooler type | AiO liquid cooler |
| Warranty | 6 years |
Awards
The Kraken X63 is introduced at the $150 marker with a similar price in EURO, which is a lot of money for a two fan LCS, but we can see where the money went to as this is one of the best performing LCS units available on the market. The cooling system is good capacity wise and the lighting system is dazzling. Combined with (when setup) low noise levels that makes the Kraken a little gem.

read more...

+ Herausragende Kühlleistung
+ Sehr gute Serienlüfter
+ Leiser Pumpenbetrieb möglich
+ Steuerung nach Flüssigkeitstemperatur möglich
+ Sechs Jahre Garantie

read more...