NZXT


KRAKEN X72 Komplett-Wasserkühlung - 360mm
All-in-One water ciikung from NZXT
360 mm aluminium radiator
3x Aer P 120 mm PWM fan
LED lighting with infinity mirror
CAM control software
Compatible with many AMD- and Intel sockets
Item number: WASE-355
EAN: 5060301694037
MPN: RL-KRX72-01
Manufacturer: NZXT
Product information -
KRAKEN X72 Komplett-Wasserkühlung - 360mm
The
NZXT Kraken X72
is a modern All-in-One water cooler that builds on the successes of its popular smaller relations. In comparison to the X42, X52 and X62, the X72 is somewhat larger. The well-known design for fan, pump and radiator is retained, allowing the X72 to offer high static pressure, low noise and reinforced hoses for increased durability. The pump itself is equipped with a small infinity mirror and offers a variety of lighting options, which can be adjusted directly on the desktop in addition to the settings for the pump via the advanced CAM software. NZXT takes the extremely high quality of its products seriously, demonstrating this with their six year manufacturer's guarantee.
The NZXT Kraken X72 All-in-One Water Cooler at a Glance:
Complete AiO with easy installation
360 mm aluminium radiator
Three 120 mm fans (Aer P120) included
Stylish LED lighting effects on the pump
Control- and monitoring options available via CAM software
High AMD and Intel compatibility
6 Year manufacturer's guarantee
Pump, Fan & Cooling Performance
The NZXT Kraken X72 utilises a large, aluminium, triple radiator in the 360 mm format. This enables the cooling performance and the noise to be not only controlled by the speed of the 120 mm fans supplied, but also by the motor speed of the pump which can vary between 1.600 and 2.800 RPM. The pump is integrated into the rear of the CPU cooling block, the copper surface of which rests against the AMD or Intel processor.
NZXT uses three of its modern 120 mm format Aer-P fans to cool the radiator. Thanks to the angled air inlet and outlet openings and the so-called "winglet" fan blade design, air resistance is minimised and fan performance and static pressure are increased. As a result, PWM fans deliver excellent cooling performance of up to 124.2 m³/h. Due to the copper fluid dynamic bearings used, the service life of the Aer-P fans has even been extended to over six years. Additionally they ensure the fans receive uniform lubrication at all times, thereby noticeably reducing background noise during operation.
The pump is connected to the motherboard via USB, while the fan is connected directly to the pump as usual.
Infinity Mirror, LED Lighting & CAM Software
In respect to the cooler's design, NZXT has pulled out all the stops this time: The rear of the cooler comes with stylish LED lighting and an infinity mirror which makes for some fantastic effects. This lighting allows the NZXT logo as well as the circular LED strips to be illuminated according to the preferences of the user in a massive range of colours and effects.
NZXT's CAM software offers users the option of manually customising pump- and fan performance. The KRAKEN X72 offers users keen on finding the perfect balance between cooling and noise or between pump- and fan speeds everything they could need. Constantly updated water- and core temp readings are available and multiple profiles are available to choose from.
Compatibility & Manufacturer's Guarantee
Still unconvinced by the NZXT Kraken X72 and what it can do? Read on, because the X72 is not just an incredibly effective and quiet cooler, it is also compatible with all modern AMD and Intel sockets and allows for incredibly simple mounting. The closed water loop obviously does not require any maintenance and this cooling solution is also capable of fitting into many smaller cases, cases which often struggle to fit standard tower-style air coolers.
The Kraken X72 comes pre-filled and with the thermal paste already applied to the CPU contact area. Thanks to the 40 cm long tubing, the radiator can easily be positioned in a 120 mm fan slot in the case. This premium compact water cooler also comes with a three year manufacturer guarantee, which should give users some idea of just how durable All-in-One water cooling can be.
Technical Details:
Dimensions:
Radiator: 394 x 120 x 27 mm (W x H x D)
Pump: 80 x 80 x 52,9 mm (W x H x D)
Weight: 1,6 kg
Materials: Aluminium, copper, plastic, rubber, nylon
Pump Speed: 1.600 - 2.800 U/Min +/- 300 U/Min
Voltage (pump): 12 V
Connection (pump): USB
LED Lighting (pump): RGB
Tube Length: 40 cm
Fan:
Type: 3x 120 mm (Aer P120)
Fan Speed: 500 - 1.800 RPM +/- 300 RPM)
Air Flow: 31,1 - 124,2 m³/h
Static Pressure: 0,18- 2,93 mm H2O
Volume: 21 - 36 dB(A)
Connection: 4-Pin PWM
Compatibility:
Intel Socket: 115x, 1366, 2011(-V3), 2066
AMD Socket: AM2(+), AM3(+), FM1, FM2(+), AM4, TR4
Manufacturer's Guarantee: 6 Years
Further links for

"KRAKEN X72 Komplett-Wasserkühlung - 360mm"
Videos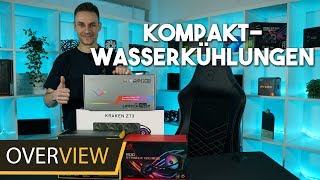 Technical Details
| | |
| --- | --- |
| CPU socket | 1150, 1151, 1155, 1156, 1366, 2011, 2011-V3, 2066, AM2, AM3, AM3+, AM4, FM1, FM2, FM2+, TR4, sTRX4 |
| Radiator size | 360 mm |
| Radiator height (exact) | 27 mm |
| Radiator height with fan (exact) | 53 mm |
| Radiator height | 20 - 29 mm |
| Radiator height with fan | 50 - 69 mm |
| Illumination | yes |
| Illumination colour | RGB (selectable) |
| Included fans | 3x |
| Rotor diameter | 120 mm |
| Fan colour | black |
| Fan connector | 4 Pin (PWM) |
| Pump connector | USB |
| Max noise level | 35 - 39 dB(A) |
| Tube lenght (exact) | 40 cm |
| Tube lenght | 33 - 40 cm, more than 400 mm |
| CPU cooler type | AiO liquid cooler |
| Warranty | 6 years |
Awards
My personal favourite is the NZXT Kraken X72, as I just love the effect the infinity mirror gives it. Therefore I'm giving it my personal Editor's Choice Award

read more...

At a price of 199 USD the Kraken X72 manages to impress, granted though, that is a lot of money. The cooling system, however, is good, maybe even exceptional for an LCS kit. The lighting system still manages to impress me and combined with extremely low acoustics this Kraken X72 offers, we have to admit it, it's a thing of beauty. With the 280 and 360mm models you increase cooling capacity, overclocking capacity as such increases and here again, the kit remains to be nearly inaudible. The hypnotizing LED system is brilliant, if you dislike it, turn off that NZXT logo, and let the LED RGB LED rings do the magic.

read more...

The NZXT Kraken were already, and remain just top performing, if desired, whisper quiet, and still very desirable AIO's, and with the X72 show that they are also in the 360mm class at the top.

read more...