PHANTEKS


Glacier G2080Ti Founders Edition Full Water Block RGB - chrome
Nickel-plated full-block water cooler
for NVIDIA GeForce RTX 2080 Ti Founders Edition with reference PCB
Acrylic glass cover and chrome-plated aluminium
MSI Mystic Light Sync and ASUS Aura Sync compatible digital RGB lighting
Item number: WACH-551
EAN: 0886523701170
MPN: PH-GB2080TiFE_CR01
Manufacturer: PHANTEKS
Product information -
Glacier G2080Ti Founders Edition Full Water Block RGB - chrome
The
Glacier G2080Ti Founders Edition watercooler
from PHANTEKS is a premium, high-performance cooler for custom watercooling that is based upon the
reference PCB of the NVIDIA GeForce RTX 2080 Ti graphics card
. Thanks to the optimised fin structure and nickel-plated copper block, users will enjoy the benefits of incredibly efficient GPU, memory and VRM cooling. The heatsink's
transparent acrylic glass and chrome-plated aluminium
make for an attractive and unique aesthetic.
The PHANTEKS Glacier G2080Ti Founders Edition Watercooler at a Glance:
Perfect fit for the NVIDIA GeForce RTX 2080 Ti graphics card
Effective cooling performance due to nickel-plated copper base
Impressive looks thanks to attractive aluminium and acrylic glass cover
Four G1/4" ports for integration into a custom loop
Pre-mounted digitally addressable RGB-LED lighting
The Aesthetics and Ports of the PHANTEKS Glacier G2080Ti Founders Edition Watercooler
This is a
full-block design
which covers all the relevant heat sources on the graphics card - providing effective cooling to the GPU, memory and power delivery. The nickel-plated copper and optimised channel structure is designed in such a way as to dissipate heat in the most efficient manner possible.
The cover in the middle consists of
transparent acrylic glass and the exterior comes in chrome-plated aluminium
. Four ports (G1/4 thread) are available and the flat construction of the cooler enables multiple graphics cards to be installed in SLI without issue.
The
digital RGB-LED lighting
is similarly equipped with RGB connections that enable the cooler to be combined with other PHANTEKS products or controlled using a PHANTEKS case if available. Compatible motherboards can also be connected. Compatibility with
ASUS ROG Aura- and MSI Mystic Light RGB-LED headers
is also present.
The ring seal of the
PHANTEKS Glacier G2080Ti Founders Edition
is manufactured from high-quality Viton. This is a material that is used in the aerospace industry due to its incredibly durable and resistant characteristics when it comes to heat and chemicals.
Why Should I Watercool my Graphics Card?
Achieving maximum performance with your graphics card is dependent upon good temperature control. Being able to turn everything up to 11 and remain stable is what separates average cooling from great cooling, and good products from great products. Smaller and more efficient layouts can help reduce this problem, although they don't completely solve it. Not to mention the fact that each generation is then overclocked to its respective maximum.
The problem is made worse with overclocking as the card's components can reach critical levels in the wrong circumstances. In short: those wishing to enjoy gaming or perform benchmarks and who don't want to live with a lot of noise need watercooling. In addition to the standard components (radiator, pump, reservoir) a compatible cooler is needed for the NVIDIA GeForce RTX 2080 Ti series of graphics cards - such as this model from watercooling specialists PHANTEKS
Note 1:
Connecting this cooler into a custom loop requires connectors that are not included in the bundle. The original cooler must be removed before installation, which invalidates the warranty!
Note 2:
Since compatibility may be expanded by new graphics cards and the bundle may change in rare cases, please check on the manufacturer's website whether you can use the PHANTEKS Glacier G2080Ti Founders Edition water cooler and which accessories are included with the water cooling block.
Note 3:
For this Glacier GPU water cooler
no additional backplate required
, because the existing backplate of compatible graphics cards can be used
Technical Details:
Material: Nickel-plated copper (base), acrylic (cover), chrome-plated aluminium (cover)
Threads: 4x G1/4 Zoll
Dimensions: 124 x 260 x 16,5 mm (W x H x D)
Weight: 800 g (without liquid)
Compatibility:
NVIDIA GeForce RTX 2080 Ti Founders Edition (Reference PCB)
NVIDIA GeForce RTX 2080 Founders Edition (Reference PCB)
Attention:
Please be aware that some coolers come with a protective foil attached. This must be removed prior to installation and operation. We accept no liability for damages arising from incorrect usage or installation!
Further links for

"Glacier G2080Ti Founders Edition Full Water Block RGB - chrome"
Videos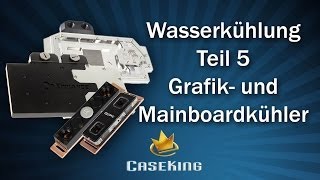 Technical Details
| | |
| --- | --- |
| GPU Series | NVIDIA GeForce Titan RTX, NVIDIA GeForce RTX 2080 Ti |
| Individual Selection Graphics Card | Referenzdesign |
| No. of water cooling fittings | 4x G1/4" |
| Colour | silver |
| Cooler Material | acrylic, aluminum, copper (nickelplated) |
Awards
Pro
+ Gute Verarbeitung
+ Optisch sehr ansprechend
+ RGB-LEDs
+ einfache Montage

read more...

HardwaremAx - PHANTEKS GLACIER FÜR NVIDIA RTX 2080TI

Wenn man bedenkt das Phanteks noch gar nicht so lange im Bereich der Wasserkühlung produziert kann man nur höchstes Lob aussprechen. Beginnend bei der Verarbeitung, die absolut zur Oberklasse zählt. Dabei gefällt vor allen Dingen die unvergleichliche Verchromung welche bis dato zum Besten zählt was wir in unseren Händen hielten.

Die reine Kühlleistung weiß an sich auch zu gefallen, mit einer etwas besser optimierten Schlitzstruktur wären hier aber noch Möglichkeiten vorhanden, eine noch bessere Leistung zu erhalten. Der Durchfluss war mit rund 185 Liter in der Stunde auch hoch. In Summe bekommt man also einen Grafikkarten Kühler der die GPU mitsamt Spannungswandler und Arbeitsspeicher sehr gut kühlt und herausragend verarbeitet ist. Der Preis von rund 150 € für Kühler mitsamt EGB Beleuchtung also durchaus fair.

Unterm Strich ist der Phanteks Glacier G2080Ti bis auf den noch nicht allzu stark verbreiteten RGB-Anschluss ein gutes Produkt ohne Schwächen, dafür mit einer überdurchschnittlichen Performance und einer sehr gut gekühlten Platine auch außerhalb der GPU und der Spannungswandler. Man bekommt den G2080Ti auch noch in Silber, aber so etwas ist ja wie immer reine Geschmackssache.

read more...