PHANTEKS


PH-F120SP 120mm Lüfter blaue LED - schwarz/weiß
The PH-F120SP
120mm Premium fans from Phanteks is designed with the unique Maelström concept technology. They are specifically designed to overcome high static pressure.
Item number: LUPH-016
EAN: 0886523000563
MPN: PH-F120SP_BLED
Manufacturer: PHANTEKS
Product information -
PH-F120SP 120mm Lüfter blaue LED - schwarz/weiß
PHANTEKS steht für Innovation, Qualität und Unverwechselbarkeit - ein Ruf, den das junge Unternehmen sich in kurzer Zeit erarbeitet hat. Mit kühlstarken, spezialbeschichteten Prozessorkühlern und hervorragenden Lüftern, sowohl was Laufruhe als auch Förderleistung angeht.
Mit den Lüftern der MP-, SP- bzw. XP-Serie möchte PHANTEKS diesen Ruf einmal mehr unterstreichen und schickt wahrlich großartige Fans ins Rennen, wobei die SP- und XP-Varianten (mit und ohne PWM-Anschluss) auf einen besonders hohen Airflow ausgelegt sind, während bei den MP-Fans (mit PWM-Anschluss) der höchstmögliche statische Druck im Vordergrund steht.
Die neun Lüfterblätter am Rotor des PH-F120SP wurden dazu weiter optimiert und in einem perfekten Anstellwinkel designt, um ein Idealverhältnis zwischen Fördervolumen und statischem Druck zu generieren: bei diesem blau beleuchteten 120-mm-Exemplar mit 3-Pin-Anschluss ergibt das bei vollen 12 Volt einen Airflow von satten 92 m³/h und 1,29 mm H2O an "static air pressure".
Dabei arbeitet der Lüfter bei vollen 12 Volt mit geringen 24,2 dB(A), wobei das gute Ergebnis unter anderem auf das Feature namens "Maelström Vortex Booster", kurz MVB, zurückzuführen ist. Die gezackten Erhebungen an den Außenkanten definieren dabei den Luftstrom stärker, was für weniger Verwirbelungen und so für reduzierte Geräuschemission sorgt.
All die Vorzüge eines innovativen Blade-Designs verpuffen allerdings, wenn Antrieb und Lager versagen und der Fan zirpt, summt und/oder rattert. So etwas gibt es bei PHANTEKS freilich nicht, die Lüfter kommen mit dem bewährten UFB-Bearing ("Updraft Floating Balance"), welches leisen Betrieb und eine extreme Lebensdauer von 150.000 Stunden sicherstellt.
Kein Wunder, dass PHANTEKS sich wieder einmal nicht scheut, auf die PH-F120SP-Lüfter sehr großzügige fünf Jahre Herstellergarantie zu gewähren. Dank der in den Lüfterrahmen integrierten Gummi-Anschnitte bei den 120-mm-Bohrungen wird beim Einsatz als Gehäuselüfter der Schwingungsübertragung auf das Case entgegengewirkt - selbst bei vollen 1.300 U/min.
Auch optisch sind die leisen, aber potenten Fans eine Bereicherung für jeden CPU-Kühler und jedes Gehäuse: im schwarzen Rahmen mit extraordinärer Formgebung und geschwungenen Stegen und blauen LEDs sitzt der weiße Rotor mit seinen neun Blättern. Das 3-Pin-Anschlusskabel ist schwarz gesleevt, im Lieferumfang befinden sich auch vier Standardlüfterschrauben.
Außerdem geht vom Lüfter ein spezielles Kabel mit zwei Pins ab, das an optionale LED-Steuerungen anschließbar ist. Aber auch ohne eine solche lassen sich die vier blauen LEDs des PHANTEKS PH-F120SP deaktivieren bzw. wieder aktivieren. Dafür legt der Hersteller ein weiteres kurzes Kabel bei, an dessen Ende ein kleiner Switch sitzt. Das Kabel lässt sich einfach mit dem abgehenden zweipoligen Kabel verbinden.
Technische Details:
Maße: 120 x 120 x 25 mm (B x H x T)
Bohrungen: 120 x 120 mm
Farbe: Schwarz (Rahmen), Weiß (Rotor)
Beleuchtung: Blau (deaktivierbar)
Lautstärke: 24,2 dB(A)
Drehzahl: 1.300 (+/- 250) U/min
Fördervolumen: 92 m³/h
Statischer Druck: 1,29 mm H2O
Spannung: 12 V
Leistungsaufnahme: > 0,96 W / 0,08 A
Lebenserwartung: 150.000 Stunden
Herstellergarantie: 5 Jahre
Anschluss:
3-Pin
Lieferumfang:
PH-F120SP-LED-Lüfter
4x Lüfterschrauben
1x LED-Switch-Adapter
Further links for

"PH-F120SP 120mm Lüfter blaue LED - schwarz/weiß"
Videos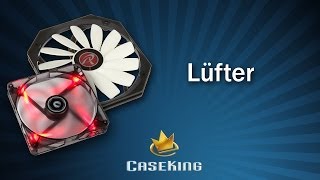 Technical Details
| | |
| --- | --- |
| Rotor diameter | 120 mm |
| Mounting holes | 120 mm |
| Primary colour | white |
| Secondary colour | black |
| Fan connector | 3 Pin |
| Illumination | yes |
| Illumination colour | blue |
| Max rpm (exact) | 1300 U/min |
| Max noise level (exact) | 24,2 dB(A) |
| Max air volume (exact) | 92 m³/h |
| Max rpm | 1000 - 1499 U/min |
| Max noise level | 20 - 24 dB(A) |
| Max air volume | 75 - 99 m³/h |
| Warranty | 5 years |
Awards
The Phanteks is available in two versions: the SP and MP. The MP has PWM support and can run harder, so that the maximum cooling performance and noise levels are higher. considering they do relative to both as well. Excellent Choice awards are therefore for Phanteks

read more...